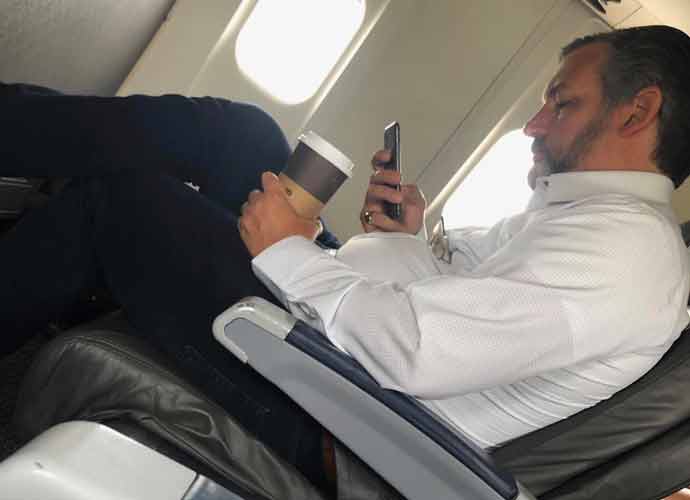 An American Airlines representative said Monday that it was investigating Sen. Ted Cruz (R-Texas) after a photograph surfaced of him not wearing a mask on one of its flights.
The photo was posted on Twitter Sunday night. It shows Cruz not wearing a mask while holding a cup of coffee. Hosseh Enad, who works for the Democratic Congressional Campaign Committee,  posted the photo.
Enad shared another photo coupled with a summary of the American Airlines mask policy. He wrote that airline "policy clearly states that masks should be worn on the flight."
A spokeswoman from Cruz's office claimed that the senator followed airline policy. She said that Cruz wore a face covering while traveling and that he had temporarily removed his mask to "eat" or "drink" when he was photographed without one.
Cruz's spokeswoman wrote in an email, "Sen. Cruz has repeatedly said since the start of the pandemic we need to follow the science, listen to public health experts and take common sense steps to slow the spread of COVID-19 and reopen our economy … That includes wearing face masks, washing hands and social distancing where possible."
American Airlines Group and all its subsidiaries announced in mid-June that all passengers were required to wear face coverings while onboard its aircraft and that it would deny boarding to passengers who refused to comply.
On Sunday, an American Airlines representative confirmed that Cruz had flown with one of its domestic regional partners and said that the company had reviewed the incident.
The spokesperson wrote in an email on Monday afternoon, "As we do in all instances like these, we reviewed the details of the matter."
He added, "And while our policy does not apply while eating or drinking, we have reached out to Sen. Cruz to affirm the importance of this policy as part of our commitment to protecting the health and safety of the traveling public."