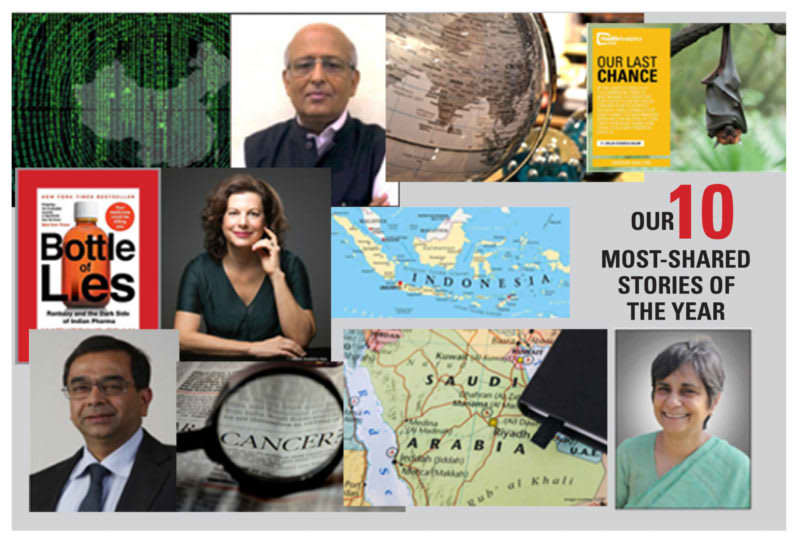 As Health Analytics Asia turns one, we're taking a walk down memory lane to remind us of some of our most memorable health stories and exclusive interviews. From the COVID-19 outbreak gripping the world to the narratives that demonstrated exciting breakthroughs in healthcare — here's a look at our 10 most memorable stories and interviews that shaped the healthcare landscape in Asia.
By Deepika Khurana
The frightening outbreak of deadly coronavirus that has infected more than 5,369,098 people and claimed nearly 621,153 lives worldwide. Outrage over Saudi Arabia sacking hundreds of Pakistani doctors. Growing fear about vaccination bringing back eradicated diseases in India. And a perspective on why more and more doctors are committing suicide in Japan?
In a short span of one year, several stories by Health Analytics Asia left a deep imprint in the minds of readers, drawing them closer to health issues that impacted their lives and state of well being.
Here's a look at our 10 most memorable stories and interviews covered in this last one year.
1. Biotechnology can be Indian economy's next success story
In a wide-ranging interview with Health Analytics Asia, Dr. Shahid Jameel CEO the Wellcome Trust/DBT India Alliance revealed India's challenges in biotechnology, poor research culture at medical institutions, and why young people with stellar CVs frequently write poor grant applications and do badly at interviews.
Dr. Jameel during an exclusive interview predicted a rosy future for biomedical research in India, prophecising biotechnology can be the Indian economy's next success story.
Read the full interview here.
2. Why is Saudi Arabia sacking Pakistani doctors?
It was in August 2019, when the Saudi Ministry of Health sacked some hundreds of Pakistani doctors claiming that their postgraduate medical degree programs lacked structured training, which is mandatory to hire medics in high positions in the Kingdom.
However, soon after the Saudi move, other Gulf countries including Qatar, the United Arab Emirates and Bahrain also took a similar step.
The decision left hundreds of highly qualified medics jobless. It also left Pakistan to face an uphill task of saving the reputation of one of its most prestigious sectors – medicine.
Read the full story here.
3. Misinformation about HIV transmission contributes to HIV spread in Indonesia
Indonesia faces a looming AIDS epidemic that could wreck the big economic, political, and social gains it has made in recent years. On average, the country of 2.6 million people witnesses around 73,000 new HIV infected patients annually – the fourth largest infection rate globally after China, India, and Russia. Yet, many remain reluctant to attend treatment centres because of the stigma attached to the infection or due to misinformation.
Read the full story here.
4. Ayushman Bharat could be India's pathway to achieving Universal Health Coverage
When we interviewed Padma Bhushan awardee and President Public Health Foundation of India (PHFI) Prof. K Srinath Reddy in September 2019, he spoke at length about the success of the Ayushman Bharat scheme.
Dr. Reddy called it a move towards achieving universal healthcare. And rightly so, because with COVID-19 pandemic presenting economic challenges to the poorest of the poor in the country, the National Health Authority (NHA) has decided to cover COVID-19 treatment under Ayushman Bharat — the central government's health insurance scheme for the deprived.
The Pradhan Mantri Jan Aarogya Yojana (PM-JAY) or Ayushman Bharat is the world's largest and fully state-sponsored health insurance scheme.
Read the full interview here.
5. India's cancer burden continues to grow
India has an estimated 25 lakh cancer cases, according to India's National Cancer Registry Programme. The disease claimed 7,84,821 lives in 2018 of which 4,13,519 were men and 3,71,302 women.
The numbers are stark, yet they do not capture the whole story. And, it is not just the high incidence of cancer, but also issues of affordability and access to basic treatment, which are responsible for the increase in cancer deaths in India.
Read the full story here.
6. The scary truth behind generic drugs in India and China
In an exclusive interview with Health Analytics Asia, best-selling author of 'Bottle of Lies' and investigative journalist Katherine Eban uncovered the dangerous, dark side of India's pharmaceutical industries.
In the interview, Katherine discussed her findings and how regulators needed to step up to protect patients and what motivated her to write the book.
Read the full interview here.
7. COVID-19: China's struggle with data
Since the first coronavirus case was reported in China, and even before the WHO declared the public health crises a pandemic, Health Analytics Asia's correspondent from China shared some first-hand experiences of people stuck in China's virus epicenter Wuhan.
But as the virus kept spreading to various provinces, low data reported by China on the number of infections and fatalities came under further scrutiny.
In fact, many people including several government and non-government agencies around the world have accused China of opacity regarding the virus and for hiding information.
Read the full story here.
Amid news of wet markets being a potential source of diseases that are new to humans, data journalists at Health Analytics Asia found that China's attempts to curb wildlife trade in the aftermath of SARS-CoV in 2003 were short-lived.
In fact, after analysing some 6 million records of legal trade in wildlife, our data team found out that the volume of wild animals traded; even legally, has only increased over the years.
While no one knows if China's recent ban on wildlife trade will reduce the risk of zoonotic outbreaks, conservationists say it's not enough.
They argue that, in addition to protecting human health, a permanent ban would be a vital step in the effort to end the illegal trading of wildlife as this could be our last chance to avert the next pandemic.
Read the full story here.
9. "In India, research in medicine is viewed as a luxury."
Our cover interview with former Executive Director of the Translational Health Science and Technology Institute (THSTI), Faridabad Dr. Gagandeep Kang was nothing short of amazing.
Dr. Kang is the first Indian woman scientist to be elected as the prestigious Fellow of the Royal Society (FRS), London. Also known as India's vaccine God Mother, virologist Dr. Kang has played a pivotal role in devising and developing an avant-garde vaccine to equip India against Rotavirus – a highly contagious virus that claims around 80,000 to 100,000 young lives every year in the country.
Read the full interview here.
10. Why India heavily depends on China for drug raw materials
Even before Indian consumers decided to boycott goods made in China after a border clash, we at Health Analytics Asia have been vocal about the country's over-dependence on China for bulk drugs and intermediates.
In fact, most Active Pharmaceutical Ingredient (API) production units in India run at 30 percent of their capacity as against capacity utilisation of 70 percent in China. And, it is well-documented now that India has already lost its manufacturing base for API to China.
But if we get our act together, think strategically, and think out of the box, it is likely India can become self-reliant in terms of producing indigenous APIs and drug intermediates.
Read the full story here.