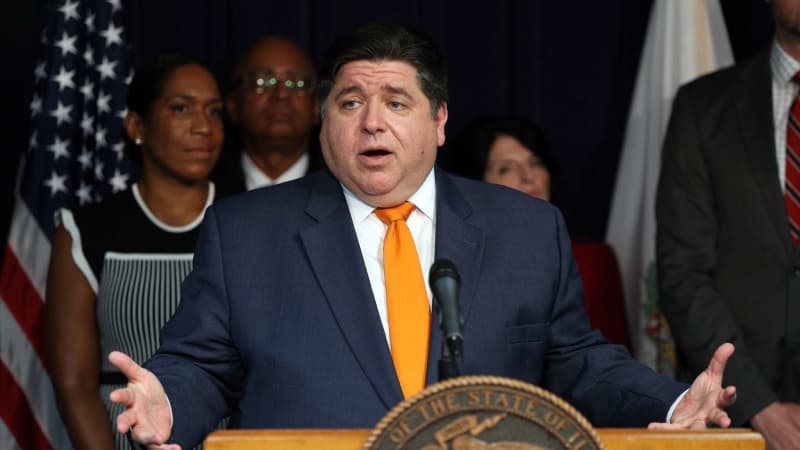 CHICAGO — Gov. J.B. Pritzker warned on Wednesday that Illinois could be headed for a "reversal" in its reopening as the state continues to see a resurgence in coronavirus case numbers, and he called on residents to "defend our progress."
If the trend continues or worsens, it could mean clamping back down in regions of the state on business restrictions, gatherings or even a return to a stay-at-home order, which Pritzker initially imposed in March, but since eased.
"We've made progress in Illinois, but we've also seen that it can be fleeting. And right now things are not headed in the right direction. I want to remind everyone that it doesn't take long at all for a trajectory of success to turn into rising hospitalizations and deaths," Pritzker said. "And if things don't change, a reversal is where we're headed."
Pritzker issued that warning at a coronavirus news briefing on Wednesday, where he announced restrictions on youth sports aimed at slowing the spread of COVID-19, and as state officials announced another 1,393 new confirmed cases of coronavirus statewide and 18 additional deaths. The statewide totals now stand at 175,124 known cases and 7,462 deaths.
A number of other states that have seen rising numbers of coronavirus cases as they've reopened their economies have been forced to reinstitute stricter rules to slow the spread of COVID-19.
The preliminary seven-day statewide positivity rate as of Tuesday was 3.8%, up from 2.7% on June 29.
"Unfortunately, as the governor has said, we are seeing what much of the country is seeing in terms of a resurgence in the number of cases. Not only have we started to see an increase in the cases over the past several weeks, but we're also seeing a slight increase in hospital admissions, as well," Illinois Department of Public Health Director Dr. Ngozi Ezike said at the news conference. "These are clearly indicators that we are headed in the wrong direction."
Pritzker's administration released new guidance Wednesday classifying sports as low, medium and higher risk, depending on the level of contact between participants, and potential for coronavirus transmission, involved. The new restrictions do not include professional or collegiate-level sports.
———
©2020 Chicago Tribune