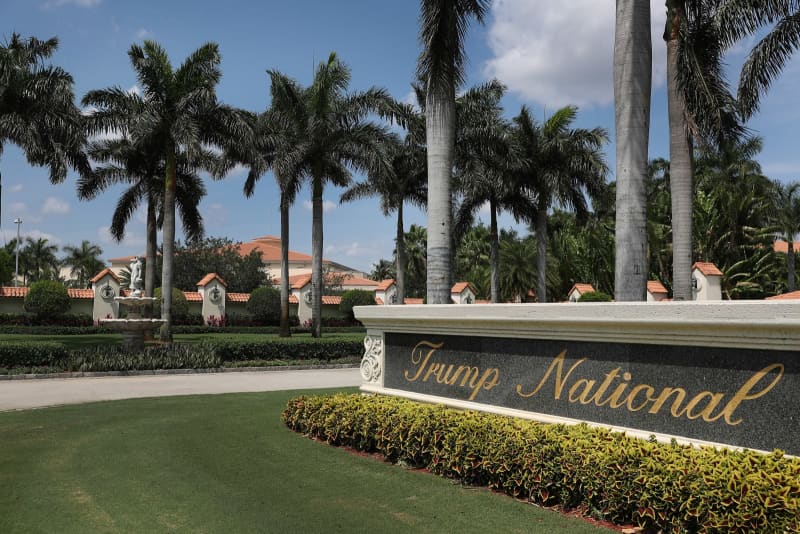 MIAMI — President Donald Trump is scheduled to travel to Miami this weekend to hold a fundraiser at his own golf resort at a time when hotel ballrooms and restaurants are closed and masks are required at outdoor public gatherings to prevent the spread of coronavirus.
A tropical storm is also on the horizon.
An invitation to the Saturday fundraiser obtained by the Miami Herald lists the location as Trump National Doral Miami. Donors who contribute $5,600 receive one ticket to a reception. Donors who give or raise $35,000 purchase two tickets and a photo, presumably with the president. A $100,000 contribution buys the photo and reception tickets, plus access to a roundtable discussion.
But under Miami-Dade County's "New Normal" coronavirus restrictions, hotel ballrooms and restaurant dining rooms are closed as South Florida continues to be the epicenter of the coronavirus pandemic in Florida. The state on Wednesday reported a record 216 COVID-19 deaths, including 30 in Miami-Dade.
A spokeswoman for Trump Victory, the joint fundraising committee for the Trump campaign and Republican National Committee, did not respond to emails and a text message sent Wednesday and Thursday asking for specifics on how the campaign intended to hold the event in compliance with county regulations. A White House spokesman said generally that Trump's administration respects local health guidelines and plans events accordingly.
"When preparing for and carrying out any travel, White House Operations collaborates with the Physician to the President and the White House Military Office, to ensure plans incorporate current (Centers for Disease Control and Prevention) guidance and best practices for limiting COVID-19 exposure to the greatest extent possible," spokesman Judd Deere wrote in a Wednesday email to the Miami Herald.
Trump's Florida swing is important for his reelection campaign, now that fundraising has picked up for presumptive Democratic presidential nominee Joe Biden. The president, who most recently attended a South Florida fundraiser on July 10, is also scheduled to attend a fundraiser Friday in the Tampa Bay area at an undisclosed location before traveling to Miami.
Jennifer Moon, the deputy Miami-Dade mayor overseeing emergency county COVID rules outlined in the "New Normal" handbook of restrictions, said the county hadn't been asked for exemptions at the Trump National Doral Miami resort and that existing rules would apply.
Asked whether hotels are able to hold fund-raising events under current restrictions, she responded in a text message: "They can't, unless it's outside … Only outside."
A spokeswoman for Miami-Dade Mayor Carlos Gimenez — a Republican running for Congress with Trump's endorsement — said Wednesday the mayor's office wasn't aware of the fundraiser. Likewise, Doral Mayor Juan Carlos "JC" Bermudez said he was unaware of a planned fundraiser.
During his most recent flight into Miami International Airport, on July 10, Trump did not adhere to Gimenez's executive order requiring that all people wear masks in public places. Gimenez wore a mask to greet Air Force One on the runway, and stressed at the time that Trump and all people around the president are tested regularly for COVID-19, though there are no exemptions in the emergency orders related to testing.
"It's apparent the White House requires extraordinary measures," Gimenez said at the time.
Six days after the presidential visit, Miami-Dade police officers issued 23 civil citations for people not wearing masks. The citations carry the possibility of a $100 fine, and were part of an enforcement blitz after county commissioners created civil penalties for Gimenez's emergency COVID orders on July 16. Fines were possible before that, but only through an arrest.
All of this may be moot, as Tropical Storm Isaiah may move over South Florida Saturday, potentially putting a damper on Trump's plans to raise money in South Florida.
"The White House is closely monitoring the tropical storm and the federal government will be in close coordination with state and local officials as the situation develops," Deere explained.
———
(Miami Herald staff writers Douglas Hanks and Charles Rabin, McClatchy DC reporter Franceesca Chambers, and Tampa Bay Times reporters Steve Contorno and Kathryn Varn contributed to this report.)
———
©2020 Miami Herald