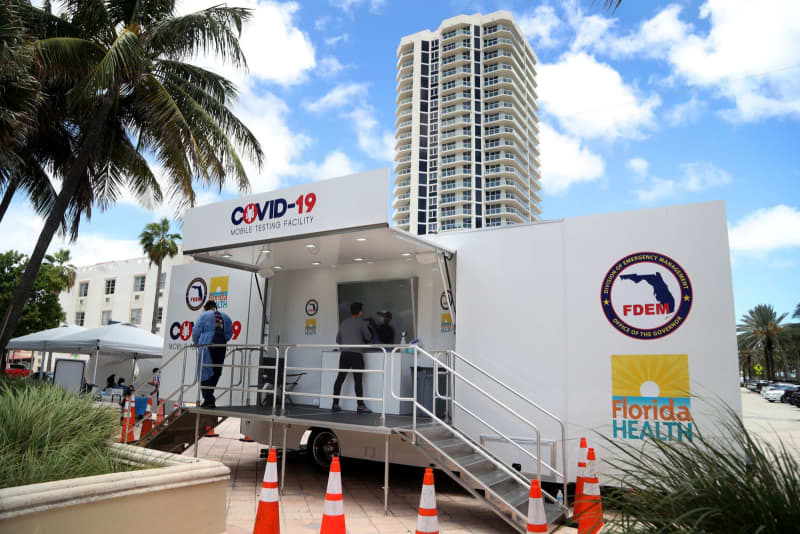 FORT LAUDERDALE, Fla. — Florida reported another record for COVID-19 deaths: 257 listed on Friday's pandemic data report. Nearly 100 of the victims were from Miami-Dade County.
The state has now had four consecutive days of reporting a new high mark of coronavirus fatalities. These are people who died within recent weeks, but finally confirmed by authorities tracking the state's deadliest infectious disease.
For the entire month of July, Florida has reported 3,362 deaths from COVID-19 complications. For all of 2019, there were 2,703 deaths attributed to the flu and pneumonia in the state.
Public health experts say Florida should slowly improve in August, as the number of new COVID-19 cases has remained under 10,000 for six straight days.
The Department of Health on Friday reported another 9,007 newly confirmed cases of COVID-19. The test results reported on a single day typically reflect tests taken over several days.
The peak was 15,300 infections on July 12. Friday's figure is lower higher than the 9,956 infections reported Thursday and the 9,446 cases listed on Wednesday's report.
The state has tallied 470,386 cases and 6,966 deaths to date.
SOUTH FLORIDA
South Florida, which accounts for 29% of Florida's population, reported 4,223 new cases in the past day, or 46.9% of the daily total for the state, according to the state Department of Health.
Broward County: 1,099 new coronavirus cases were reported Friday, bringing the total to 55,411. A total of 734 people have died, 33 more than reported Thursday.
Palm Beach County: 578 new cases were reported, bringing the total to 33,274. A total of 830 people have died, nine more than reported Thursday.
Miami-Dade County: 2,546 new cases on Friday, bringing the total to 118,462. A total of 1,627 people have died. That's 96 more than reported Thursday, a high for this public health emergency.
TESTING AND THE POSITIVITY RATE
Florida says it has tested 3.63 million people since the pandemic began, and 13% have been positive. Florida has had the third-highest number of COVID-19 tests in the country — roughly tied with Texas — behind California (7.6 million) and New York (5.8 million).
Florida reported a 10.6% positivity rate for tests statewide in the previous 24-hour period, a slight drop since Thursday. In South Florida the rates are: 14.9% for Miami-Dade, which is the lowest since June 29; 10.8% for Broward, the lowest since Monday; and 9.5% for Palm Beach County, which is similar to the past day.
The daily positivity rate is a key figure, since it's one of the numbers that indicates the prevalence of the disease in the population. In May, Florida's positivity rate was about 5%, and state officials say they want it to drop back down under 10%.
HOSPITALIZATIONS
The number of people being treated for COVID-19 at hospitals on Friday decreased statewide and in South Florida, records show.
The total stood at 8,223 as of 11:45 a.m., according to the Florida Agency for Healthcare Administration. About 24 hours earlier, the same report listed 8,380 patients.
Miami-Dade County has the most people hospitalized with a primary diagnosis of the new coronavirus: 1,758 patients, a decrease of 66 since Thursday. Next is Broward with 1,206, down by 26 since Thursday. Palm Beach County has 526 patients, a decrease of six.
A different report, from the state health department, shows 26,533 Florida residents have been hospitalized since the start of the pandemic. That's an increase of 11,708 patients since July 1, when the total was 14,825 hospitalizations.
Officials say the most vulnerable to hospitalization and death are people older than 65 or those who have underlying health concerns such as weakened immune systems, diabetes or obesity.
DEATHS
Statewide: The official COVID-19 death total for Florida reached 6,966 on Friday. That figure includes 123 people who were not residents. The three South Florida counties account for 3,191 deaths, which is 45.8% of the state total.
Seniors: At least 2,986 deaths have occurred in nursing homes and long-term care facilities, a figure that represents 43.6% of the state total for coronavirus deaths of residents. Miami-Dade County has the highest number of long-term care facility deaths, with 604, or 20.2%, of the total. Palm Beach County had 335 deaths, or 11.2%, and Broward accounted for 210 deaths, or 7%.
Nationwide: Florida has reported an average of about 171 deaths per day, 1,198 total, over the last seven days. With this surge in fatalities, Florida's death rate now ranks 19th compared with other states — that is 30 deaths per 100,000 people, according to the U.S. Centers for Disease Control and Prevention's COVID Data Tracker.
New York City has the highest death rate with 280 deaths per 100,000. California and Texas have had 22 deaths per 100,000. California and Texas are the most populous states, followed by Florida and New York.
GLOBAL VIEW
U.S.: The coronavirus death toll in the United States reached 152,074 as of 10:35 a.m. EDT Friday, according to the Coronavirus Resource Center at Johns Hopkins University.
The United States has reported 4.5 million cases, the highest total in the world.
Worldwide: The global total reached 17.3 million cases Friday, with at least 674,038 deaths, Johns Hopkins reported.
The U.S. has 4.3% of the world's population, but 25.9% of the world's cases and 22.6% of the world's deaths.
———
©2020 Sun Sentinel (Fort Lauderdale, Fla.)