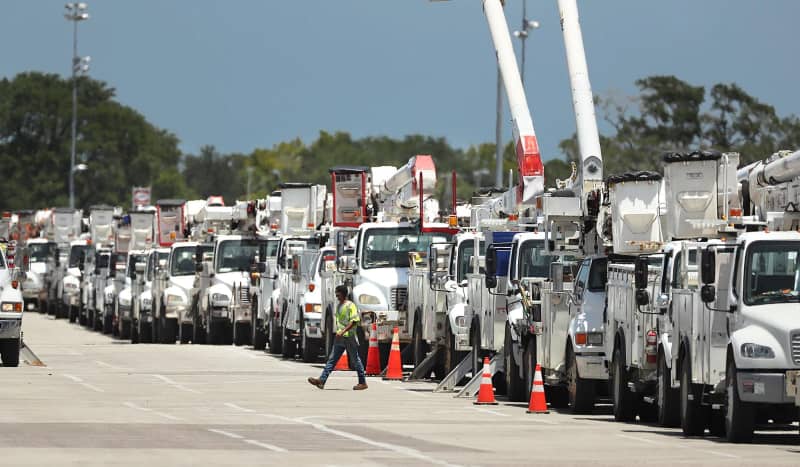 FORT LAUDERDALE, Fla. — The threat to South Florida from Hurricane Isaias diminished late Saturday morning as the storm weakened and the forecast track shifted farther out to sea.
Although a hurricane watch remains in effect for coastal Broward County, forecasters say the county faces a reduced chance of hurricane-force winds. At greatest risk in South Florida is coastal Palm Beach County, from West Palm Beach north, according to the National Weather Service.
This part of Palm Beach County could still experience hurricane-force winds, which means speeds of at least 74 mph, depending on the course taken by the storm.
Southern Palm Beach and northern Broward counties could face strong tropical force winds, with speeds of 58 to 73 mph.
South Florida started to feel the first gusts of the hurricane on Saturday morning as the storm made landfall on Andros Island in the Bahamas.
The storm is predicted to be slightly weaker when it nears Florida, with winds of 80 mph instead of 85.
The National Weather Service reported gusts of up to 40 mph in parts of South Florida and urged residents to finish getting ready.
"As these squalls become more frequent through the day, it will become increasingly dangerous to complete last- minute outdoor preparations," the weather service said in a statement Saturday morning.
"We know we are going to get some impacts," Gov. Ron DeSantis said during a news conference Saturday. "What shape those impacts take remains to be seen … this thing is on the way."
Tropical storm conditions are possible over South Florida as soon as the afternoon, the National Hurricane Center said. It is now 50 miles south of Nassau, with the storm's center expected to move near or over Andros Island in the Northwestern Bahamas this morning.
"Little change in strength is expected through Sunday, and Isaias is forecast to remain a hurricane during this time," forecasters said this morning.
Residents have several more hours to prepare, with the storm slowing a bit and moving northwest at 12 mph. But winds are expected to first reach tropical storm strength later today, making outside preparations difficult or dangerous, the hurricane center warned.
"Preparations to protect life and property should be rushed to completion," the agency advised.
South Florida sprung into action after hurricane watches and warnings were issued late Friday afternoon.
A hurricane warning, which means hurricane conditions are expected within 36 hours, was issued at 5 p.m. for the coast from Boca Raton to the Volusia County-Flagler County line. A hurricane watch, which means hurricane conditions are possible, was issued for the entire Broward County coast.
Though a Florida landfall might not happen until Sunday morning, tropical storm-force winds (39 mph to 73 mph sustained), which are extending 175 miles from the eye of the storm, could reach South Florida starting Saturday afternoon. Hurricane-force winds range 35 miles from the storm's center.
The Hurricane Center forecasts rainfall of 2 to 4 inches from South Florida into east-central Florida, with isolated totals of 6 inches. Heavy rainfall could result in potentially life-threatening flooding, especially in low-lying and poorly drained areas.
The forecast track has shifted in the last few updates, jogging closer to the South Florida coast on Friday afternoon, then edging seaward late night. Then the 5 a.m. Saturday projection "adjusted a little east of, and slower than, the previous track."
Miami-Dade County Mayor Carlos A. Gimenez urged residents not to let their guard down.
"We all know that a trajectory can change at any time," he said during a news conference. "We're going to feel strong winds and get heavy rain … Broward and Palm Beach County may get a worse impact."
If there is good news, it is that Hurricane Isaias is not expected to grow into a monster — and it could even get a bit weaker — thanks to other weather conditions such as dry air and winds west of the storm's center.
"This combination should prevent any more intensification, and, while Isaias is expected to remain a hurricane as it passes near the Florida coast, at least slight weakening should occur during this time," forecasters wrote.
The eye, or center of the hurricane, is projected to remain off shore and spare the state from a direct blow, DeSantis said, adding residents should still be vigilant.
"This stuff is all, you know, very much in flux," he said, at the emergency operations center in Tallahassee. "Even if the eye of the storm stays off the coast, there of course is going to be impacts when you're talking about a hurricane or tropical storm force winds. So folks need to be prepared for that."
The storm is forecast to make a gradual wheel toward the north Saturday, and the sooner it makes that turn, the less likely it is to affect South Florida.
"Even small changes in the track, especially if those changes bring the storm closer to Florida, means that we could have tropical storm force winds extending over a larger area," said Robert Molleda, meteorologist for the National Weather Service in Miami. "Potentially even hurricane-force winds, especially up in Palm Beach County and more rainfall and the potential for flooding."
The part of South Florida at greatest risk is Palm Beach County, according to the National Weather Service. Winds of 60 to 80 mph are possible along the coast, with gusts to 110 mph, the weather service said. Coastal Broward can expects winds of 45-55 mph, with gusts to 75 mph. Wind speeds will diminish but remain dangerously high inland, the weather service said.
If the storm track shifts closer to the coast, hurricane and tropical storm conditions could prevail farther inland, the weather service said.
Leaders are urging caution in the Bahamas, where many people are still living in tents from last year's strike by Hurricane Dorian. Prime Minister Hubert Minnis announced he was relaxing a COVID-19 lockdown as a result of the impending storm, but said a 10 p.m. to 5 a.m. curfew would be implemented starting Friday.
"I beg you, do not use this period for hurricane preparation to go socializing and visiting friends or family," Minnis wrote on Twitter. "If you do not need to be out, please, please, STAY AT HOME! We are in the midst of a pandemic and if we do not act responsibly, the consequences could be dire."
The possibilities for South Florida range from a direct hit, with widespread power outages, property damage and threats to life, to a day or so of rainy, windy weather as the storm passes offshore.
If Florida does get brushed by the storm as it remains at sea, the state will experience the hurricane's less powerful left side.
The right side is considered the "dirty side" of a hurricane. The right side's winds are stronger, drawing power from the combination of winds from the storm's counterclockwise circulation and the winds pushing the storm forward. On the left side, which South Florida appears more likely to experience, the opposite happens, with the steering winds counteracting the winds of circulation, producing lower wind speeds on the ground.
As Isaias passed over Puerto Rico and the Dominican Republic over the past two days, having not yet reached hurricane strength, it toppled trees, destroyed crops, knocked out power, produced widespread flooding and caused small landslides.
A man died in the Dominican Republic when he was electrocuted by a fallen electrical cable.
The Puerto Rico National Guard rescued at least 35 people from floodwaters, which swept away one woman who remains missing.
MORE STORMS TO WATCH
The National Hurricane Center was also monitoring two areas of low pressure that may develop into tropical cyclones, the rotating storm systems that can strengthen into hurricanes.
One system, about 650 miles east of the Caribbean, has 50% chance of forming over the next five days and is projected to head northwest and then north.
The other, off the African coast, 200 miles northeast of the Cabo Verde Islands, became Tropical Depression No. 10 Friday night. But the early Saturday morning advisory said the system with 35 mph winds is likely to soon fall apart.
"The depression is forecast to weaken and become a remnant low later today," forecasters said.
The next storm to get a name this season will be called Josephine.
A BUSY 2020 HURRICANE SEASON
There have been four other tropical storms so far this month: Edouard, Fay, Gonzalo and Hanna. Other named storms this year have included Arthur, Bertha, Cristobal and Dolly. Tropical Storm Arthur formed in mid-May, making this the sixth straight year that a named storm formed before the official start of hurricane season on June 1.
So far, Hanna has been the only other hurricane of the season, striking Texas late last week as a strong Category 1 storm.
Virtually all estimates for this hurricane season predict an above-average number of storms, due to unusually warm ocean temperatures and global climate factors that are likely to reduce the high-altitude winds that can prevent the formation of hurricanes. On July 8, Colorado State University issued a slightly more pessimistic outlook for hurricane season than its earlier forecast, upping the number of named storms from 19 to 20.
———
©2020 Sun Sentinel (Fort Lauderdale, Fla.)