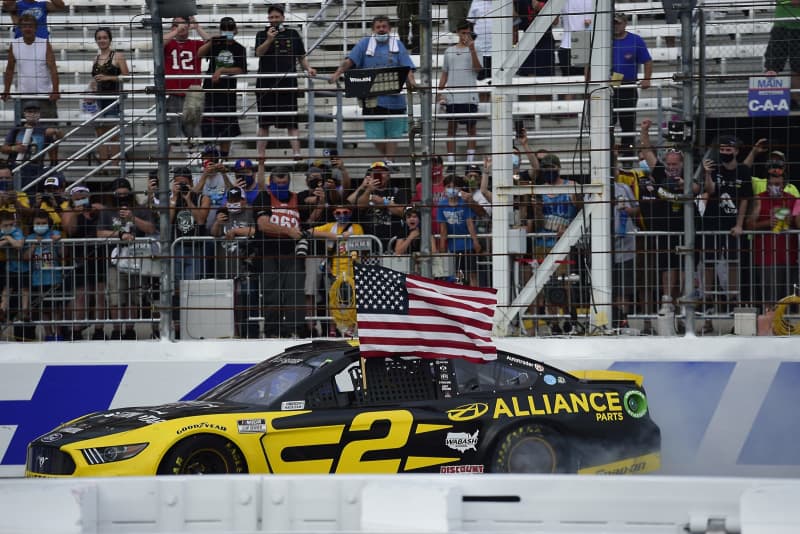 LONDON, N.H. — Brad Keselowski danced with Denny Hamlin for most of the 301 laps at New Hampshire Motor Speedway Sunday evening. With 81 laps left, Keselowski made the final pass for first place and held onto the lead with clean air and a faster car through the checkered flag.
Hamlin finished in second followed by Martin Truex Jr. in third at the Foxwoods Resort Casino 301.
The veteran drivers bobbed and weaved around each other, exchanging the lead 12 times between Keselowski and Hamlin, but it was the No. 2 Ford Mustang that powered Keselowski through to his third win of the season as the race stayed green.
Nearly back-to-back cautions came out for Matt Kenseth followed by John Hunter Nemechek, allowing earlier non-pitters to grab fuel and new tires, with less than a hundred laps left in the final stage. While the cautions added some new faces to the mix, Stage 1 winner Hamlin and Stage 2 winner Keselowski emerged in first and second place, respectively. Keselowski made his final pass and sailed to Victory Lane.
———
Kyle Busch went from missing from the top three this season to missing from the race entirely. On Sunday, Busch's No. 18 Toyota Camry slammed into the wall rounding Turn 3 after a right front tire blew out. Busch was out of his car and out of the race by Lap 16, posting his first "Did Not Finish" this season. The defending Cup Series champion emerged from the Infield Care Center and apologized to the No. 18 fans on the NBCSN broadcast.
"I think there's a replay of another Pedigree car here a few years ago that blew a right-front tire for absolutely no reason too," Busch said on the broadcast. "Seems to be our luck with the Pedigree car here at New Hampshire. Sorry to all of our fans and all the Pedigree folks."
"It's still 2020," Busch said.
———
Christopher Bell and Ryan Preece, two drivers who have not yet won a race or stage this season, posted strong performances early, both finishing in the top 10 in Stage 1. Although Cup rookie Bell stayed in the top five early in the race, a right rear flat tire sent his No. 95 Toyota into the wall in the final stage, forcing a bottom 20 finish.
Preece, meanwhile, bounced back after he was involved in a wreck at Kansas Speedway two weeks ago that forced another bottom-half finish for his No. 37 Chevy. Preece, however, finished in 16th place. His JTG Daugherty teammate Ricky Stenhouse Jr. finished in 14th for a bright spot on the schedule for the struggling team, which was looking for top-20 finishes this week.
———
If Kansas was a strong race for Erik Jones on the points bubble, New Hampshire was a solid finish for Hendrick Motorsports drivers William Byron and Jimmie Johnson, but not necessarily the top 10 either driver needed. Byron, who was the 16th place driver in points before the race, finished in 11th, while Johnson was 12th at the flag. Teammate Chase Elliott passed both drivers in the final laps to clinch a ninth place spot and Cup rookie Tyler Reddick, who is also in the hunt for a playoff berth on the points bubble squeezed out a 10th-place finish for points.
———
©2020 The Charlotte Observer (Charlotte, N.C.)