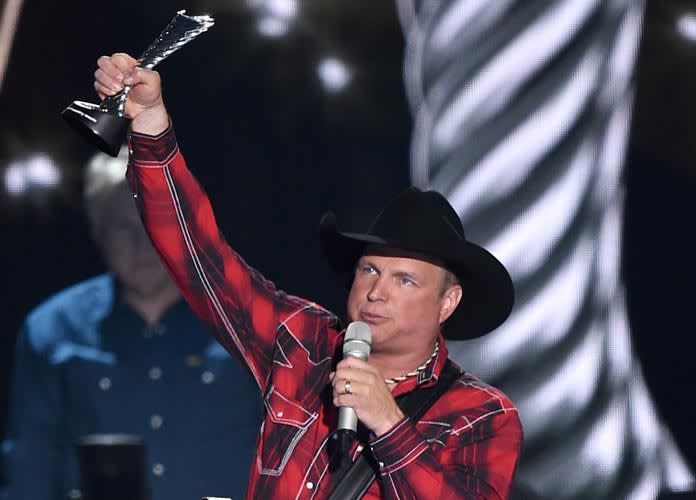 Garth Brooks has taken himself out of the running for Country Music Association award "Entertainer of the Year" after winning the trophy seven times. 
In a virtual press conference on Wednesday Brooks said, "There's one tweet in there that really stuck in my head. It said, 'Hey, man. This guy, why doesn't he just step down (and leave) the entertainer for the next generation?' 100% agree. With all the love in the world, we are officially pulling ourselves out of 'Entertainer of the Year.'" 
Many were upset when Brooks had won the award again in 2019 as fans believed that artists Carrie Underwood or Eric Church should have received it.
Brooks was first named "Entertainer of the Year" in 1991. He subsequently gained the titled in 1992, 1997, 1998, 2016, 2017 and most recently 2019.
Brooks explained that he wished he could be given the title, "Entertainer of the Year Emeritus," but the CMA said that they "can't just create a title and give it to somebody, because they want to treat everybody fairly." Brooks added, "If I had my dream, that's how we'd handle this situation right here."
The CMA had also produced a statement regarding Brook's withdraw and explained that as the rules state, they cannot remove someone from the ballot. This means that it is up to the voters to decide if Brooks will retire from the title. 
The  statement read, "If voters have nominated Garth Brooks in the first round, his name will appear on the second ballot. It will then be up to voters in this second round to select their top finalists. The final 2020 CMA Awards nominees, which will consist of five nominees in each category, will be announced in the coming weeks …" 
Voting for the 2020 CMA Awards began in June and the second round ballots will be sent out on Friday.
Fans admired Brooks' decision to step down on Twitter. One user wrote, "Garth Brooks is pulling himself out of contention for the CMA Entertainer of the Year Award, which makes it a great time to nominate Miranda Lambert, Maren Morris or Kacey Musgraves."
Fellow country artist Steve Wariner commented on Brooks' actions, "If you've ever seen @garthbrooks live, you know why he consistently wins entertainer of the year. There is no one as big as Garth, but more importantly there is no one as kind."
Blake Shelton responded, "Agreed Steve…. He is Garth Brooks. GARTH BROOKS!!! I don't give a shit what anyone says. ANYONE. Entertainer of the century."