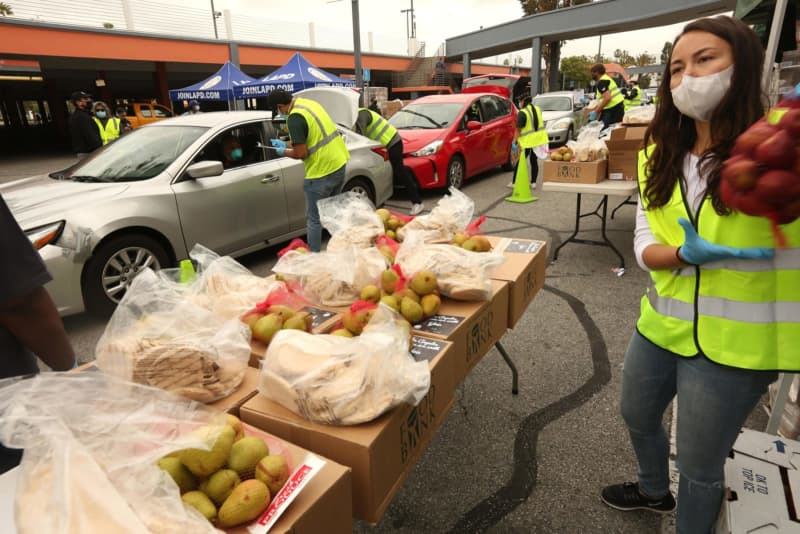 SACRAMENTO, Calif. — Rarely does a mother try to stop her child from drinking a glass of milk. But with schools closed and unemployment spiking during the pandemic, Lissete Frausto, a mother of two in Oakland, finds she has little choice.
Her 4-year-old son normally gulps it down.
"I've been trying to figure out things so that he doesn't want to drink milk as often," she said.
Because of her husband's immigration status, Frausto said her family was excluded from the federal stimulus checks. When schools and day care facilities closed, Frausto was forced to stop working and stay home to care for her two preschool-aged children.
In June, Frausto said she and her family were deemed ineligible for the Supplemental Nutrition Assistance Program, known in California as CalFresh, the backbone of the national food program, because of the unemployment benefits she had begun to receive.
Meanwhile, her homebound children ceased to receive the two free meals from their preschool center each day.
"Having them home all day long, saying 'Mom, I'm hungry, Mom I'm hungry,'" Frausto said. "Sometimes, I'm like, 'What do I do now?'"
During the pandemic, milk for her youngest child is an expense Frausto cannot afford.
Job loss and school closures due to the pandemic have cast families into a new state of food insecurity – hitting Black and Latino families with young children especially hard.
Nearly one in five mothers with young children said their kids were not getting enough to eat in April, according to a study by the Brookings Institution. Black and Latino households with kids are now almost twice as likely to be struggling with food as similar white families.
More than 7,000 people in Sacramento County applied for assistance from the state's food program, CalFresh, in February. In April, applications had shot to almost 15,000 – more than double.
The Sacramento Food Bank has seen a 100% increase in the number of people it feeds, from 150,000 people per month to more than 300,000.
In July, Sacramento County alone had a backlog of 2,596 unprocessed CalFresh applications, the county's Department of Human Assistance said, despite extensive staff overtime to meet the surge in need. Meanwhile, most immigrants don't qualify for CalFresh, said Ramona Landeros, founder of the Benito Juarez Neighborhood Association in Sacramento.
But the relationship between food insecurity and the coronavirus goes deeper. "It's like a vicious cycle," said Dr. Hilary Seligman, a professor of medicine at University of California, San Francisco. Seligman specializes in health care and hunger.
"We're both worried about food-insecure people being at higher risk of COVID, and people who experience COVID being at really high risk of food insecurity down the line," Seligman said.
People who are food insecure entered the pandemic at higher risk of COVID-19 because they are more likely to have poor health and develop chronic diseases, according to Seligman.
In turn, people who contract the virus are in greater danger of food insecurity in the future. Medical bills, time off from work and long-term health effects could destabilize many.
Food banks see a hunger crisis
Before the pandemic, Oakland's Alameda County Community Food Bank — a secluded distribution warehouse which does not typically serve people directly — was deserted of clients. In March, dozens of Californians began to arrive at the warehouse doors each day, looking for food.
Michael Altfest, the food bank's director of community engagement, said that at the same time, the organization's emergency food hotline exploded: Daily calls increased to 300 from 30.
Almost half of the callers had never needed to ask for help obtaining food, Altfest said.
"Believe it or not, one of the first things that people often say when they call is they apologize, which is very heartbreaking to hear," Alftest said.
Altfest said the food bank's weekly distribution has since almost doubled, to more than a million pounds per week.
The SF-Marin Food Bank, another major provider, also said it serves nearly twice as many households each week during the pandemic.
"It has been unlike anything that we have ever faced," Altfest said. "Just the last four months were a year on their own."
Food credits for children
As California continues to grapple with the coronavirus, families face more uncertainty. The Pandemic EBT program, a provision of the Families First Act passed by Congress in March, compensated families who lost access to free and reduced-price meals when schools closed. Now, the benefits are set to expire.
The deadline to apply for the program, which gave parents up to $365 in food credit per child – about $3.50 per meal – was July 15. If the program expires as planned at the end of the month, families will face August with no lifeline.
Flor Fernandez, a mother of four in Vallejo, says that even with Pandemic EBT, which gave her about $1,200 to cover three months of lost school meals, the benefits are not enough to feed her large family.
"When we run out of food stamps, we struggle to get food for the kids," she said.
In Sacramento, during the school year, school buses delivered meals to bus stops, where families could pick them up.
"That was great, but all that has stopped," said Landeros. "But that doesn't mean that the problem ended. We have a lot of children that are going hungry."
Many parents who are essential workers could not pick up the meals at the allotted times, because they were at work. Landeros said the Benito Juarez Neighborhood Association in Sacramento, along with other nonprofits in California, delivers food in boxes to homes of essential workers.
The state allocated $112 million from the Coronavirus Aid, Relief and Economic Security Act to school nutrition programs for the summer. But that CARES money might not go to new meals.
The funds can be spent at the school districts' discretion, meaning they can use it to reimburse themselves for meals they already provided, said Jared Call, who leads California Food Policy Advocates' state legislative agenda.
"They included the money, but not the expectation," Call said. "So what schools will do is say, we will take extra reimbursement for meals we've already served."
Frausto applied for Pandemic EBT. She did not receive money.
Pandemic EBT applies only to the National School Lunch and Breakfast Programs – not to preschool or early childhood education programs, like pre-K.
About 200,000 children in California rely upon the Child and Adult Care Food Program, the free school meals program for early childhood care, said Melissa Cannon, who leads California Food Policy Advocates' federal advocacy and early childhood work.
California's youngest kids, including Frausto's 4- and 5-year-olds, saw no relief when they were cut-off from food at their preschools.
SNAP stretched
SNAP has provided much needed relief. The Families First Act gave increased flexibility to the program, loosening or waiving interviews, reporting requirements and deadlines during COVID-19.
The act also provided an emergency allotment boost to SNAP, meaning any household receiving less than the maximum possible amount of food stamps is given the difference.
But only families who do not yet receive the maximum allotment qualify for a boost. Those who already did have seen no increase in benefits – 40% of people on SNAP.
"By definition, those households that are already at the maximum are the poorest households – they have virtually no income," said Call.
"The way it's been structured is: If you have some resources, you are going to get more," Call said. "If you have no resources, you're not getting any more."
April Leung, a mother of three in Pacifica whose household receives a total of $257 in food stamps, said she can typically make the money last through the second week of the month.
As the pandemic shows no sign of abating in California, and as an economic crisis looms even its aftermath, Leung struggles to understand how she is expected to feed her family of four on $257 a month.
"If parents are not able to work, and this is all they have, this is their only means of buying groceries, is that enough?" Leung asked. "It's not. You're just going to be out there, asking for help and going to food banks."
———
©2020 The Sacramento Bee (Sacramento, Calif.)