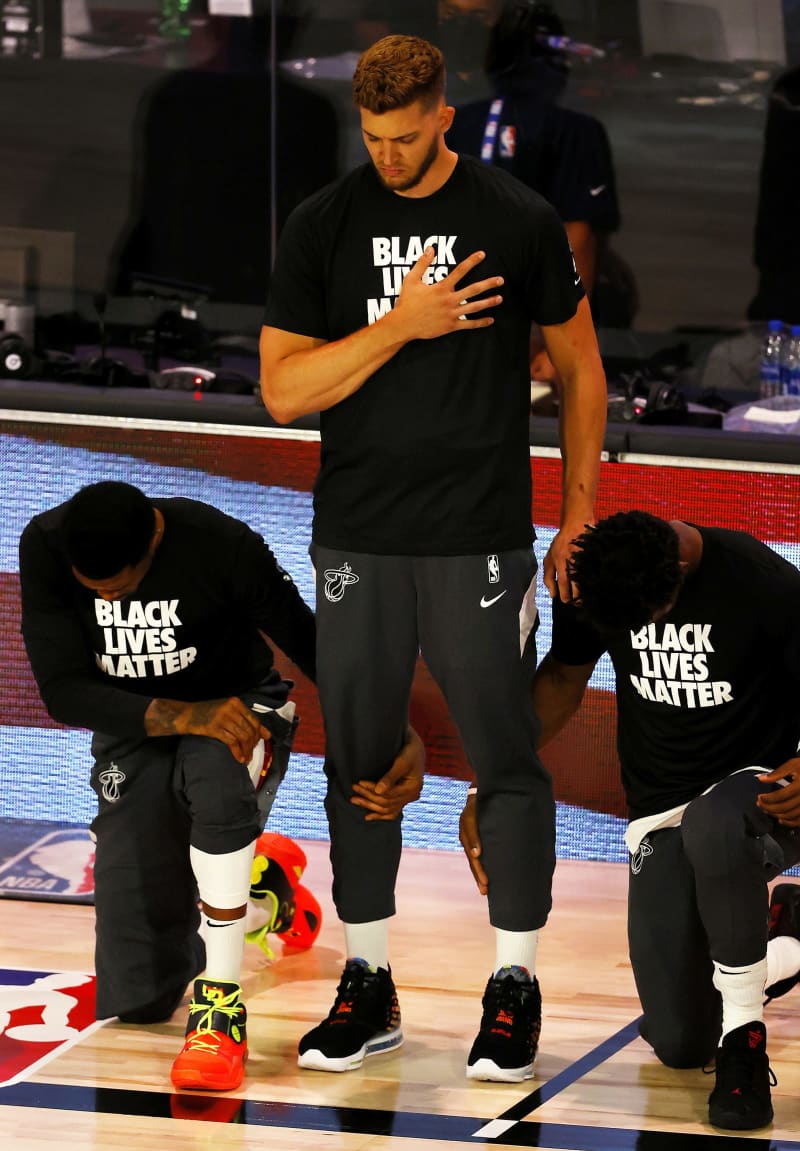 Across the NBA, players are kneeling for the national anthem.
The contrast in unity is so stark and jarring from four years ago when former San Francisco 49ers quarterback Colin Kaepernick took a knee during the national anthem to protest racial injustices.
Even the referees and most coaches are kneeling.
Participation in this once-polarizing form of protest is now so suddenly universal that when a player stands for the anthem, he stands out. And at the NBA restart, it was the Miami Heat's Meyers Leonard, who is white, who drew attention.
Leonard, a former Illini star whose brother served in the military, explained his reasons for dissent with teammates.
He was greeted with praise and compassion from the media. His Black teammates listened to his reasons and even preemptively — and publicly — rushed to his defense. Heat players put their hands on his legs in support as he stood with his hand on his heart, wearing a Black Lives Matter shirt donned by almost all NBA players.
"His being out there with us, as our brother, it's still showing strength," Heat captain Udonis Haslem said. "It's still showing unity. It's still showing that we're coming together for a common cause."
Said Heat forward Andre Iguodala: "On the one hand, we're saying, 'We want you to see things from our perspective.' But by saying that, I also have to see things from his perspective."
Where was this empathy, protection and desire for understanding from Kaepernick's white teammates when he knelt?
Imagine if Kaepernick, a Black man, had received a modicum of this support from his white NFL colleagues, team owners, media, fans and politicians. Perhaps his message against police brutality and racial injustice would have resonated more quickly with this nation.
Let's go back to what white America thought of Kaepernick in 2016.
Minnesota Vikings offensive lineman Alex Boone said his former teammate needed to show some "f — -ing respect." Dallas Cowboys team owner Jerry Jones told the Dallas Morning News any player who "disrespect the flag" would be banned from playing.
Fans burned his jersey outside of stadiums. Nearly 70% of white Americans polled disagreed with his protest.
Kaepernick hasn't played in the NFL since 2016, and the NFL created a bigoted rule targeting players who protest racial injustice during the national anthem.
In 2017, as teammate Eric Reid continued the peaceful protest, President Donald Trump advocated terminating players who knelt.
"Wouldn't you love to see one of these NFL owners, when someone disrespects our flag to say, 'get that son of a b — — off the field right now?,'" he said at a rally. "'Out. He's fired.'"
Not long after, Vice President Mike Pence staged a walkout at an Indianapolis Colts game when some players knelt during the anthem.
A video from 2019 emerged this week of a U.S. Navy Seals fundraiser using a stand-in for a K-9 demonstration of dogs attacking a man wearing a Kaepernick jersey and joking about standing for the anthem — a revolting image harkening back to the days of state-sanction dog attacks on Civil Rights protesters and white Southerners using canines to hunt for Black people attempting to escape slavery.
And even so, Kaepernick's message survived and spread. The evidence is on the sidelines of NBA, MLB, NWSL, MLS and WNBA games as the majority of players protest during the anthem in the wake of high-profile murders by police of George Floyd and Breonna Taylor this summer.
A recent poll in June showed 47% of white people support kneeling during the anthem as a form of protest.
But if fans still can't see the difference between how Leonard's dissent is being treated gently and fairly while Kaepenrick's dissent was met with ostracism and outrage, this is part of the problem.
The mild critiques Leonard has faced are based on facts and history, pointing out his false equivalency between protesting during the anthem for equal rights and anti-military sentiments.
Leonard did not risk his career by standing. He did not subject himself to the history of oppression and threats of violence Black athletes have for decades.
Leonard's message wasn't misconstrued by ill-intentioned politicians, obtuse reporters or outright racist fans. NBA fans have learned through fair reporting how Leonard agonized with this decision to stand, held conversations with teammates, and even cried.
He deserves to choose how to express himself during the national anthem. He deserves to be heard. He deserves understanding.
And so did Kaepernick.
———
©2020 Chicago Tribune