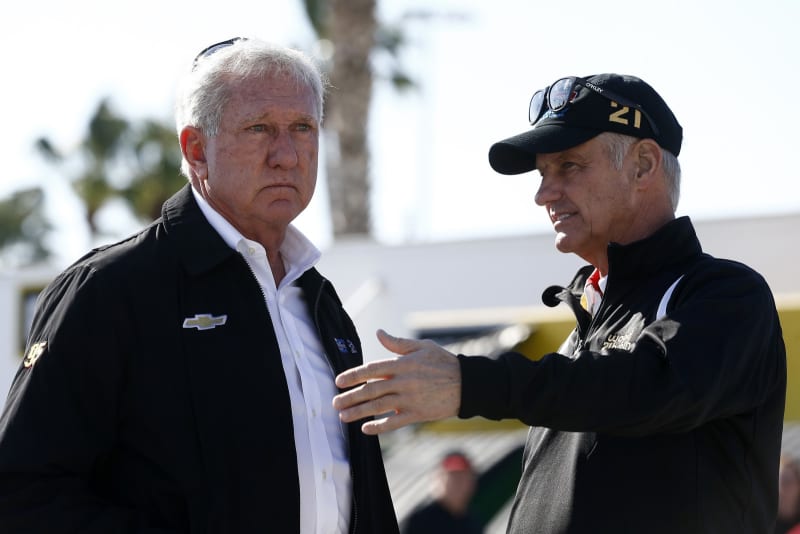 CHARLOTTE, N.C. — Leavine Family Racing will have new ownership after the season, team owner Bob Leavine announced Tuesday morning. The NASCAR team, its assets and the charter for the No. 95 Toyota Camry driven by rookie Christopher Bell have been sold due to the financial impact of the pandemic.
"This year has been challenging for not only our race team, but our industry, our country and the entire world," a statement from Leavine said. "The pandemic has impacted the economy and unfortunately that's just not something we are able to overcome in order to continue racing this season."
Rumors that the team was soliciting bids, first reported by Sports Business Journal, came as early as two weeks ago and were confirmed by LFR this week. Leavine did not disclose the identity of the new owner, but said that the team's assets, including its shop in Concord, its entire inventory and its full-time Cup Series charter were sold. The team will continue to operate through 2020.
"We entered this 2020 racing season with high hopes for LFR and the team has not disappointed," a statement from LFR's Toyota Racing manufacturer said. "While the season may not have started out as everyone wanted, after returning from the shutdown due to COVID-19, LFR rebounded with some very strong on-track performances."
"Unfortunately, the COVID-19 pandemic has impacted the world and more closely, the entire NASCAR family in so many ways and for LFR, that has forced the sale of the race team," the statement continued.
Leavine Family Racing was founded in 2011 by Bob and Sharon Leavine, who owned a majority of the organization, in addition to running WRL General Contractors, LTD. Their construction business was also the team's largest sponsor, according to Leavine. In 2016, commercial real estate owner Matt DiLiberto joined the team as a co-owner, but his line of work was also heavily impacted by COVID-19. Leavine said his family was unable to keep both of their construction company and race team afloat through the pandemic, forcing them to cut ties with LFR.
"It was the perfect storm," Leavine said. "With that coming, NASCAR shutting down and the business model, and our biggest sponsor — ourselves — so all of those things, combined."
Leavine also cited other sponsorship deals falling through for races, as well as the delay of the NextGen car debut to 2022, as factors that contributed to his team's sale. Leavine said he was counting on the NextGen car to move away from the pricey affiliation with Joe Gibbs Racing, which has a technical alliance with LFR, after the season. Leavine said the team will return its car bodies and chassis to JGR at the end of the year.
LFR is not the first team forced to sell after aligning with JGR. Furniture Row Racing was also sold in 2018 after a forming an alliance with JGR. Ownership of Furniture Row went to Spire Motorsports, which is rumored to have purchased the charter for LFR.
"We definitely did not get out of our charter what we put into our charter," Leavine said of the buy-in to guarantee entry into NASCAR races with a 40-car lineup. "So, from our standpoint, it is very difficult to say that it was a great investment. It just allowed us to run full time for the five years after we bought it. That's the best thing I can say for the charter system."
Drivers of the No. 95 car have included current full-time Cup drivers Michael McDowell, Ty Dillon and Matt DiBenedetto, as well as former full-time drivers Kasey Kahne and Regan Smith. Christopher Bell currently drives for LFR, leaving JGR and Toyota Racing Development with a decision about the Cup rookie's contract. Last week, Bell declined to speculate about his future and the sale of LFR. He tweeted Tuesday that he was "grateful for the opportunity to compete in the Cup series for LFR."
"I'm focused on finishing the year strong and going after not only my first win, but the teams as well," Bell tweeted.
Bell's best finish so far this season came at the first Pocono Raceway event, where he placed fourth.
"Leavine Family Racing will continue to compete through the end of 2020, and we want to leave on a positive note — contending for top-finishes with Christopher Bell, Toyota, TRD, and all of our partners," the statement from Leavine closed.
"Thank you to everyone for your support through this journey. Thank you to our partners and fans and most of all, thank you to everyone who has been part of the Leavine Family Racing family over the last decade."
———
©2020 The Charlotte Observer (Charlotte, N.C.)