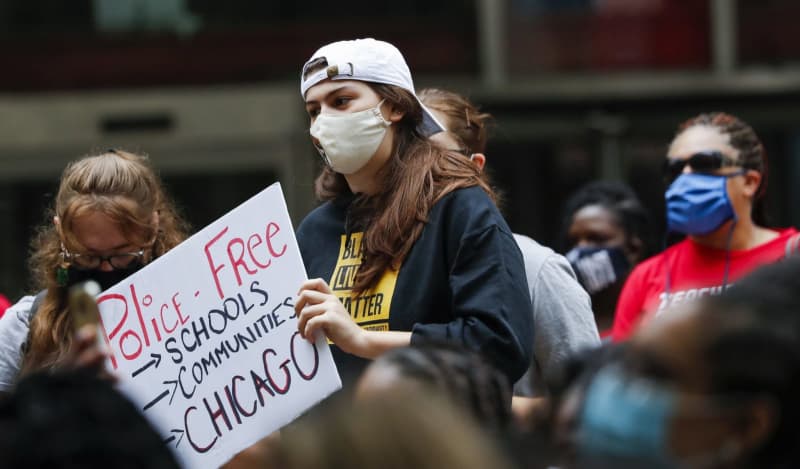 CHICAGO — The Chicago Teachers Union is planning to convene its House of Delegates early next week to consider a process that could lead to a strike if Chicago Public Schools doesn't agree to start the school year with full remote learning, sources said Tuesday.
It's not clear if the process would differ from the steps taken before the 11-day teachers strike last fall, but the union's bylaws require a full membership vote to authorize a strike after the matter comes before the House of Delegates.
Educator unions nationwide, including the Illinois Federation of Teachers and American Federation of Teachers, have said they'd support local unions if insufficient COVID-19 precautions on the part of school districts lead to "health and safety strikes."
With CPS' final fall instruction plan due this week, it remains to be seen if the threat of a strike will affect the outcome.
Meanwhile, Chicago's health commissioner on Tuesday said she wants children learning in classrooms this fall "if the outbreak is broadly in control," the latest salvo in the brewing fight over whether it's safe to open public schools despite the coronavirus pandemic.
Dr. Allison Arwady warned that lots of COVID-19 spread in Chicago is taking place right now within households, going so far as to suggest people living with at-risk family members consider social distancing and wearing masks within their homes.
But speaking days before the deadline CPS set for parents to decide whether to let their children attend classes in person two days per week starting in September, she also said if the city's pandemic numbers look good, she feels the schools can handle in-person learning safely.
"Where the child is at school wearing a mask with the social distancing, with the appropriate procedures in place, I honestly do not think the risk of spread is significant," Arwady said at her weekly news conference about the city's travel list. "I wouldn't be promoting this if I thought it was."
Arwady didn't talk specifics, but she and Mayor Lori Lightfoot have pointed to an 8% positivity rate or a seven-day average of 400 new cases per day in Chicago as benchmarks that could indicate the virus is too out-of-control to risk in-person learning.
Chicago's positivity rate is currently 4.8%, and the daily case count is at 273 and rising, Arwady said Tuesday.
Lightfoot's point person on the pandemic made her comments a day after members of the CTU, parents and students descended on City Hall to protest the mayor's plan to potentially reopen schools in the fall with a "hybrid model" where children attend classes two days a week and learn from home the other three.
CTU President Jesse Sharkey on Monday said it's not appropriate to have in-person learning "in an environment with raging contagion," and that the union won't stand for it.
"The mayor does not have the guts to close the schools," Sharkey said outside CTU headquarters. "They're putting it on us to close the schools. That's what we feel like is happening."
The advantages to children who are around each other in school are significant, Arwady said Tuesday.
"I'm a pediatrician, and I feel pretty strongly that there are benefits for in-person education, especially for younger children who don't learn well from screens, and all of the social and emotional benefits, and all of the other things we've talked about," Arwady said. "But it all comes back to what that local data looks like."
Critics say doing that would put teachers, students and their families at unnecessary risk.
CPS has told parents to choose by this Friday whether they want their children to learn in school using the hybrid model this fall, or stay at home.
Though students who opt for the hybrid model can switch to remote learning at any time, those who start the school year remotely will have to wait until the second quarter to switch to hybrid classes, according to CPS officials.
School districts across the Chicago area and the U.S. are scrambling to put guidelines in place to prepare for the school year to start in a few weeks even though virus cases are far from contained in many areas.
Several suburban school districts recently shelved in-person or hybrid plans for the fall, opting instead for all-remote starts to the new year on the grounds it's too risky to bring students and teachers together.
CPS officials have stressed that they will only reopen schools if it's safe but also that schools likely will need to reopen at some point before any COVID-19 vaccine is fully rolled out.
As Chicago's positivity rate for coronavirus cases continues to rise, Arwady said "I can't say the risk is zero, of course."
"And again, the more our numbers are going up in Chicago, the more concern I have about this. Because as our cases increase, the risk of people having COVID, especially asymptomatic COVID, does go up," she said.
———
©2020 Chicago Tribune