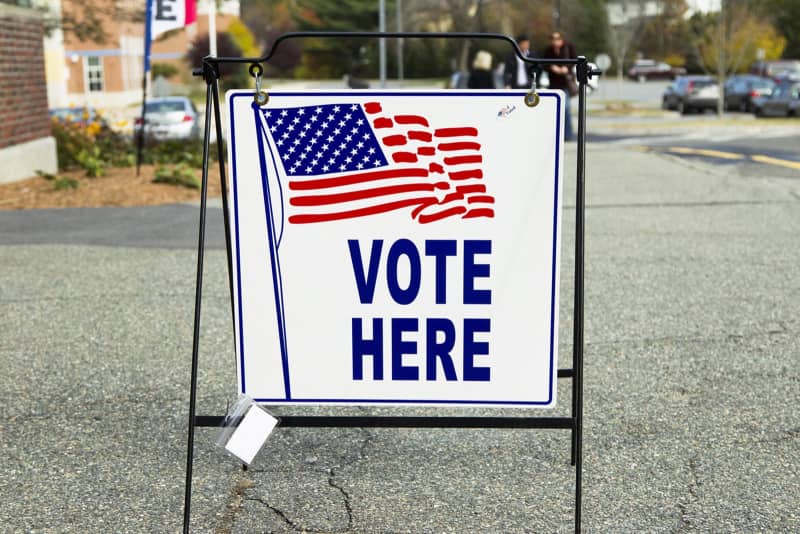 Kansas Treasurer Jake LaTurner defeated embattled Republican Rep. Steve Watkins in the GOP primary Tuesday, three weeks after the freshman congressman was charged with voter fraud.
LaTurner has 49% of the vote with more than 50% of precincts reporting in the Kansas 2nd Congressional District. Watkins has 31%, while former Kansas Secretary of Administration Dennis Taylor has 21% in the three-way GOP race.
The Associated Press declared LaTurner's GOP primary victory around 9:30 pm. He will go on to face Topeka Mayor Michelle De La Isla, who easily won the Democratic nomination with 76 % of the vote.
The district, which covers most of eastern Kansas, was one of the most closely contested in 2018.
LaTurner's campaign circulated an internal poll last month that had him in a toss-up race with De La Isla. It showed Watkins trailing the Democrat by double digits in a district that has only gone to a Democrat once in the last two decades.
Republicans are hopeful that LaTurner will be able to keep the seat in GOP hands. Former Kansas Republican chair Kelly Arnold said Democrats were "looking for a damaged opponent and that's not what they're going to have in Jake LaTurner."
Watkins is the sixth incumbent member of Congress to lose a primary this election cycle. His defeat to LaTurner likely puts an end to one of the shortest and strangest political careers in Kansas history.
Watkins, an Army veteran, emerged from obscurity in 2018 to narrowly win the district after his father, Steve Watkins Sr., steered nearly $800,000 into a super PAC.
His single term in Congress has been marked by controversy and multiple investigations, which culminated in the felony charges announced last month roughly a half-hour before Watkins appeared in a televised debate with LaTurner and Taylor.
The charges stem from Watkins' use of a UPS store as his voter registration address for the 2019 municipal election. He acknowledged to The Star that he voted in the wrong city council district, but described it as an inadvertent mistake and disputed that he should've been charged.
Watkins faces three felony charges in Shawnee County for voting without being qualified, unlawful advance and allegedly lying to a Shawnee County detective by telling her that he had not voted in the municipal election.
Watkins accused Shawnee County District Attorney Mike Kagay of charging him in an effort to boost LaTurner's campaign.
LaTurner has dismissed the claim as ridiculous.
The Pittsburg Republican is attempting to chart the same course as his political mentor, former Rep. Lynn Jenkins, who held the seat for a decade after stints in the Kansas Legislature and as Kansas treasurer.
LaTurner, who ran Jenkins' southeast Kansas office for four years, was elected to the Kansas Senate in 2012 and appointed state treasurer in 2017. He retained the position in his first statewide election 2018, officially becoming the nation's youngest statewide elected official.
De La Isla, the first Latina mayor of Topeka, rose from homelessness in Puerto Rico as a teen to mayor of Kansas' capital city.
She has outraised LaTurner since January. As of July 15, she had roughly $516,000 cash on hand compared to LaTurner's $379,000.
Kansas Democratic Chair Vicki Hiatt pointed to both De La Isla's unique biography and her strong fundraising in a statement Tuesday night.
"Mayor De La Isla's life experience makes her a uniquely qualified candidate to represent hardworking Kansans in KS-02, and her fundraising prowess and wide breadth of endorsements demonstrate the formidable grassroots campaign she has built across her district," Hiatt said.
De La Isla promised her campaign would focus on the issues affecting Kansans' daily lives.
"Over the next three months, I plan on listening to Kansans and talking about the issues that matter to them, like lowering the cost of healthcare and investing in infrastructure and education," De La Isla said. "Washington is broken, and we need a representative who will work across party lines to start getting real results."
Republican operatives in the state said they are confident that LaTurner will be able to run a stronger general election campaign than the embattled Watkins.
"LaTurner is a proven vote-getter up and down the 2nd District. It's going to be a hard-fought race, but he certainly starts with the edge and he's someone who can represent the whole district, not one town," said David Kensinger, a longtime GOP strategist who has managed campaigns for former Gov. Sam Brownback and Sen. Pat Roberts.
Kansas Republican National Committeeman Mark Kahrs said LaTurner's victory "assures that the GOP holds the seat in November and sends a rising star in the Kansas Republican Party to Congress."
———
(The Wichita Eagle's Jonathan Shorman contributed to this report.)
———
©2020 The Kansas City Star (Kansas City, Mo.)