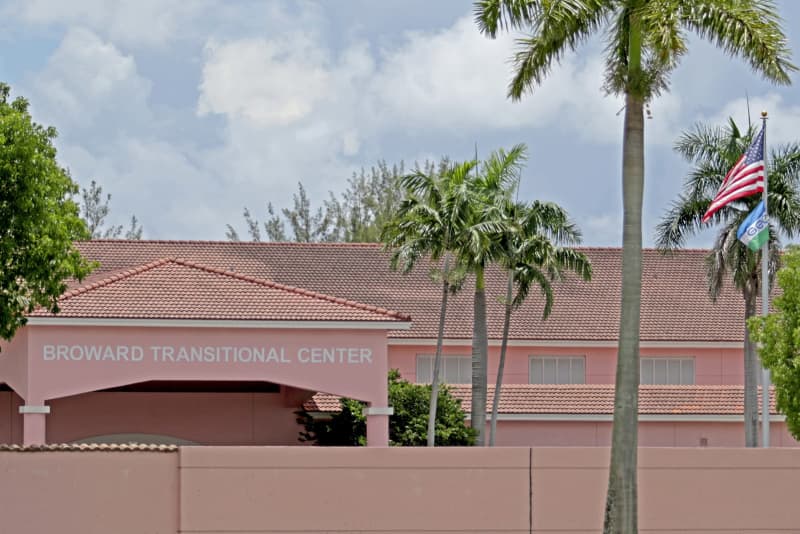 MIAMI — The list of immigration detainees personally asking a Miami federal judge to release them from coronavirus-riddled detention centers in South Florida continues to grow.
The new requests for release — each about 200 pages long — began to trickle in about two weeks ago after U.S. Immigration and Customs Enforcement revealed that a detainee had died of the virus at a Palm Beach County hospital. It was, and remains, the state's first reported COVID death of an immigration detainee.
In their statements to U.S. District Judge Marcia G. Cooke, 13 detainees urged her to let them continue their deportation proceedings from home because "death and/or permanent harm is imminent" due to serious underlying medical conditions. More detainees are expected to file requests this month.
Cooke is expected to review the filings and make a decision in the coming weeks, though there is no hard deadline.
"Miryam Lopez is not a risk of flight or a danger to the community and detention serves no justifiable government interest — rather, it places ICE in peril of suffering a likely death under its watch," Immigration Attorney Linda Osberg-Braun said of her Argentine client, who has been detained by ICE for 18 months and is currently being held in Broward's detention center.
"The virus will likely be fatal for her because her debilitated lungs would not endure COVID-19," Osberg-Braun added, listing Lopez's medical conditions: chronic obstructive pulmonary disease, chronic bronchitis, asthma, hepatitis C and gastroesophageal reflux disease. She said Lopez's deportation proceedings "are likely to continue for many months and possibly for years into the future."
The new batch of documents are part of an ongoing class-action lawsuit seeking to release more than 1,200 ICE detainees who are currently detained or at some point were detained at the Krome Processing Center in Miami-Dade, the Broward Transitional Center in Pompano Beach and the Glades County Detention Center in Moore Haven.
The cries for help offer a glimpse at life inside immigration jails during a global health pandemic where coronavirus is running rampant behind bars.
Among the allegations — which echo Cooke's earlier court orders that say ICE has actively violated detainees' constitutional rights — are that social distancing is impossible and there isn't enough soap or sanitizer.
The detainees also claim that:
— Coronavirus-positive detainees are being housed with people who haven't been tested.
— Required medications aren't being given to some detainees who depend on them.
— People who have been exposed to the virus use the same phones and common spaces as other detained individuals.
— Surfaces aren't consistently wiped down, and
— Masks aren't mandatory.
Jamaican national Rodney Martin, 48, who uses a wheelchair and has Type 2 diabetes and high blood pressure, told the judge his situation has not been enough to convince immigration authorities to release him. Mohamed Hasan Ali, a refugee who fled the civil war in his native Somalia, is in a similar situation. Medical records submitted to the judge show he has high cholesterol and a liver condition, as well as post-traumatic stress disorder and clinical depression.
"As a child, Mr. Ali witnessed his sister's murder at the hands of a rival clan. As a result of his childhood trauma, he has been diagnosed with PTSD," his attorney, Romy Lerner, said, noting that "although he tested negative for COVID-19, he is being detained with individuals who have tested positive."
According to Lerner, four people in Mr. Ali's unit recently tested positive. Two of them were sent to the hospital; the other two are asymptomatic and remain housed in the same pod as Ali.
"Detainees that remain in Krome do not wear masks, and they eat, sleep, watch television and use the same phones and common spaces as the other detained individuals," Lerner said. The Krome guards often do not wear their masks either, he said. "They tell Mr. Ali that wearing masks is useless because people are coming in and out of the detention center with COVID-19 all the time."
Ultimately, 25 detainees were added to Ali's cell, bringing the population up to 65 people, which is the pod's maximum capacity, the court record said. After being transferred into the pod, the 25 new detainees were all tested for COVID-19 and 15 of them tested positive.
Attorney Lisa Lehner of Americans for Immigrant Justice, a Florida nonprofit immigration organization, told the judge that her client, Deivys Perez Valladares, who was transferred from Broward to Krome, never received a decision regarding his release or an explanation for his transfer.
"Medical staff at BTC did not complete a medical examination prior to transferring him," Lehner said of her client, who has tachycardia and depends on multiple doses of insulin a day to manage his diabetes. "During the transfer for Krome, Valladares and the other detained men were not provided with a mask. The guards supervising the transfer were also not wearing masks."
She said that when Valladares arrived at Krome, only the guards there were wearing masks, not the detainees. Valladares was placed in a general population pod with about 60 other men, "where practicing social distancing was impossible and the man sharing his bunk was sick."
ICE has not yet filed responses in the cases of Lopez, Ali and Valladares. The agency did file in opposition to three other cases. In portions of the three responses, the government issued identical statements, arguing that detainees' being unable to social distance is not grounds for their release.
Detainees are "attacking the fact of (their) confinement as opposed to the conditions of (their) confinement. This a distinction without a difference because the reasons (they) claim (their) confinement are unconstitutional are all based on the conditions of confinement," the agency said.
"ICE has proven that it cannot implement the necessary social distancing and other procedures to ensure that he will not develop COVID-19. As explained herein, release is not a proper remedy."
In one of the cases, ICE said that the detainee was in the process of being deported back to Cuba within the next six to eight weeks.
"Releasing men and women from detention is the fastest and safest way to ensure that they are able to implement appropriate precautions to avoid COVID-19," said Jessica Schneider, director of the detention program at Americans for Immigrant Justice. "We are optimistic that the individual motions will be granted so that individuals will be released. We will continue to file motions as warranted by the law and any rulings from the Court."
Last month, the judge assigned Miami attorney Matthew C. Dates to determine whether ICE officials have violated her court orders aimed at preventing coronavirus cases behind bars.
Dates' task: to inspect and investigate Krome, BTC and Glades. In her order, Cooke said that "a continued failure to provide detainees with bare minimum necessities and supplies to survive the pandemic is evidence of deliberate indifference to medical needs, tantamount to the infliction of cruel and unusual punishment because it increases the risk of exposure to a lethal and highly contagious disease."
She added: "The Eighth Amendment does not mandate comfortable prisons, but neither does it permit inhumane ones. … Accordingly, the Court finds it appropriate to appoint a special master … to assess whether ICE is committing an ongoing violation of the detainees' constitutional rights."
As of Tuesday, Glades' tally for detainees who have tested positive for COVID is 149. Krome's has counted 130 and Broward is at 43, ICE data shows. ICE has refused to release data to the Miami Herald on how many security guards and jail workers have tested positive.
———
©2020 Miami Herald