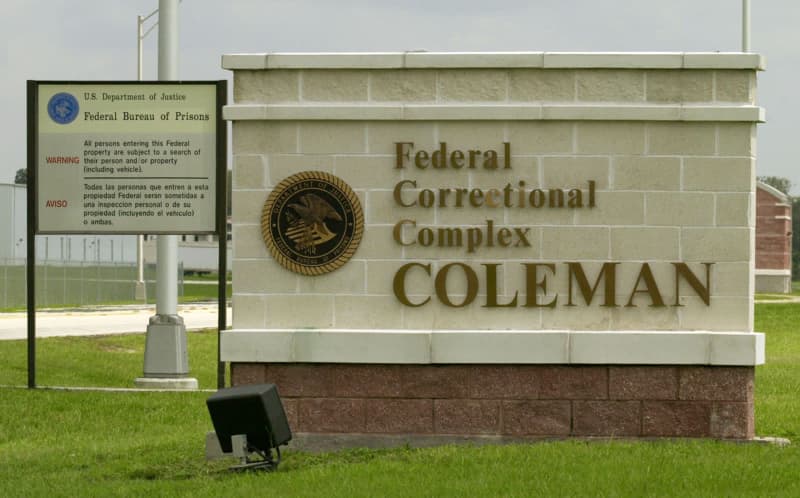 MIAMI — Tressa Clements pressed her hand to the ICU window and spoke through her tears.
"Baby girl, I pray to God you would wake up," she said to her child, lashed to a ventilator. "I want you to wake up."
That was Sunday evening — the penultimate day of Saferia Johnson's life. Johnson, an inmate at the women's work camp at Coleman Federal Correctional Complex in Sumter County, died the next morning, just after 10.
The cause: COVID-19. She was 36.
Johnson, a nonviolent inmate with two young sons, had petitioned the prison for compassionate release on home confinement. The prison had rejected the request, which are at the discretion of the warden, subject to certain conditions.
She became the first inmate in Coleman low — as in low-security — to die from the virus, according to Bureau of Prison records. There are 182 inmates and 21 staffers in total who have tested positive for COVID-19 in the facility, which has been beset by a series of problems, including a Legionnaire's Disease outbreak and allegations of sexual abuse. Family members describe the situation as dire, with more woman getting sick daily.
"I am sad, heartbroken, in disbelief," said Clements. "This never should have happened."
Numbers of confirmed cases across the Federal Bureau of Prisons system continues to climb, BOP data show. While the total number of currently infected inmates and staff — 2,017 inmates and 542 staff — is lower than it was two weeks ago, the number of recovered inmates and staff has skyrocketed. On July 17, there were 5,370 inmates who had recovered from COVID, along with an additional 295 staff members. On Tuesday, there were 8,663 inmates who had recovered and 720 staff in the same category.
One hundred and eight federal inmates — four of whom were in home confinement — and one staff member — have died from the virus.
The BOP confirmed Johnson's death in a news release Tuesday. Administrators say Johnson was first evaluated July 15 by health services staff at the Satellite Prison Camp adjacent to the Federal Correctional to Coleman Low "for shortness of breath." She was tested for COVID-19, and on July 19 the results showed she was positive. That was more than a month after her request for home custody was rejected, she said in a text.
She was then taken to the hospital.
"While in the hospital, Ms. Johnson's health condition deteriorated, and she was placed on a ventilator," the BOP said in the release. "On Monday, August 3, 2020, Ms. Johnson, who had long-term, pre-existing medical conditions, which the CDC lists as risk factors for developing more severe COVID-19 disease, was pronounced dead by hospital staff."
Clements said the news the release was the first time the BOP confirmed to her that her daughter had COVID.
"They've told me nothing," she said. "This has been horrible."
Johnson grew up in Thomasville, Georgia, and was Clements' only child. Clements' parents helped raise her, and she was doted on by everyone.
"She was everyone's baby," said Clements. "She was a sweet girl. She didn't deserve to die there."
In 2018, Johnson was sentenced to 46 months for conspiracy to embezzle public money and aggravated identity theft after pleading guilty. Her mom said she knew she had made a mistake and had to do her time, but, she added, "she was not given a death sentence."
Johnson began serving her time at FCI Marianna and was transferred to Coleman Oct. 1, 2019, after the Marianna facility was damaged by Hurricane Michael.
Ever since she was a child, Johnson had suffered from asthma and relied on breathing treatments to keep herself well. A few years back she was diagnosed with diabetes.
Clements said her daughter constantly struggled with getting her treatments — even before COVID began to spread.
She applied for compassionate release because of her medical conditions but was denied, Clements said. She was in the process of filing a court motion to have a judge decide. BOP said it would not comment on an individual's application for compassionate release.
On July 21, Clements said she got a call from the chaplain saying her daughter was having a hard time breathing. She never confirmed that Johnson had COVID.
"It sounded like she was getting better," Clements said.
Then last week, Clements' sister got a call from the prisons bureau saying they should visit Johnson in the hospital Friday. Clements said they rented a car and were ready to make the nearly 170-mile trek from Thomasville to Coleman, only to be told the visit had not been cleared. They then were told to come Sunday. Clements said they asked to push the visit to Monday, but BOP said they should come immediately.
Still, Clements was not told that her daughters' condition was grave.
They left at about 1 p.m and made it to Leesburg Regional Medical Center at around 4:30 p.m. Sunday. They checked in and were told to go to the second floor, which is the hospital's designated COVID-19 floor, Clements said.
When they got to the floor they had to wait because another patient had died and "was being wheeled away on a stretcher." She saw a guard sitting in front of her daughter's room, ICU-1.
After being checked in by the guard, Clements and her sister were led to the window.
She prayed. She asked a nurse to sneak in a phone covered with a rubber glove so she could talk to her daughter, nicknamed Rabbit.
"I told her to fight as hard as she could," she said. "She couldn't talk, but tears were coming from her eyes. She knew I was there."
Visiting hours ended at 6 p.m. She stayed until about 6:30 p.m. when she was forced to leave. She was told she couldn't come again Monday, so Clements and her sister headed home.
At about 1 a.m. she called to check on her daughter. Her blood pressure was up, but there was no other information.
Clements said she stayed up all night talking to God. At 8 a.m. she started calling again. At about 10:30 her sister got the call that Johnson had died.
"Now I have to bury my daughter and figure out how to raise these kids," she said. "These kids will never see their mother again for no reason."
Clements said she and other family members told Johnson's boys — Kyrei, 7, and Josiah, 4 — Monday that their mother isn't coming home.
"We told them that God wanted her as an angel with him," she said. "But she will always be in their lives and be their guardian angel."
The day Tressa Clements lost her daughter, another inmate petitioned a judge for compassionate release, citing the death of Saferia Johnson. Ana Teresa Pimentel has COVID-19.
———
(Miami Herald staff writer Jay Weaver contributed to this report.)
———
©2020 Miami Herald