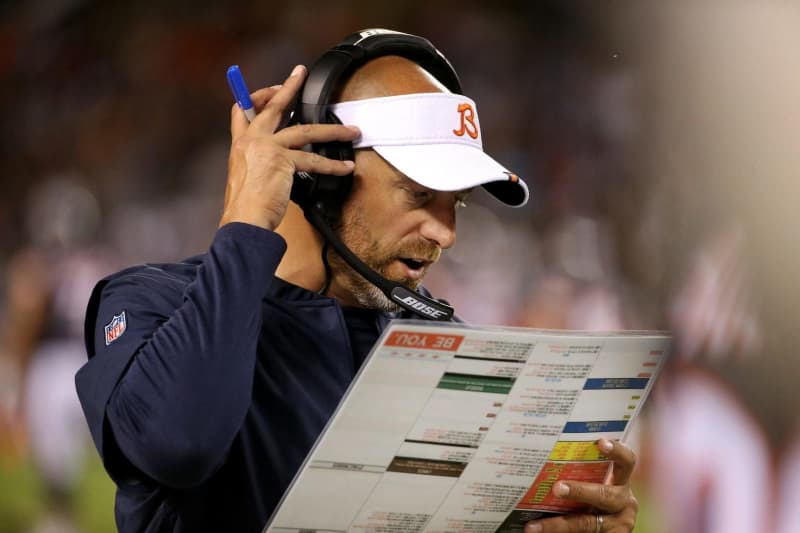 CHICAGO — When the news spread Monday that Philadelphia Eagles coach Doug Pederson had tested positive for COVID-19 and was heading for quarantine, Matt Nagy took a moment to gather himself. Nagy reached out to his friend and former colleague and was encouraged to learn Pederson was asymptomatic and feeling fine.
"We're all here for one another," Nagy said.
But for the Chicago Bears coach, it was yet another reminder. This 2020 football expedition promises to be tricky throughout and, at times, quite treacherous.
Stay alert. Stay flexible.
Be ready for anything.
"We all have to go into these days like anything can happen," Nagy said.
The Bears are more than a week into training camp and progressing toward the possible start of the season as much as they possibly can. League protocols won't allow any sort of traditional practices next week. Thus for now, the Bears are immersed in meetings and walk-throughs and strength and conditioning sessions.
Meanwhile, players and coaches are learning to adapt in their newly reconfigured surroundings at Halas Hall with this strange, new reality of pandemic-related precautions becoming a part of their everyday world.
Two Bears players — nose tackle Eddie Goldman and safety Jordan Lucas — have opted out of the 2020 season with the full understanding and support of the team. Three others — running back Artavis Pierce, tight end Eric Saubert and defensive tackle John Jenkins — have been placed on the newly created reserve/COVID-19 list. All three were activated within four days.
As the head coach, Nagy has had to keep his firefighting gear handy.
"We let everybody know: Expect the unexpected," Nagy said. "You just never know."
———
In Lake Forest, Nagy and the Bears are confident they are creating a safe work environment that will prevent a coronavirus surge while allowing the team to focus on pursuing a championship.
As Nagy stressed Wednesday, though, those efforts require unity and full buy-in from coaches, players, support staff and many of the people in the outside world who are in close contact with every coach, player and support staff employee.
That's family members, friends, et cetera.
Right now, a strong emphasis remains on the basics. Bears players are constantly reminded of the need to distance, to stay six feet from each other whenever possible. On top of that, the Bears have hammered home the need to wear masks at all times inside the building and as much as possible outdoors.
"Everybody's got different beliefs on the levels of 1 to 10 on where (the virus is) at," Nagy said. "But if we just keep the simple rule that everybody wears a mask, that's the best way to go about it. So that's what we're doing. Our guys have been really phenomenal with it. And we police each other too.
"You hear a lot of people say, 'Well, you've got to treat this like everybody has it.' In my opinion, you've got to treat it like you have it, right? If you treat it like you have it, you wear your mask and the percentages of spreading it can be a lot lower."
Nagy acknowledged that much of his time in recent weeks has been tied up with discussions about risk mitigation and how best to protect the team from COVID-19. To that end, he said, the modified Halas Hall setup has been adjusted and reorganized in several ways since camp opened last week.
"We keep adding to make it better," Nagy said. "(General manager) Ryan (Pace) and I joked, it's like one of those Wiffle balls that has holes in it everywhere. We keep finding the holes and patching them up. That's probably going to continue for the whole year. If there's something that our players bring to us or that we feel can keep us safe in one way or another, we're going to do that."
Andre Tucker, the Bears' head athletic trainer and infection control officer, has stressed the education piece of this puzzle, working to keep players and their families up to date with information and recommendations to stay healthy and safe.
"It's very important from an educational standpoint that you kind of calm down some of the anxieties of the unknown," Tucker said. "That's where education is key. The more you know, the more you can make a sound and long-lasting positive decision. That doesn't just affect us in the club. It also affects your family."
Tucker's loudest recommendation for anyone feeling uncertain about where to set the level of risk tolerance?
"Take a deep breath," he said. "Ask yourself, with the situation you're putting yourself in, is the risk worth the reward? And trust your gut. If you're hesitant about it, don't do it."
———
Inside the NFL, belief persists that the season will begin in five weeks without issue. It may seem to some like a steep climb. But it's certainly doable.
Still, the league's goal has never been simply to start a season. It's to find a way to the finish line — with a Super Bowl at the end. That's a journey that, without interruptions, will take six months and require 32 teams to cross a minefield with great caution, patience and awareness.
For the time being, many normal football-related tasks have become secondary, pushed to the side as COVID-19-related responsibilities take precedence.
Soon, though, that will have to change as teams begin practicing, gearing up to win football games while taking on the difficult challenge of juggling caution with cutthroat competitiveness.
Greater risks will come into play. Troubleshooting plans must remain handy.
Questions on whether football can be played safely and successfully in this environment are fair and won't go away anytime soon. But the NFL also deserves its shot at testing things.
The NBA and NHL have had few issues to this point in their bubbles. Major League Baseball has managed at least to contain the scary fire that ignited last week. And now, even with significant concerns, baseball continues progressing through its schedule.
The NFL has done its best over the last three-plus months to set itself up for success. Now so much of this rests in the teams' hands.
Nagy acknowledged Wednesday that it has been difficult to do much long-term planning with so much focus and adaptability needed for each day.
"We just have to have a bunch of contingency plans," he said. "You've got to always try to stay one or two steps ahead."
As the coach himself said, anything can happen.
———
©2020 Chicago Tribune