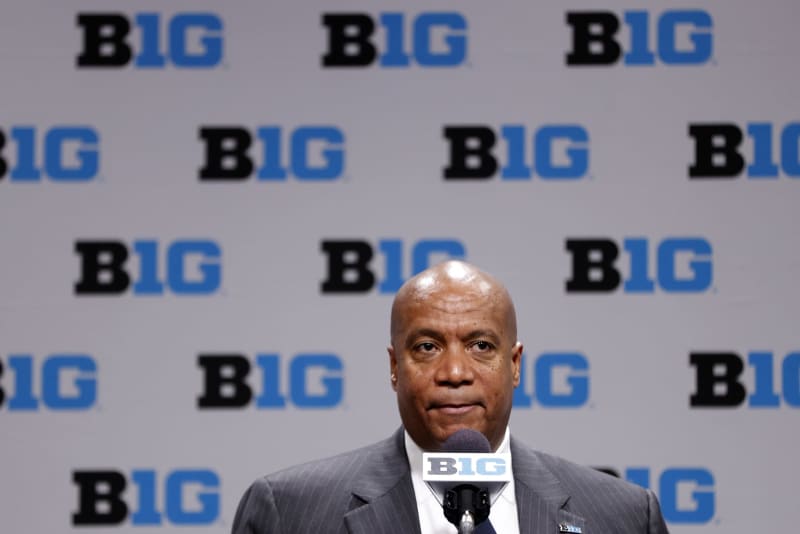 CHICAGO — In another move highlighting growing concerns about COVID-19's impact on athletes, the Big Ten announced Saturday it will not progress to padded football practices.
The league said it wants to evaluate safety before progressing to full-contact practices as part of an incremental practice step, known as "Day 3."
Players can currently only practice in helmets.
Colleges returned to practices without contact late last week after voluntary workouts began in June.
"Each new phase of activity provides new intelligence and experience and allows us to evaluate the implementation of our conference and institutional medical protocols in real-time," the Big Ten news release said. "In order to make the right health and safety decisions for our student-athletes, we believe it is best to continue in the appropriate phase of activity referenced above while we digest and share information from each campus to ensure we are moving forward cautiously."
Big Ten presidents planned to meet Saturday and "all options are on the table," with some presidential support for canceling the fall season, according to Yahoo Sports.
The conference announced earlier this week schedules for its conference-only season.
The Mid-American Conference announced Saturday it is postponing its fall sports season amid COVID-19 concerns.
More than 90 college programs have announced at least one positive COVID-19 test among athletes.
Illinois has had 23 players, including at least 18 football players, test positive since June with three active cases. The program announced Thursday athletes in season would be tested daily.
Northwestern has had no positive tests, but suspended workouts and quarantined 37 players before determining one test was a false positive.
Several athletes have opted out of the season after voicing concerns about playing during the pandemic. Illinois running back Ra'Von Bonner has been followed by at least 11 other Big Ten players, including six from Maryland.
———
©2020 Chicago Tribune