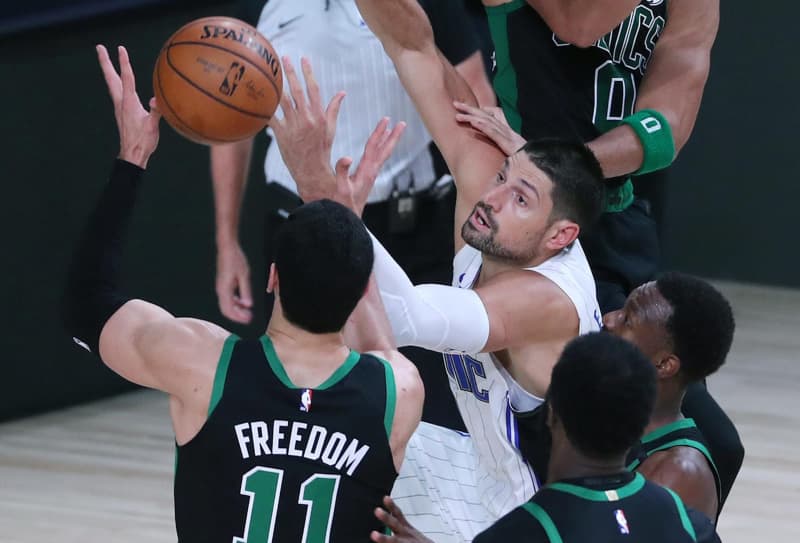 The Orlando Magic didn't need to beat the Boston Celtics to clinch a playoff berth but they sure played like it.
Even so, it still wasn't quite enough.
The Magic led by five with 48.1 seconds left to play in regulation, but they couldn't hold it and went on to loss 122-119 to the Celtics in overtime on Sunday at ESPN Wide World of Sports' AdventHealth Arena.
Nikola Vucevic scored 26 points to lead six players in double figures for Orlando, which entered the game with a playoff spot in hand thanks a Wizards' loss Friday night.
Terrence Ross finished with 18 points, Markelle Fultz had 16 points, Gary Clark scored 15 points, D.J. Augustin had 12 points and James Ennis had 10 points for Orlando (32-39), which has now lost four straight.
Gordon Hayward scored 31 points to lead the Celtics (47-23), who also got 29 points from Jayson Tatum and 19 points from Jaylen Brown.
The Magic continue to chase the Brooklyn Nets for the seventh spot. Orlando now trails by one game, with Brooklyn set to play the Clippers in the final game on Sunday.
Orlando played without starters Aaron Gordon (strained hamstring) and Evan Fournier (illness) as well as reserve guard Michael Carter-Williams (strained foot tendon) but got contributions across the lineup.
And for once, Orlando slowed down Celtics point guard Kemba Walker, who entered the game with a career scoring average of nearly 21 points against the Magic. He didn't register a field goal until the third quarter and wound up with 4 points. Walker didn't play the overtime after reaching his minutes limit (32) for the game.
But in the end, it wasn't enough to snap a three-game losing streak.
The Magic trailed 55-51 at halftime before scoring the first seven points of the third quarter to retake the lead. Orlando was down 93-90 before Melvin Frazier Jr. drained a 3 as the Magic wouldn't go away.
And when D.J. Augustin capped an 8-0 run with a 3, Orlando led 106-101 with 5:14 to play.
The Magic moved closer to victory when Vucevic scored in the paint with 48.3 seconds left to put Orlando up 112-107.
But Tatum drained a 3 to make it 112-110 before Augustin had his shot blocked on a drive to the basket on Orlando's ensuing possession. The defensive stop led to a Tatum turnaround baseline jumper with 3.8 seconds left that tied it.
Tatum then blocked Ross' 3-point try from the wing to send the game into overtime.
The Magic were down 118-117 after a three-point play by Clark. But Tatum hit a 23-footer before Daniel Theis blocked a layup try by Ross. That led to a Theis layup and a 122-117 lead for Boston.
After a dunk by Fultz, the Magic got it back after Tatum misfired on a 3-pointer at the end of the shot clock.
On Orlando's final possession, Vucevic took a short pass from Fultz but Theis was there to contest the 3 attempt that hit the front of the rim.
The Celtics went 6 of 7 from the free-throw line in overtime.
The Magic delivered a scrappy first half that saw coach Steve Clifford deploy Frazier and Vic Law to the second unit. Orlando built a 13-6 lead at the 6:54 mark of the first and stayed ahead for most of the first half as it found production from a variety of sources and in a variety of ways.
Fultz accounted for 22 points between his six points and six assists, while Ennis provided seven points and seven rebounds, and Frazier had five points on three shot attempts. He also had a steal that led to a pair of Fultz free throws.
Orlando scored just 11 points in the final 7:07, and that allowed Boston to rally. During one stretch, the Celtics hit three 3-pointers in four possessions and took a 51-43 lead after a Brown four-point play. It was their biggest lead of the game.
———
©2020 The Orlando Sentinel (Orlando, Fla.)