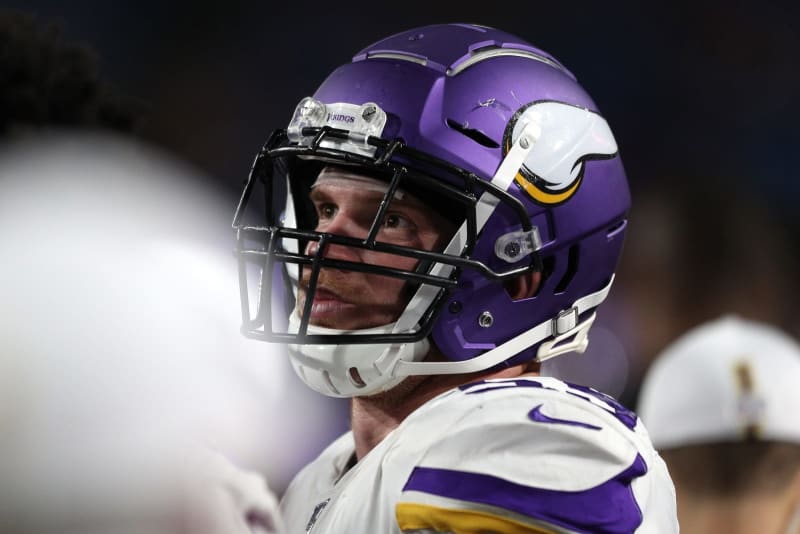 Cameron Smith was the sort of large lad who put the hurt on others.
Born at 11 pounds, 2 ounces, Smith was so imposing upon delivery that the doctor told his mother, Suzy Lakata Smith, to "check under his arms for hair. I think we have a man."
Smith continued to grow, pulverizing all comers in youth football and throughout his Granite Bay High School and USC football careers. He would draw a crowd as he grunted his way to something of legendary weight-room prowess. Smith never seemed to wince in pain, feel aches or suffer. He was never floored.
He is now.
Smith is a linebacker for the Minnesota Vikings who has announced that he will sit out this NFL campaign due to a congenital heart condition doctors found after he tested positive for COVID-19.
He wrote on Instagram on Saturday that he will undergo open-heart surgery in the coming weeks to fix a bicuspid aortic valve that he was born with. His aim is to return to football action. To understand Smith's relentless drive is to lead one to believe him. He shall return.
Smith wrote on his social media post, "It is really a blessing that we found this as my heart is severely enlarged and wouldn't have lasted much longer. The Lord works in mysterious ways, but I could really feel him on this one. By no means am I ready to be done playing football. I'm going to attack this like everything else I have in life."
Smith had a fighting spirit even as an infant, a story shared by his mother, living on the Central Coast and tied up in knots in worry. A mother never outgrows her nurturing ways.
"I'm trying hard not to fall apart," Suzy Lakata Smith told The Sacramento Bee on Sunday afternoon. "I have trust in the medical profession and mostly in God. It's so weird because when Cameron was about 3 weeks old, he had a high fever. So we took him to emergency and they did a spinal tap. The doctors couldn't believe how strong he was.
"We spent three days in the hospital waiting to find out if he had meningitis. He didn't, but I remember crying and telling him he had to be strong and survive because he had a big life ahead of him, that he was going to do great things. Crazy that I just remembered that."
———
Smith leaves us all with lasting memories as a legend in the making.
He barreled into eighth-graders in youth football growing up in Placer County, the red-headed kid with powerful strides and impact. When one-time Granite Bay High football coach Ernie Cooper first caught a glimpse of the brawny Smith on the first day of his freshman year, he did a double take.
"Here's this thick-bodied kid, mature, and I asked him, 'Hey, how old are you?' " Cooper told The Bee a few years ago. "We still laugh about it now."
Smith played on the Granite Bay freshman team as a freshman because he wasn't quite 15 – the required age to suit up for varsity. Imagine how inhumane it was to have Smith at quarterback charging into tacklers.
Smith, at 6-foot-2 and 230 pounds, became a three-year starting linebacker at Granite Bay. He was a three-time first-team Bee All-Metro performer who was a no-brainer to land on The Bee's All-Decade Team. He helped engineer Granite Bay's CIF State Division I championship season in 2012, punctuated by a late rally to topple nationally ranked Long Beach Poly.
Smith was driven in shoulder pads and in the weight room, Cooper recalled once to The Bee.
"One day, he's doing parallel back squats, and the room just stops to watch him, everyone hootin' and hollerin', going nuts," Cooper said. "Cam is the leader and the place was electric. The bar was bending, two spotters on each side, a spotter behind him, and he's doing a full squat, just blowing it up. He did 10 consecutive reps at 430 pounds, each rep below parallel. That equates to 560-pound max. The place was rocking."
Smith graduated at midyear his senior season to enroll at USC, where he was a four-year starter and graduated among the program's all-time career tackling leaders with 354 stops. He earned All-Pac-12 honors three times and bypassed the NFL draft after his junior campaign to play one more season because, as he told The Bee during Pac-12 Media Day, "I love this too much."
He was a fifth-round pick of the Vikings in 2019 and played in five games last season.
———
Along his journey, Smith became more than just a football player. He discovered wine tasting and yoga, and he never lost his passion for hunting, something his grandfather, Bob Lakata, also enjoyed.
Smith got his bulk through genes. He's now 6-3 and 235 pounds. The 6-8 Lakata was on Duke's first NCAA postseason team in 1955. Lakata was known as "Big Red" for his red hair, something else Smith inherited. When Smith was 4, Bob Lakata died of a heart attack doing what he loved best – fishing on the Sacramento Delta, a 100-pound sturgeon fighting for freedom on the end of the line.
On the theme of being formidable, Suzy said of her son Sunday, "He has worked so hard to be a good man, to be healthy, spiritual. I think he's going to come through this stronger than ever."
———
©2020 The Sacramento Bee (Sacramento, Calif.)