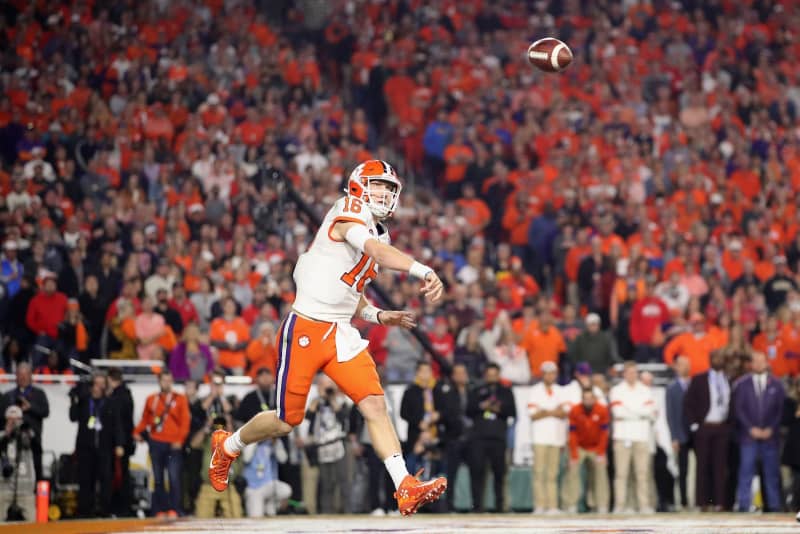 A day after President Donald Trump quote tweeted Clemson quarterback Trevor Lawrence, the two spoke on the phone about the upcoming college football season.
Trump told reporters Wednesday afternoon that he spoke with Lawrence on Tuesday. Clemson coach Dabo Swinney confirmed that the conversation took place when speaking with the media Wednesday, but Swinney said he did not know any details of what was talked about.
Trump also said he spoke with LSU coach Ed Orgeron on the phone.
"I spoke to some of the great football players, college players, Trevor and a lot of great players called. Coach called, Coach O. A lot of fantastic people I got to speak to," Trump said. "Athletes, leaders, they want to play football. Let them play. Let them play."
The Big Ten and Pac-12 announced that they are postponing their college football seasons until the spring because of the coronavirus pandemic, but the ACC, SEC and Big 12 are still planning on playing as of now.
A Clemson spokesperson told The State: "According to Trevor, White House staff initiated conversation and provided him a number to call the President."
Lawrence was not made available to the media on Wednesday. Swinney did speak with the media and said "(Trevor) didn't share any details about any conversation with me."
Lawrence and other players around the country started the "WeWantToPlay" movement early Monday morning. It is aimed at having a football season in 2020 under safe conditions.
Trump retweeted Lawrence's "WeWantToPlay" tweet Monday afternoon and said: "The student-athletes have been working too hard for their season to be cancelled. #WeWantToPlay"
———
©2020 The State (Columbia, S.C.)