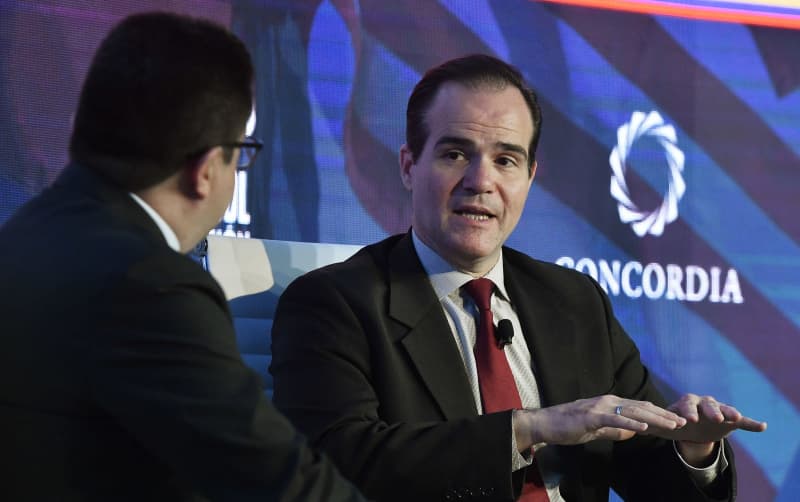 Mauricio Claver-Carone, President Donald Trump's candidate to control a key multilateral financial institution in the hemisphere, is hoping that his vision and experience — and not his hard-line position on Cuba and Venezuela as a Trump adviser— will be the deciding factor for Caribbean governments still unsure of whether to support his controversial candidacy.
Acknowledging that his nomination for president of the Inter-American Development Bank in Washington, D.C., breaks with tradition, Claver-Carone, who currently heads the National Security Council's Western Hemisphere office, says it's a signal of the U.S. commitment to the region and "offers a new approach that seeks to strengthen the bank's role."
In the bid to get the job, he's committing to ensuring someone from the Caribbean becomes vice president and helping middle- and higher-income Caribbean countries find more favorable financing. He said he would be "a rules-based president," in response to those who say he's "overly ideological" and too inexperienced for the role.
"There has never been a Caribbean vice president at the IDB in 61 years and I've made a commitment there must be a Caribbean vice president," Claver-Carone told The Miami Herald. "There's never in senior leadership been anyone from the Caribbean. We want to make sure all of the regions are represented. We feel that through our leadership we can ensure that and it would be extraordinarily important."
Claver-Carone said he has also promised the president of Haiti, Jovenel Moise, that his poverty-stricken nation will be his first official visit if elected. While the IDB is a critical donor to Haiti, the country has struggled to find success with projects amid its myriad governance problems, ongoing electricity blackouts and Moise's power struggle with members of the private sector. Haiti is one of at least three Caribbean countries that have publicly endorsed Claver-Carone's bid. Guyana, which recently settled its election crisis with U.S. support, and Jamaica have also done so.
"We feel confident that we can earn the support of the others," Claver-Carone said, touting his tenure as the United States' executive vice president at the International Monetary Fund, which brought him into contact with Caribbean leaders. "I think that it is unquestionable that I would be the IDB president that would most understand the Caribbean, that has the closest links to the Caribbean, that would most greatly benefit the Caribbean and that has a proven track record, frankly, with the Caribbean."
Claver-Carone said his team has "some good ideas" and they are exploring others that involve the private sector and regional partnerships to address challenges like electricity and the economic impact of the coronavirus shutdown.
But first, he will need to get through the controversy that his candidacy to replace the current IDB president, Luis Alberto Moreno, is generating.
Mexico, Chile, Argentina, Costa Rica and members of the European Union are seeking a delay in Claver-Carone's election, scheduled for September, until after the U.S. presidential vote.
In a call with journalists earlier in the week, Claver-Carone said these were only a minority of the IDB's 48 members, and he accused them of using "obstruction" tactics. But sources familiar with the inner workings of the IDB, which has always been led by a former senior government official from a borrowing country, said the so-called "minority" countries hold significant sway and can get a postponement.
While some countries have said more time is needed to decide the role of the institution amid the global COVID-19 pandemic and the unprecedented pressure it will place on the institution for assistance, others fear that the election of a Trump ally will erode the IDB's relevance in the region, a view that Claver-Carone strongly opposes.
There are also concerns within the Caribbean about the precedence that will be set by the United States' decision to break tradition by going for the top job, and what a Claver-Carone presidency would mean for Venezuela, Cuba and China.
Cuba is not currently a member, but there is a desire among some countries to have it be able to borrow from the bank, especially now with the financial fallout from the coronavirus, said a former IDB official. Venezuela, the source added, has fallen behind on repaying its loans from the institution because of U.S. sanctions that Claver-Carone championed. The bank's board of directors last year called off the annual meeting in China after Beijing refused to allow a representative of Venezuelan opposition leader Juan Guaido to attend.
The IDB election hasn't yet been discussed by the 15-member Caribbean Community, which likes to have members vote as a bloc, but it is on the radar, a source familiar with the inner workings of the entity, known as CARICOM, said.
Jamaica's decision to break ranks early — Finance Minister Nigel Clark tweeted the country's support in a June 17 letter — did catch some Caribbean leaders by surprise, given a desire to have eligible Caribbean leaders vote as one, and not separately, on the election.
"I think my history, frankly, with the CARICOM countries, particularly those that are members of the IDB, is quite good," said Claver-Carone.
Addressing one of the biggest challenges facing middle- and upper-income Caribbean nations — the need for more concessional loans — Claver-Carone said he's committed to helping countries. He noted that while facing climate challenges like increased hurricanes, countries also face the reality of needing help but being unable to qualify because their income threshold is too high, and at the same time they have huge inequality gaps among their populations.
"There are some linguistic, legal definitions that can be worked with," he said. "With the IDB, my goal is for it to be more flexible in that sense and perhaps have a measurement where it can balance out the income measurement with their inequality measurement."
Claver-Carone said he is not opposed to the idea of tapping the private sector and taking advantage of an institution like IDB Invest, which has been underused and underfunded, to fund projects.
"Unfortunately in previous administrations the U.S. commitment to IDB Invest was zero and I think we need to change that," he said. "There are tools in the arsenal to be effective and creativity is the key."
———
©2020 Miami Herald