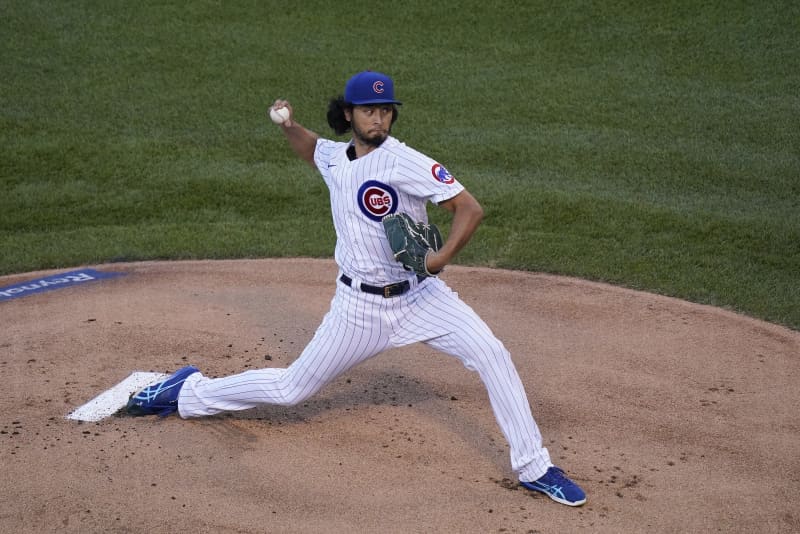 CHICAGO — Yu Darvish is gradually regaining the dominant form that made him the Cubs' best starter in the second half of 2019.
Darvish pitched 6? innings of no-hit ball before settling for a 4-2 victory over the Milwaukee Brewers that improved the Cubs' major-league-best record to 13-3.
This marks the Cubs' best 16-game start since the 1907 team started 13-3. The Cubs have won their last seven home games and all seven of their series openers this season.
This was Darvish's best start of the season. He didn't allow a hit until Justin Smoak hit a towering homer over the right-field wall in the seventh.
With the aid of a sharp cut fastball and slider, Darvish struck out 11, walked two and hit a batter in a seven-inning, 104-pitch effort.
Darvish has allowed two runs on eight hits while striking out 22 and walking four in his last 20 innings covering three starts.
This was the closest Darvish came to throwing a no-hitter since April 2, 2013, when he pitched 8? perfect innings for the Texas Rangers before Marvin Gonzalez of the Houston Astros singled.
The Cubs rotation's ERA is down to 2.55, and the pitching staff as a whole has a 2.39 ERA at home.
Darvish's toughest competition from the start was plate umpire Jeremie Rehak, who seemed to disagree with Darvish's assessment of the strike zone.
Darvish turned his body three consecutive times on borderline pitches to Orlando Arcia that were called balls and led to a walk in the fifth.
But Darvish didn't need much help. Christian Yelich, who called out Darvish on Twitter in the offseason, ripped a line drive to right to start the fourth. But Steven Souza Jr. was positioned perfectly to make the catch.
Darvish struck out at least one in each of his seven innings.
Even when Darvish missed his target, he was effective. Victor Caratini, Darvish's personal catcher, called for a low pitch to Keston Hiura in the third. Darvish, however, threw a letter-high, 93 mph pitch that Hiura swung late on for a third strike.
Yelich was the only Brewers batter to advance past first base before Smoak's homer. He drew a walk and stole second with two out in the first. But Avisail Garcia struck out on a slider.
Darvish's effectiveness was comforting, especially to an offense that rewarded him by scoring first for the 11th time in 16 games.
Nico Hoerner, batting leadoff for the first time in his major-league career after Kris Bryant was scratched because of soreness in his left ring finger and wrist, pulled Brett Anderson's first pitch down the left-field line for a double. Hoerner scored on consecutive grounders by Anthony Rizzo and Javier Baez.
Kyle Schwarber, making his first start after suffering a right knee bruise Tuesday night, hit an opposite-field home run to left-center in the second.
Before the game, manager David Ross said he wanted to keep Bryant out of the lineup as a precautionary measure. Bryant suffered the injury while trying to make a diving catch in the fifth inning of Wednesday's game against the Indians.
———
©2020 Chicago Tribune