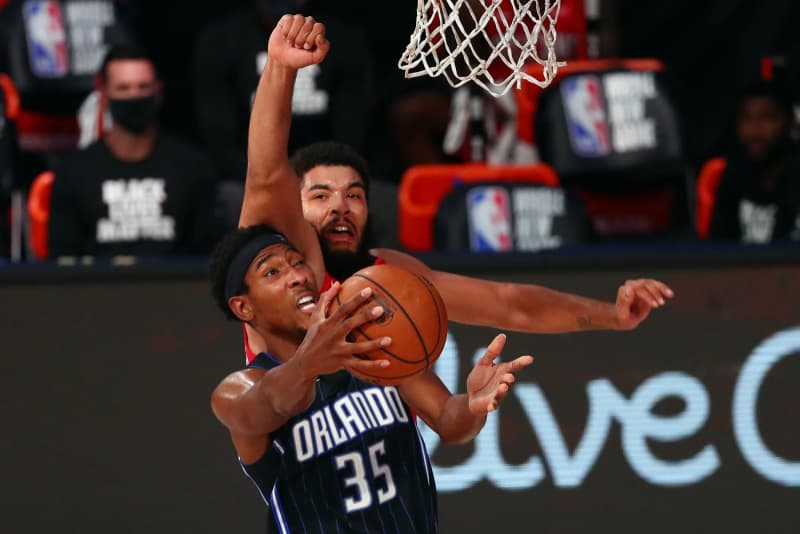 ORLANDO, Fla. — Nikola Vucevic scored 23 points and D.J. Augustin finished with 22 points ? 15 in the second quarter ? to help lead the Orlando Magic to a 133-127 victory over the New Orleans Pelicans to close seeding play Thursday night.
James Ennis added 16 points, while Wes Iwundu finished with 15 points, Markelle Fultz had 11 points and Vic Law and Melvin Frazier Jr. each had 10 for the Magic (33-40) at ESPN Wide World of Sports' Visa Athletic Center.
Frank Jackson scored a season high 31 points and Nickeil Alexander-Walker scored 29 to lead the Pelicans, who played without Zion Williamson, Brandon Ingram, Jrue Holiday, JJ Redick and Lonzo Ball.
Josh Hart added 23 points for New Orleans (30-42).
Vucevic made his first seven shots and finished 10 of 11 from the floor, including 3 of 3 from the 3-point line. Orlando was 48 of 84 overall (57.1%).
The Magic knocked down 15 3-pointers as they outscored the Pelicans 45-30 from behind the arc and needed every one of those points to hold off a pesky New Orleans team missing its top players.
Orlando snapped a five-game losing streak and finished 3-5 in seeding play.
The Magic will have four days off before beginning their first-round playoff series against Milwaukee on Tuesday.
Orlando wrapped seeding play with more than a victory. The Magic were able to give their core players significant minutes, which was important in continuing to build rhythm, and avoid any further injuries.
Vucevic and Fultz did not play in the fourth quarter.
The Magic played without Aaron Gordon (hamstring strain), Evan Fournier (illness), Michael Carter-Williams (strained foot tendon) and Terrence Ross (quarantine protocol).
The Magic positioned themselves for the win by putting together a prolific first half. Their 77 points are the fourth-most in a first half in franchise history. The 43 points in the second quarter sets a franchise record for most points ever during a second quarter.
The previous mark of 42 came Jan. 29, 2000, against Atlanta and April 19, 1994 at Detroit.
Orlando also connected on 13 3-pointers in the half, tying the mark for 3-pointers made in any half in franchise history. The last time it happened was in the second half on Feb. 10 against Atlanta.
While the offense thrived, particularly in the first half, the defense was not as sharp. The Pelicans finished with 72 points in the paint on 36-of-45 shooting (80.0%).
Orlando led by 16 at halftime and built a 22-point lead, at 93-71, after a layup by Fultz with 6:04 left in the third quarter.
But the Pelicans began to carve into the deficit with a series of runs. They closed the third quarter on a 16-6 run to close within 12, at 99-87.
The Magic pushed the lead back to 16 before the Pelicans cut it to eight, at 113-105, with a 15-7 burst in a 3:09 stretch.
But Law had seven points and Iwundu hit a key 3-pointer as Orlando didn't let New Orleans get closer than seven until Jackson converted a layup with 22.9 seconds left.
Iwundu sank a free throw before Hart misfired on a long 3 attempt. Iwundu followed with two free throws to make it an eight-point lead.
———
©2020 The Orlando Sentinel (Orlando, Fla.)