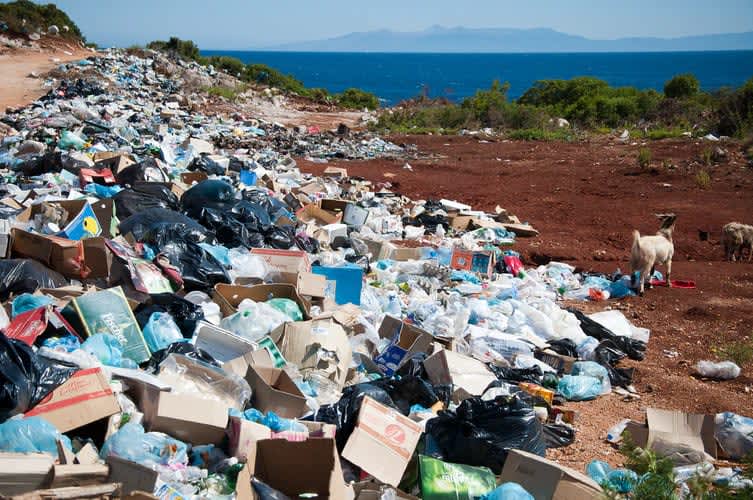 Amid the ongoing health crisis, countries across Asia are struggling to deal with the issue of dangerous biomedical waste. While many nations have scaled up their capacities by building new waste treatment facilities, others have opted for deep burial pits for safe waste disposal. Here's our exclusive report.
By Nikunj Sharma
While the world is still struggling to contain the spread of deadly coronavirus, there's another bigger challenge to be dealt with — a deluge of contaminated biomedical waste.
With the multifold increase in COVID medical waste that primarily comprises of discarded Personal Protective Equipment (PPE) such as masks, gloves, gowns, goggles, and items used to treat COVID-19 patients, the after-effects of this glut is expected to have a profound impact on sustainable medical waste management practices for the years to come.
According to the Asian Development Bank estimates, the capital cities of Manila in the Philippines and Jakarta in Indonesia have produced additional medical trash of 280 tons and 212 tons, respectively.
Reports from Thailand Environment Institute too point out that during the COVID outbreak, 50 tons of infectious waste was generated each day in Thailand's medical centers, which otherwise had the capacity to effectively incinerate 43 tons only.
Therefore, to deal with the mounting heaps of biomedical waste, these countries have scaled up their capacities by building new waste treatment facilities and implementing stricter guidelines for waste segregation and collection at the source point.
Meanwhile, environmentalists are particularly worried because the pandemic has not only reignited demand for plastic packaging, but it has also boosted the overproduction of single-use items in which plastic is a key component.

Source:https://www.eria.org/uploads/media/!Session-III-Prof-Agamuthu.pdf
China's response to biomedical waste
In Wuhan, where the novel coronavirus first emerged, the authorities were forced to construct a new medical waste plant and deploy 46 mobile waste treatment facilities.
According to reports, hospitals in Wuhan reported a six-fold increase in medical waste at the peak of the outbreak.
While addressing a press conference, Zhao Qunying, Head of emergency office at Ministry of Ecology and Environment, China, said, "The load of biomedical waste in China grew by 600 % during the pandemic, reaching 240 tonnes daily from 40 tonnes daily in Hubei Province, the epicenter of coronavirus."
The newly built waste treatment facility increased Wuhan's waste management capacity to more than 263 tonnes from 50 tonnes per day. Infact, the country's waste management infrastructure witnessed the overall transformation, as China implemented some nationwide measures to handle biomedical waste management effectively. Some of these measures included:
Setting up special garbage collection containers in centralised quarantine locations.
Safe transportation for municipal solid waste (MSW) separately collected from the quarantine/isolation areas.
Extensive disinfection and sterilisation at the community level.
Further, to ensure quick disposal at waste designated sites, China deployed firefighters to safely dispose off the waste.

India's preparedness to tackle COVID waste
As India witnessed a steady growth in the number of COVID-19 patients, it resulted in hospital rush, crowded quarantine centres and subsequent rise in biomedical waste.
According to the data released by India's pollution watchdog, the Central Pollution Control Board (CPCB), generation of COVID-19 related biomedical waste in the country is about 101 Metric Tonnes per day (MT/day). The quantity is in addition to the normal biomedical waste generation of 609 MT per day.
Also, the CPCB has directed all healthcare centres to keep separate colour-coded bins or containers in wards and maintain proper segregation of waste that's treated via 198 common biomedical waste treatment facilities (CBWTFs), across the country.
Swati Singh Sambyal, a Waste Management Expert based in Delhi, said, "Unsound management of biomedical waste could cause unforeseen effects on human health and the environment and therefore, safe handling and disposal of such waste is essential."
She further added, "Though segregation of hazardous wastes is essential for effective management, achieving it is a herculean task in India."
Use of double layered bags, mandatory labelling, and colour coded bins for the management of waste generated during the diagnostics and treatment of suspected and confirmed COVID-19 patients are part of the guidelines issued by CPCB.
"Dispose used PPEs such as goggles, face-shield, plastic coverall, a hazmat suit, and nitrile gloves into red bag. And, used masks, head-cover, shoe-cover, non-plastic or semi-plastic coverall, should be disposed in yellow bags," said the apex pollution monitoring body.
It has been reported, the state of Maharashtra, which has the highest COVID-19 load, generates the highest – 17.494 MT biomedical waste per day, followed by Gujarat – 11.693 MT and Delhi 11.114 MT per day.
Meanwhile, states of Tripura, Rajasthan, Uttarakhand, Nagaland, Maharashtra, Lakshadweep, J&K, Himachal, Goa, Assam, and Arunachal Pradesh have gone for deep burial pits for waste disposal in India.
Need for improvement in Indonesia
Since the beginning of June, the World Health Organisation has been supporting the Ministry of Health to host webinars on medical waste management in Indonesia.
It has been reported that the coronavirus outbreak in Indonesia is continuing to have an impact on the country's healthcare system as well as the waste management system.
According to the Indonesian Institute of Sciences, water bodies (oceans and rivers) in and around Indonesia are also witnessing a massive increase in biomedical waste due to COVID-19.
Reports suggest, between March and May 2020, biomedical waste from COVID-19 hospitals, comprising intravenous lines, masks, syringes, and PPE kits had also gone up to 23 tonnes from 13.6 tonnes before COVID era.
Despite the increased volume of discarded medical waste, the medical waste management system in Indonesia is believed to face a lot of constraints. For instance, many hospitals in the country are equipped with incinerators but they still do not have the appropriate permit to operate it. Similarly, medical waste transportation and treatment services do not yet cover all of Indonesia.
Waste generation in Malaysia
Malaysia witnessed a 27% rise in medical waste in March as compared to 17% in February this year, during the COVID-19 outbreak, according to the Malaysian Ministry of Environment and Water. This accounts to 25 tonnes of COVID clinical waste per day.
Even Penang city council has observed a surge in the amount of clinical waste generated daily and warned that it could be an environmental disaster if no action is taken to manage the waste.
According to reports, about 9,000 face masks are disposed in Penang on a daily basis.
Finding green solutions
Each country's ability to manage the medical waste crisis is influenced by several factors, including policymaking and enforcement, transportation, management facilities, dominant medical waste treatment methods, and existing excess capacity, among others.
However, an innovative solution, like transforming PPE into biofuel may save the environment from a long lasting impact of dealing the infectious waste.
According to the study, published in the journal Biofuels, billions of items of disposable PPE can be converted from its plastic state into biofuels using a high-temperature chemical process called pyrolysis.
If implemented successfully at a commercially viable scale, the process could save the world from the after-effects of biomedical waste generated in the form of PPE kits.