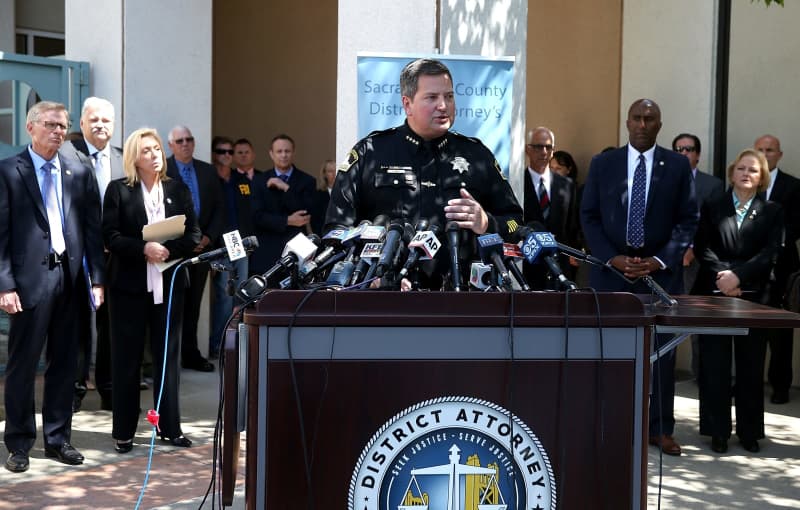 SACRAMENTO, Calif. — Sacramento County Sheriff Scott Jones is refusing to give COVID-19 testing and case information to an oversight board in charge of monitoring the state's jails, leaving the public in the dark about how the virus has spread among inmates and staff under his control.
Following months of demands from experts, officials and advocates, the Board of State and Community Corrections recently launched an online dashboard tracking COVID-19 in California jails. The website includes data about the number of inmates with active cases, the number of tests conducted, and how many people are hospitalized.
But Sacramento County is one of just two counties that said it will not provide the information to the state. The other is Tehama County.
By not reporting the data, the public must rely on news reporters to ask for updates — and even then, Sacramento and other counties waited days to release the information.
"After a review of the BSCC tracking system, the Sheriff's Office does not believe that the data being collected is comprehensive enough to show a complete picture related to COVID and our jail system," spokeswoman Tess Deterding said in a statement. "For that reason, we have elected not to share information."
Deterding did not answer a follow-up question about what additional information the sheriff's office wanted to see collected. (Though some counties publish their own information about jail and juvenile hall cases, neither Sacramento's sheriff nor county health officials publish such a report.)
The Sacramento Bee asked Deterding for its most updated case numbers, some of which was the same information it is refusing to tell state oversight officials. As of Tuesday, she said, staff had completed 2,688 COVID-19 tests since the pandemic began. Of those, 42 have been positive. There were 18 COVID-19 positive inmates in custody.
Sacramento County's two jails housed about 2,700 people as of last week.
For months, California officials said local sheriffs should work with public health departments to test for and contain the disease. Where some counties, like Santa Clara and Los Angeles, have long published online dashboards, many others have not publicly posted information about the spread of COVID-19 in local jails. Untracked cases could then contribute to undetected spread of the coronavirus, both inside the cells and in the broader community.
Sacramento County's decision not to provide COVID-19 data to the BSCC is "highly troubling," said Margot Mendelson, an attorney with the Prison Law Office. The organization recently settled a lawsuit with the sheriff's office about conditions inside the jail, and a judge has ordered the department to improve conditions inside.
"The threat of COVID-19 transmission in jails is urgent and grave. Under-reporting and inaccurate reporting on COVID-19 cases in detention facilities poses a serious problem for public health," Mendelson said Thursday. "The Sacramento Sheriff's Office must commit to complete transparency in reporting about COVID-19 among its staff and the people in its custody."
California has published information about COVID-19 cases in state prisons since the early days of the pandemic. The California Department of Public Health has collected some information about cases in jails, but a spokesperson in July said its information was incomplete.
They would not answer detailed questions about what data problems existed or why it took nearly five months and a separate agency to collect more usable information. "Due to the high volume of COVID-19 cases, information provided to CDPH about congregate facilities is not complete," the spokesperson said.
The new BSCC dashboard provides the first sweeping look at the disease's spread inside county facilities. Roughly 2,600 people in local jails were tested for COVID-19 the last week of July, according to the report. About 200 people had active cases.
There are 54,000 people are in county custody.
There's a major caveat: The data does not include cumulative case counts before July 25. That means it's impossible to tell how many cases a jail had previously, whether it was recovering from a prior outbreak, and how many tests have even been conducted. It also does not include specific numbers in places where 10 or fewer people are positive, in line with the state's privacy protection protocol.
The BSCC in its request to counties initially asked for one-time cumulative counts. It then backtracked on the request for historic COVID-19 case data because it said it became too cumbersome and inconsistent.
"We are measuring and considering populations that are extremely transient in jails and juvenile hall," Board Chair Linda Penner said during Thursday's board meeting. "We thought cumulative data may provide a really distorted picture of what's actually going on."
She singled out Sacramento and Tehama counties for declining to provide information but did not elaborate on what their concerns were and whether conversations were ongoing.
Because the BSCC lacks enforcement powers, as The Bee has reported previously, it cannot force agencies to provide the information or enforce rules on those that break them. Instead, it requests and encourages compliance — its letter announcing the COVID-19 data collection effort said it was "urgently requesting" sheriffs provide facility-level.
Tehama County did not respond to a request for comment.
———
©2020 The Sacramento Bee (Sacramento, Calif.)