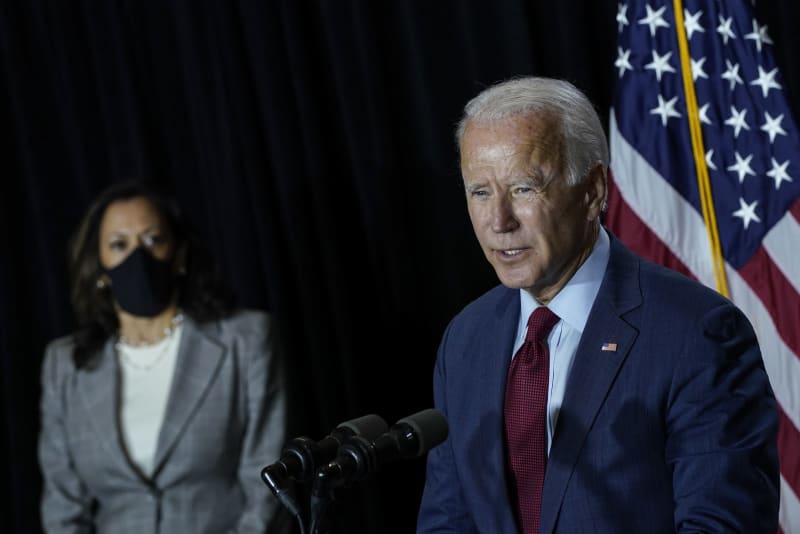 Not progressive enough for the left and "a radical" to the extreme right, Kamala Harris is a perfect fit for Miami, a quintessential immigrant metropolis where laborers and multimillionaires alike claim the American dream as theirs.
During her formal introduction as Democrat Joe Biden's vice presidential pick, Biden said that his historic choice of the daughter of Jamaican and Indian immigrants and a woman of color represented "America's story."
He might as well have been speaking to the soul of Miami, so deeply connected to the Caribbean and Black history — and to more of swing-state Florida than meets the eye.
With character on the ballot, Biden chose well.
After four years of wearying anti-immigrant diatribes from President Donald Trump, the selection of Harris uplifts us as women, as immigrants, as multiracial people.
As Americans.
We do belong here, it affirms to the Caribbean Americans and Asian Americans celebrating her selection.
THREAT TO TRUMP
Biden chose so well that the president has been on one of his nonstop signature name-calling Twitter tirades since the announcement Wednesday and his campaign issued a statement falsely claiming that Harris called Biden "a racist" when they debated during the primary.
The Florida GOP and its surrogates, knowing the appeal of Harris' law-and-order record to independents who vote Republican, peddled various empty narratives, all hinting at their favorite Miami-made apparition: socialism.
Few more absurdly than Lt. Gov. Jeanette Nunez, who tweeted that Harris "has embraced socialist policies of the far left … ." — the same Harris that Bernie Sanders supporters didn't want on the ticket.
Nunez was quickly drowned out by people reminding her that Donald and Ivanka Trump donated to Harris' political campaigns in 2011, 2013 and 2014 for the attorney general post in California. And also that Nunez herself had called Trump in 2016 "the biggest con man there is."
HARRIS AS 'ANCHOR BABY'
There has also been Barack Obama-style pushback to Harris' candidacy, too.
Not even 24 hours after Harris commanded the stage in Wilmington, Delaware, and showed what she can do for the ticket, the conservative political machine was spinning the false birther theory that even though Harris was born in Oakland, California, she's ineligible to become vice president.
Why?
Her parents were not U.S. citizens when she was born in 1964.
"Anchor baby," a widely circulated Facebook post called her.
If birth to noncitizens were the barometer for eligibility to be a first-class American, that would make hundreds of thousands of native-born Miamians, including Republican Trump supporters, ineligible, too. Neither of Sen. Marco Rubio's parents was a U.S. citizen when he was born in 1971.
It's notable that while Harris went straight to tackling issues that matter with the sharp eye of the former prosecutor — the economy, coronavirus, voting rights — the Trump camp went right off the bat for the immigrant attack, for the race attack.
HARRIS AND IMMIGRANT ISSUES
Democrats looking to win Florida are elated to see Harris on the ticket and breathing a sigh of relief after worrying about Congresswoman Karen Bass and her Cuba history making the short list.
"I'm thrilled with her," said Maria de los Angeles (Nena) Torres, a professor of Latin American and Latino Studies at the University of Illinois at Chicago who sits on the Democratic Party's Cubans for Biden committee. "She is a woman of color and gets the immigrant story (of having) parents committed to education."
Harris is a center Democrat similar to Biden, only that as a Californian she's had more exposure to the Latino story.
"Of all the women he was vetting, she is the only one who had a little tracking with Latinos," said Torres, an adviser on Obama's transition team and the Democratic platform committee in 1988. "Immigrant activists think she did not do enough — but hey, I'll take what I can."
Harris "did push back — a little, not a lot — on the Secure Communities," Torres said.
Secure Communities is the controversial Homeland Security deportation program that requires local and state law enforcement cooperation with Immigration and Customs Enforcement.
In one of the Democratic debates, Harris criticized President Obama's deportation policy.
"I disagreed with my president because the policy was to allow deportation of people who by ICE's own definition were non-criminals," Harris said. "As attorney general and the chief law officer of the state of California, I issued a directive to the sheriffs that they did not have to comply with detainers, and instead should make decisions based on the best interest of the public on the basis of their community."
Harris also noted that victims were not reporting crimes for fear of being deported, also an issue in Miami-Dade County under Trump.
"I want anybody who has been the victim of any real crime to be able to do that and not be afraid that if they do that, they will be deported because the abuser will tell them that they are the criminal," Harris said. "It is wrong."
Biden overreacted, saying it was "immoral" to criticize Obama, who at the time had been dubbed "deporter in chief" by immigration advocates and some Latino politicians.
Obama went on to redeem himself, giving "Dreamer" children protection from deportation under the Deferred Action Childhood Arrivals program. And to the parents of U.S. citizens and lawful permanent residents he gave the right to apply for temporary protection from deportation and permits.
Harris told Biden her truth in the debates. They were painful moments for Biden. These were, after all, two people who knew each other. But that only makes their relationship unique, a fable for the times.
HARRIS NO 'RADICAL'
None of Harris' views on immigration make Harris a socialist or a radical.
A path to citizenship for Dreamers, who were brought to this country as children and embrace the United States as their homeland, has widespread support nationally, including among Republicans, yet Trump has repeatedly tried to end DACA.
No, Harris isn't window dressing a la Sarah Palin.
She is squarely in the mainstream of modern America at a pivotal time in race relations.
Trump didn't want Joe Biden to be the nominee.
Then, he didn't want Kamala Harris as his running mate.
"Extraordinarily nasty," the misogynist called her.
His reelection nightmare has come to pass: coronavirus mismanagement, a tanked economy — and a strong, brilliant Black woman, a first-generation descendant of immigrants on the Democratic ticket.
As we say in Miami, dale.
———
ABOUT THE WRITER
Fabiola Santiago is a columnist for the Miami Herald.
———
©2020 Miami Herald