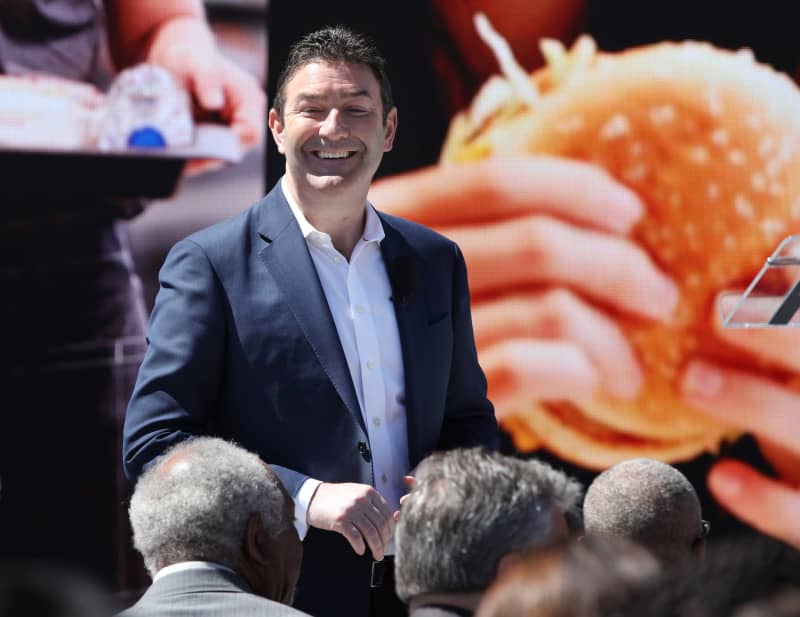 Former McDonald's CEO Steve Easterbrook denies that he covered up sexual relationships with subordinates and alleges the company knew about them when it agreed to give him tens of millions of dollars in severance that it is now attempting to get back, according to a Bloomberg report.
Easterbrook, 53, who was fired in November, on Friday filed a response to the fast-food giant's lawsuit against him, seeking to get it thrown out, Bloomberg said.
McDonald's early last week filed a suit against Easterbrook in Delaware Chancery Court seeking to claw back a separation package that allowed him to keep stock awards worth more than $37 million as well as $675,000 severance and health insurance benefits.
The board of directors would not have approved the package had it known about multiple physical relationships that have since come to light, said the suit, which alleges fraud and breach of fiduciary duty.
Easterbrook, in his filing, alleges the suit is "misleading" and "meritless" and says McDonald's had the information about his relationships with employees when it negotiated his separation agreement, according to Bloomberg.
"McDonald's — a sophisticated entity represented by numerous internal and external experts when it entered into the separation agreement — is aware it cannot credibly allege a breach of contract claim," Easterbrook's lawyers wrote, according to Bloomberg. "Instead, it improperly seeks to manufacture claims for a breach of fiduciary duty or fraud."
Easterbrook's filing also claims the case should be heard in Illinois courts because it involves stock grants and alleges the chain filed the lawsuit knowing he couldn't immediately respond because of a gag clause in the agreement, according to Bloomberg.
In a prepared statement Monday, McDonald's said it stands by its complaint, including the factual assertions and the court in which it was filed.
McDonald's fired Easterbrook, its CEO for four years, after learning about a relationship with an employee that it said violated company policies. Outside counsel who interviewed the woman and Easterbrook and reviewed Easterbrook's company-issued cellphone determined the weeks-long relationship was consensual and involved only text messages and video calls, and found no evidence of other relationships. The board of directors decided to terminate Easterbrook without cause and grant him the severance, the suit says.
The company in July received an anonymous report alleging another employee had engaged in a sexual relationship with Easterbrook while he was CEO, and an investigation found evidence of two additional relationships in the year before his termination, according to the suit.
"That evidence consisted of dozens of nude, partially nude, or sexually explicit photographs and videos of various women, including photographs of these Company employees, that Easterbrook had sent as attachments to messages from his Company e-mail account to his personal e-mail account," the company's suit alleges. It also claims Easterbrook had approved a discretionary stock grant worth hundreds of thousands of dollars for one of the women while they were involved.
The initial investigation did not find those photos or emails on Easterbrook's phone in late October "because Easterbrook, with the intention of concealing their existence from the Company, had deleted them from his phone," the suit alleges. "Unbeknownst to Easterbrook, however, the deletion of the e-mails from the mail application on his Company-issued phone did not also trigger the deletion of those e-mails from his Company e-mail account stored on the Company's servers."
———
©2020 Chicago Tribune