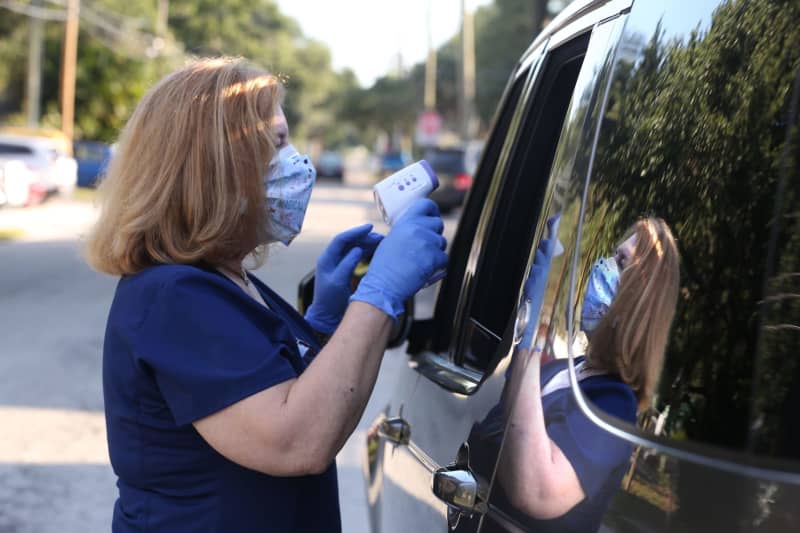 ORLANDO, Fla. — Florida's school reopening order is unconstitutional, a judge ruled Monday, striking down the controversial provision requiring "brick and mortar" campuses to open this month for five-day-a-week lessons.
The ruling comes from two lawsuits, one from Orange County and another from the statewide teachers union, both challenging Florida's school reopening order issued by Education Commissioner Richard Corcoran.
"The order is unconstitutional to the extent it arbitrarily disregards safety, denies local school boards decision making with respect to opening brick and mortar schools, and conditions funding on an approved reopening plan with a start date in August," wrote Judge Charles Dodson of Leon County Circuit Court in the order.
The state's order also harms teachers who are "being told they must go back into classrooms under extremely unsafe conditions," Dodson wrote.
The state's school reopening order, signed July 6, required public schools to open this month or risk losing money for children who attended school online instead of on campus. The Orange County school district, which opened campuses Friday, said it could have lost $22.5 million a month if it did not comply with the state order.
Hearings in the case were held last week, when about half the state's 67 school districts had opened for in-person lessons. That included both the Orange and Seminole County school districts. More school districts opened today, including those in Lake and Osceola counties.
That means the ruling's impact could be muted as district leaders may be loathe to pull back from an in-person option they offered parents and thousands selected.
The Florida Department of Education did not immediately respond to a request for comment, but the state is expected to appeal. Corcoran has called the lawsuit "frivolous." An appeal could put a hold on Dodson's ruling.
But those who filed the two lawsuits, which were combined by the judge, found many reasons to celebrate.
"This is a great day for Florida public schools," said Fedrick Ingram, president of the Florida Education Association, the union that had sued to challenge the state's order, during a press conference held via Zoom.
"Shame on our governor and our commissioner of education who recklessly told us we had to have a brick and mortar option no matter what," Ingram said.
Ingram and the union attorneys said the districts that have opened can revisit those decisions, if needed, and the few that have not yet opened can decide what to do going forward without the threat of a "drastic loss" of state money.
"Proceed with caution and be guided by the science," he added.
The attorneys who filed the lawsuit on behalf of an Orange mother and several county teachers called the ruling "historic" and one that removed "handcuffs" from the local school board.
"All of our clients believed forcing schools to reopen based upon an arbitrary deadline of August 31, 2020, without proper local control, was certain to lead to devastating health consequences for our entire State," said attorneys Jacob Stuart and Billy Wieland in an emailed statement.
Now that the judge has struck down the order, the Orange school board, and its medical advisory panel, should meet again "to determine the best plan to reopen schools with considerations to student and teacher's constitutional right to safety and security in schools," they added.
One of the teachers in the lawsuit was James Lis, who taught at Dr. Phillips High School but resigned when he was required to teach in-person starting Friday. He testified that he feared for his own health and also that he might pick up the virus on campus and then sicken his elderly mother-in-law who lives with his family. He also shared how there was not room for social distancing in his portable classroom.
Stuart said Lis plans to reapply now that the lawsuit was successful.
Union leaders said other teachers have resigned or applied for medical leave this month because they too were assigned to teach on campus but feared doing so would get them or their family members sick.
For much of the summer, state leaders have pushed schools to reopen, arguing that in-person education is best for most children and that many children needed the meals, mental health services and therapies schools provided.
"We've got parents who are asking for this and almost demanding this," said Jacob Oliva, chancellor for K-12 education at the Florida Department of Education, said during the virtual court hearing last week. "We know distance learning may not have worked for everyone."
But the judge agreed with those who had sued, granting a temporary injunction and striking from the order the requirement for on-campus classes in August. Such a decision will serve the "public interest" and allow local school boards to decide when they open their schools, "as they were elected to do," Dodson wrote.
Public schools, he added, should "reopen when the local decision-makers determine upon advice of the medical experts that it is safe to do so."
When and how to open campuses in the midst of the coronavirus pandemic has roiled Florida for more than a month, with some teachers staging car protests to showcase their fear of face-to-face lessons, some parents arguing for opening campuses and school leaders expressing frustration the decision wasn't fully in their hands.
"We are under an emergency order," Teresa Jacobs, chair of the Orange County School Board said Thursday, during a press conference on the eve of schools reopening in the county. "We must open our brick and mortar schools."
But earlier last week, the school board decided not to delay the opening of its middle and high schools until the end of the month — as some doctors advised — after hearing from parents who wanted in-person classes and wanted them to start as scheduled on Aug. 21.
Jacobs conceded Thursday that "some of our children desperately need to be back in school."
———
©2020 The Orlando Sentinel (Orlando, Fla.)