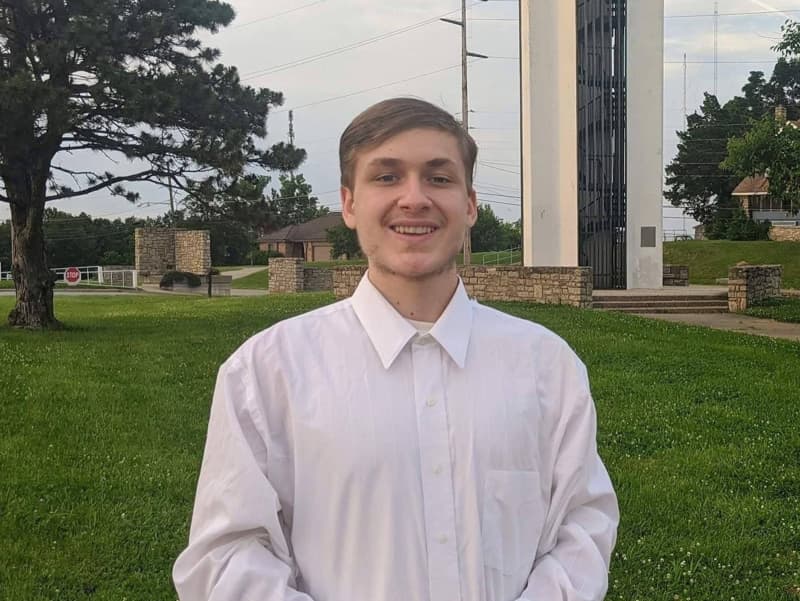 TOPEKA, Kan. — The Kansas 37th House District in Wyandotte County has been so solidly blue over the years that no Republican bothered to file for candidacy to challenge the winner of the 2020 Democratic primary.
But after watching the disintegration of Democrat Aaron Coleman's candidacy — he's the 19-year-old progressive who narrowly defeated longtime incumbent Rep. Stan Frownfelter in the Aug. 4 primary — under the weight of revenge porn and bullying accusations, Kansas Republicans see an opportunity to get someone on the ballot in November.
Republicans have Kansas law on their side if Coleman, who announced Sunday he will no longer seek public office, succeeds in removing his name from the ballot by Sept. 1.
Kansas law makes it hard for candidates to remove themselves from the ballot. In most cases, election officials will only scrub a qualified candidate if they die or move out of the state.
But there's another exception: If the candidate can show they, or someone in their immediate family, has a severe medical hardship, they can drop off the ballot before Sept. 1. Coleman, who says his father is in the hospital, plans to take this route.
If Coleman can convince election officials of the seriousness of his father's situation in time, it's not only Democrats who can put someone on the November ballot. Republicans can, too.
Should Coleman's withdrawal come to pass, Republicans plan to put Wyandotte County GOP treasurer Kristina Smith on the ballot. Smith had previously announced a write-in campaign after 37th District Democratic voters nominated Coleman, who was shunned by his own party after revelations about his behavior surfaced.
Having Smith's name on the ballot gives her a better shot.
"We're pretty confident there's a good chance for us this cycle," said Shannon Golden, executive director of the Kansas Republican Party.
Golden said Smith, the wife of a law enforcement officer and mother of active-duty military, "is such a great candidate."
Smith said she has encountered Wyandotte County voters who are considering supporting her following the controversy surrounding Coleman.
"They're opening up their mind to voting Republican in a Democrat county," Smith said.
Kansas Democrats aren't convinced Coleman will manage to remove himself from the ballot.
"Just Aaron Coleman asking for this, he has to produce paperwork, the secretary of state has to approve it. I think there are just a lot of unknowns," said Kansas state Sen. Pat Pettey, a Kansas City Democrat. "… I'm somewhat doubtful that his name will come off the ballot."
If Coleman defies Pettey's expectations, the two of them will be among five Democratic committee precinct members who will choose which Democrat ascends to the November ballot.
The others are Brandie Armstrong, Mike Armstrong and Janet Alvey Powell. Brandie Armstrong is a paid consultant for the Frownfelter campaign.
The likely nominee is Frownfelter, the centrist Democrat who has held the seat since 2007, usually without opposition.
Frownfelter announced he would pursue a write-in campaign after losing by 14 votes to Coleman.
"I would like to be considered for that pick," Frownfelter said Monday. "It will be up to committee members to see who they want and who they would put on there. It's up to them now. If they pick me I would be glad to fill the spot and continue doing what I'm doing."
No other names appear to have surfaced.
Coleman said on Twitter Sunday that "I almost guarantee it will be (F)rownfelter."
"I've asked my voters who called today to step up and be the Nominee," Coleman said. "What I've been told, is they have dirt themselves they don't want released. They said they aren't perfect, and after seeing what I went through, they aren't interested."
Coleman, who did not respond to a message seeking comment for this story, ran on a progressive plank of renewable energy, abortion rights and cannabis legalization.
Coleman drew a torrent of criticism after admitting to accusations that, as a teenager in middle school, he obtained a nude photograph of a girl and threatened to circulate it if she did not send him more nude pictures. Another girl said Coleman bullied her to the point that she attempted suicide.
His crass comments more recently on social media — in one instance, he gleefully mused about a former GOP lawmaker dying from COVID-19 — made him a pariah even in his own party. Leading Democrats disowned Coleman over his behavior.
Coleman on Sunday said the attention he has received was too much and with his father in the hospital, he preferred to focus on caring for his family.
"I would be happy if his name is removed," Pettey said. "I think it's very unfortunate that this young man, with the baggage that he has and his unfortunate choices in his behavior toward women has come out. And I applaud those young women for coming forward."
If Frownfelter ends up on the ballot or has to continue a write-in campaign, Democrats aren't assured of another Frownfelter victory.
Despite winning seven terms in office, Frownfelter may have seen his support soften. Before losing in the primary to a teenager with little in the way of campaign funding and even less of a profile, Frownfelter lost his race in 2019 for the Board of Public Utilities, the ratepayer-owned electric and water utility in Wyandotte County.
"I have to say the numbers in the primary would reflect that thinking," Pettey said.
Even Frownfelter, who said his district has been Democratic for years, acknowledged the district could flip red.
"There's always that possibility," Frownfelter said. "You never know what's going to happen, like in this race. I never gave up. I played enough sports in my life, the last-place team can knock off the first team any given day."
Frownfelter said he's working hard between now and the general election to keep the 37th District blue.
"We're full speed ahead," Frownfelter said. "We're going to run it like we were if I was a write-in."
———
©2020 The Kansas City Star (Kansas City, Mo.)