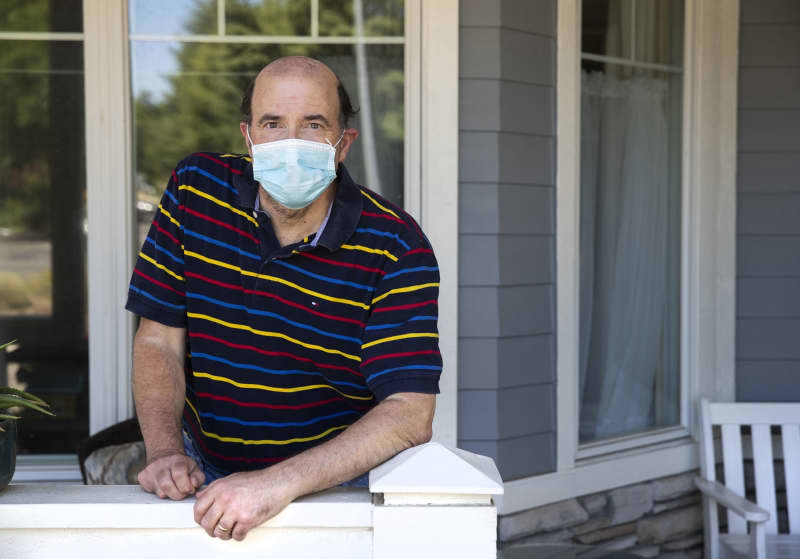 SACRAMENTO, Calif. — Dealing with lower-income and hourly workers hit by the coronavirus, Sacramento County health officials say they are hoping to put together an experimental plan to pay some infected people $1,000 to get them to stay home from work for two weeks to avoid infecting others.
The money would represent roughly two weeks of pay at about $12.50 an hour for people who might otherwise be tempted to go to work because they can't afford to lose a paycheck and would not qualify for unemployment. That could include undocumented workers.
Health officials say the stipend could be used in conjunction with a state Housing for the Harvest program that provides hotel rooms for two weeks to people with COVID-19 who otherwise would live in groups in migrant labor camps or in large households where they could easily pass the virus on to family members.
"A major point is to make sure people have the resources they need to be able to isolate," Sacramento County Public Health Officer Dr. Olivia Kasirye said.
Health officials plan to talk logistics in the next few weeks with community organizations who likely would act as liaisons, Kasirye and county health chief Dr. Peter Beilenson said.
At least two other California counties, San Francisco and Alameda, have launched similar efforts. Both are in early stages.
San Francisco County has distributed $1,286 checks to 394 people so far, officials there say. It also provides food for the family and, in same cases, a hotel room to sequester the infected person.
Joaquin Torres, San Francisco County's director of workforce development, said the program, called the Right to Recover Fund, uses local nonprofit groups who are in contact with ethnic and lower-income communities. "They are the secret sauce," he said.
He acknowledged that the money can't get to families immediately, so people have to know up-front that it will come. "The intention is that you stay home," Torres said. The lesson Torres said San Francisco has learned is, "don't over-bureaucratize this. The community is desperate. Deploy the resources."
"This is the new reality. We have to operate in real time."
Alameda County's program, approved by the county Board of Supervisor but not yet launched, will offer a $1,250 stipend to people infected with coronavirus who live in the five Alameda County neighborhoods with the highest virus case rates.
The recipients would be referred to the county by one of five county-approved health clinics. The county has earmarked $10 million, enough to provide 8,000 people or families with the equivalent of two weeks of pay at $15 an hour.
The stipend program is one of a handful of start-up efforts Sacramento County has initiated or is considering as it deals with a daily flow of 200 new coronavirus cases.
The county also is hiring more health staff, as well as "disease navigators" who will advise small businesses on operating safely. The county also plans to purchase flu vaccine materials, and notably, coronavirus vaccine materials to be used to offer shots to people when a vaccine is approved.
While the state as a whole has succeeded in reducing the number of new cases per day in recent weeks, Sacramento and much of the agricultural Central Valley have lagged.
Statewide, 5.6% of people tested in the last week were determined to be infected by the virus, down from a peak of 8% in July. Sacramento's infection positive rate is still 6.6%. That's been dropping and is better than other valley counties, but not near the safety level of sub-5% that international epidemiologists say is needed in order to safely reopen the economy.
County health officials say they believe one reason is that there are more people here who continue to go to work in essential agriculture-related jobs, and that those people need more support to avoid catching and spreading the disease.
"We are hitting a point in Sacramento in which the pandemic has cost people jobs and health and our communities are in incredible danger," said Richard Dana, an executive with the Sierra Health Foundation, which is partnering with the county on coronavirus outreach programs. "It is so crucial … to put real money into the neighborhoods."
The moment is pivotal, and the county is under pressure to perform, health officials say.
Last week, the county Board of Supervisors agreed to free up $45 million in federal CARES Act emergency COVID-19 funding for its health department to spend on virus prevention this year. But it did so only after several weeks of confusion, community criticism and internal finger-pointing among county officials after it was disclosed that the county shifted CARES Act funds to the Sheriff's Department as part of a budget swap.
Faced with public criticism, several members of the Board of Supervisors and County Executive Navdeep Gill chastised county health leaders for failing to make a sufficient case for a chunk of the county's federal COVID-19 emergency funds.
That prompted public health supporters to call out Gill and the board for being more concerned with budget balancing than with assisting a county health staff that is suffering from fatigue after five months of dealing the crisis.
"It seems like the supervisors are out to lunch," said epidemiologist Flojaune Cofer, a state policy director at Public Health Advocates.
Amid that bickering, the clock is ticking. The $45 million has to be spent by the end of December under federal rules.
Supervisor Patrick Kennedy said that leaves him concerned about whether the money will be spent effectively. "We've been … building the plane as we are flying it," Kennedy said. "We don't have time necessarily to slow down," but, "we need a plan in place. It seems real piecemeal."
Supervisor and board chairman Phil Serna last week ordered county health officials to provide spending updates to the supervisors at every board meeting for the rest of this year.
The county health department meanwhile has signed a contract with the Sierra Health Foundation as a facilitator and liaison with community groups that deal with housing, food, mental and physical health issues in various communities, some of whom are poor and some of whose members do not speak English.
The foundation and the county have hired and trained several dozen community members to act as disease "contact tracers" and "business navigators," connecting with people infected with COVID-19 and small businesses about safety steps.
It's taken more than two months to get those programs launched. Dana of Sierra Health, though, said, that may seem slow when every day counts in a pandemic, but, "in the real world, this is incredibly fast."
———
©2020 The Sacramento Bee (Sacramento, Calif.)