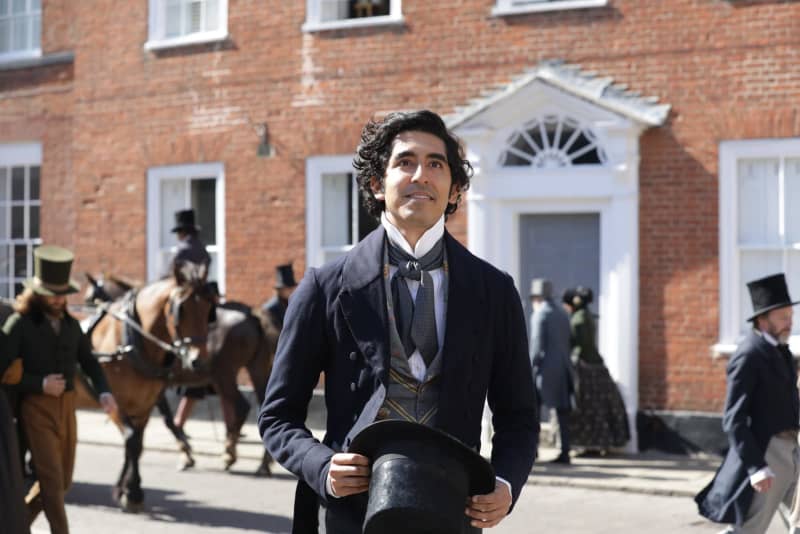 The foul-mouthed British satirist Armando Iannucci, of "Veep" fame, wanted to do something optimistic after his last movie, and since that last movie was "The Death of Stalin," his more pleasant options were infinite.
"Stalin," a transparent warning about the rise of autocrats around the world, was the most scabrous of the political satires for which Iannucci had become infamous, and its relentlessly bleak and darkly comic tone left him searching, as another British humorist would say, for something completely different.
He turned to one of his personal heroes, Charles Dickens, taking on the enormous task of condensing the sprawling story of David Copperfield — the adaptation is officially titled "The Personal History of David Copperfield" — into a two-hour movie.
As befit Iannucci's mood, he removed or de-emphasized notes of melancholy and tragedy, and played up the warm and whimsical elements in Dickens story of an outcast who finds his way in the world as a writer.
He also threw casting wide open, so Dev Patel, as David, gets a chance to cross swords with Tilda Swinton (Betsey Trotwood), Peter Capaldi (Micawber) and Hugh Laurie (a wonderfully daft Mr. Dick). Nikki Amuka-Bird (Mrs. Steerforth) and Rosalind Eleazar (Agnes Wickfield) have plum roles.
The Inquirer talked to Iannucci about his literary hero, his unlikely foray in the PG realm, and his choices in making David Copperfield, which opens this weekend in theaters, in places where theaters are open.
Q: David Copperfield is a deeply humane and compassionate movie — attributes that loom large in your previous work mainly by their conspicuous absence. What did it feel like to work in this emotional realm?
A: People associate the word "Dickensian" with sentimentality, but if you read the books, yes there are maudlin moments, but there are also kind of angry moments and moments of real passion and raw drama. And of course comedy. Lots and lots of just plain funny moments. He's celebrating peoples' variety, highlighting their eccentricity, their individuality. That for me is Dickens, that's what I've always been drawn to. I wanted it to be a celebratory film.
Q: Dickens wrote for a mass audience. In that spirit, this movie has its arms open wide to everybody — in terms of the PG audience that can see it, in terms of the way you cast it.
A: I was conscious of the fact that this is a movie for all generations. My movies are usually full of cursing and swearing. This is the first thing I've made that the (parental guidance ratings) certificate allows anyone to see it, and I think different generations will take different things from it.
I said to everyone — cast and crew — at the start, 'Imagine no one has made a period drama before and there are no rules, no conventions, no expectations.' We just want to tell our story.
Q: The movie is true to its 19th century setting in terms of the sets and costumes, but with an unmistakably contemporary feel, in part because of race-neutral casting.
A: I thought it was important that even though we really researched the look — there is 1840s wallpaper and clothes and hair — I wanted to the movie to have one foot in the present. But there was a thing about period drama that we wanted to get right: The characters don't know they're in one. They think they are in their own present day, so they should act like they are. People in the audience can feel that and connect with the characters.
Q: Putting Dev in the role of David helps underscore the universality of Dickens' work and themes.
A: "David" is for anyone who wonders whether they're an outsider or not, whether they belong to the group that they are in or not. I think originally when the novel came out it was about class and your financial status but now so many things mark you as being the same or different or similar or diverse.
It's interesting, when Dev and I first started talking about the film, we both are both of different generations but we're both first generation from immigrant parents. My father came over from Naples after the Second World War and Dev's family, obviously he as an Indian background. Although we grew up in the U.K. and we feel British, there is a part of us that thinks we are something else, we are Other. Do people see us as Other? That is certainly an element of it. At the same time, I think it really celebrates individuality.
Q: You've also added eccentricities to David (a talent for mimicry) that are not there in the book, so that he's part of the sprawling roster of Dickensian goofballs.
A: That's taken from Dickens' children. We give it to David in the film, but his children would talk about hearing their father writing upstairs. He would look in the mirror and become the characters, and work out the dialogue that way. In the book David is an observer, someone that things happen to. He absorbs everything around him, and in a movie he has to exude it. We knew we needed to give him something to make that happen, so we looked to Dickens own personality.
Q: As funny as the movie is, it also invokes favorite Dickens themes — poverty, homelessness, debt, the exploitation of children. Orwell said he was that rare writer who could attack his country's institutions and not be hated for it.
A: That's right. And interestingly, the more successful he became, the more he got into the center of the establishment via fame and celebrity, the more angry the novels became. The closer up he gets to how the county and its empire work, the more frustrated he became, and the more he wanted to write about it.
———
©2020 The Philadelphia Inquirer