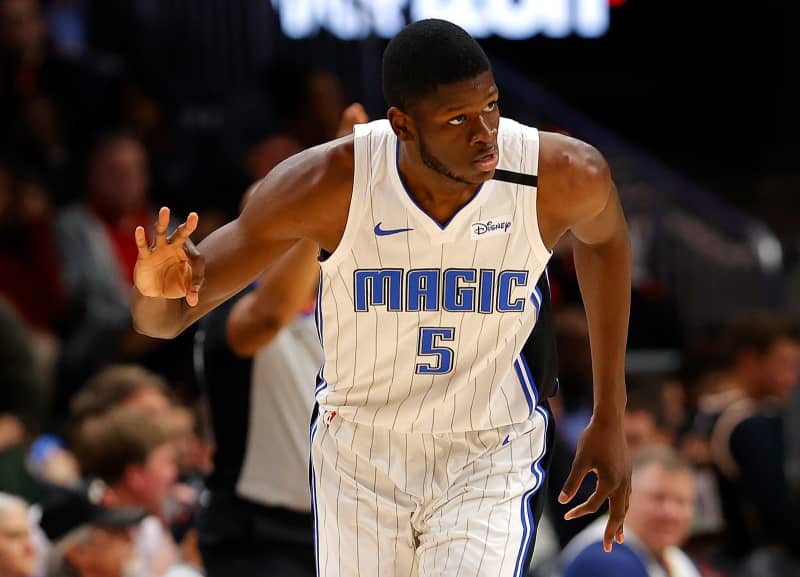 Orlando Magic center Mo Bamba has shown no signs of any serious health issues after contracting COVID-19 as he continues to recover from his recent bout with the virus.
President of basketball operations Jeff Weltman said Monday that doctors have not found any evidence of significant problems for Bamba in the wake of his COVID-19 contraction in June.
Bamba left the NBA campus at Walt Disney World for comprehensive post-coronavirus evaluation. He missed the team's final seeding game and the first-round playoff series against the Milwaukee Bucks.
Weltman said that he expects Bamba to make a full recovery over time.
"He did have some complications arising from COVID and it will take a little time for everything to clear his system," Weltman said. "The doctors have ruled out anything serious but it will take some time to clear his system. That'll probably be measured in months not weeks. That's really something that is not going to be a long-term issue. He's going to have a complete recovery, but we'll probably have to monitor his workload as we get through that, that's all."
"We obviously had him evaluated and we're glad that we did because we were able to rule out anything serious, anything long-term," Weltman said. "With that being said, he did have some conditions that were brought about by COVID."
When Bamba and the Magic first entered the NBA bubble, he said he was pleased to have more power and agility after adding 20 pounds to his 7-foot-frame during the coronavirus shutdown.
But Bamba's acclimation back to regular-season conditions stalled and the Magic's human performance staff decided it was best for him to leave the bubble for a comprehensive post-coronavirus evaluation. Bamba had tested positive for COVID-19 on June 11.
"Mo had really done a good job managing the hiatus. He had added weight, he had stayed in good condition," Weltman said. "He entered our facility with a really good kind of baseline fitness level. Then he contracted COVID.
"Mo, even in the bubble, showed some flashes but he was never able to turn the corner with his conditioning."
Bamba made progress during scrimmage play as his minutes increased over the team's three games. His best effort came in the second game, when he posted nine points and six rebounds in just 8 minutes and 10 seconds against the Lakers.
Bamba then played 11 minutes and 21 seconds in the scrimmage finale against the Nuggets, scoring three points and grabbing three rebounds.
Bamba's conditioning then began to waiver. He logged just 11 minutes during the restart as he played in only two of the team's eight seeding games, though he had left the bubble before the Magic played their finale against the Pelicans.
It was another disappointing and frustrating end to the season for Bamba. During his rookie campaign, he missed the final 30 regular-season games and ensuing playoff series against Toronto with a stress fracture in his right leg he sustained in late January.
Nearly six months after the leg injury, Bamba was competing for the Magic's summer league team in Las Vegas. He played in the opener – and looked good – before the team decided to shut him down as a precaution with the injury.
Weltman acknowledged the bout with COVID marks another unfortunate setback for Bamba and missing the chance to work out during the offseason will put the second-year center further behind in his development. Still, Weltman said Bamba already has shown resiliency and expects more of the same.
"You just can't get anything more valuable to young players than offseason time, and Mo just hasn't had that. He didn't have it last year. He's now going to have to wait to start ramping back up this time," Weltman said. "I don't know if it's a concern. It just is what it is. Mo's been really dealt kind of a bad hand so far, but the great thing about Mo is that he keeps coming back. he keeps fighting and he keeps working through and he's got a great attitude and approach. We always talk about character mattering and that's why, because the NBA is all about adversity. It's all about having to deal with adversity, first and foremost, and Mo keeps coming."
———
©2020 The Orlando Sentinel (Orlando, Fla.)