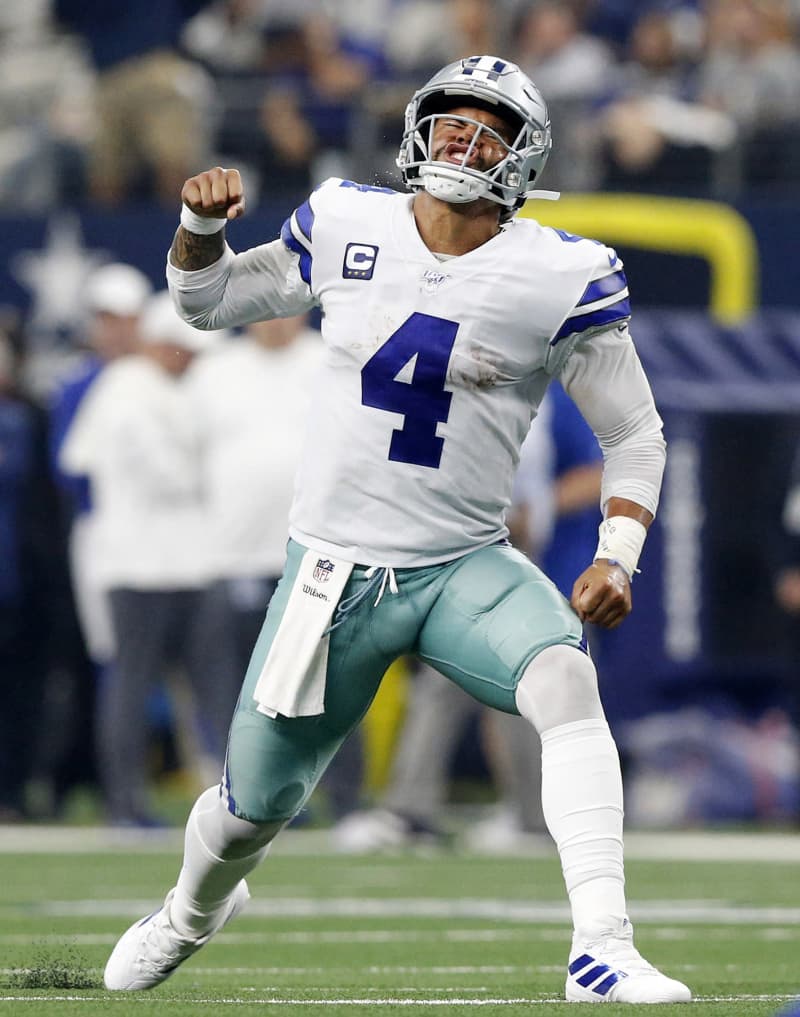 FRISCO, Texas — Owner Jerry Jones has yet to make an official decision on whether he will allow the Dallas Cowboys to have the freedom to protest social justice and police brutality during the national anthem.
Jones has outlawed the players from doing anything considered disrespectful of the flag in the past, saying "they will stand with toes on the line or not play."
He still believes the players should stand for the anthem. But he has seemingly softened his stance in light of George Floyd's death in Minneapolis police custody in May and the renewed push to protest by requesting grace in trying to find a solution that supports his players' rights as well as the feelings of some fans and sponsors who find the protests offensive.
Jones has allowed that his goal is to find a compromise, with the players possibly kneeling before the anthem and standing during it with the focus of making a unified demonstration as a team, similar to what they did when he kneeled and stood with the players before a game in 2017.
Quarterback Dak Prescott, a previous Jones anthem ally, is now countering his owner's plan with one that allows the players to protest individually based on love and the aforementioned grace.
No Cowboys player has ever taken a knee in protest of social justice and police brutality during the national anthem.
"I sure hope so, that's what this country is about, the freedom to do that, the freedom to express yourself," Prescott said when asked about players deciding individually whether to protest. "As we heard Mr. Jones talk about grace and sharing grace and having grace with players in what they want to do. If I had it my way that's exactly what we'd do is express ourselves individually but love and support one another collectively."
In 2017, Prescott was seemingly in lockstep with Jones on the protests during the anthem before games.
"I don't think that's the time or the venue to do so," Prescott said then. "The game of football has always brought me such a peace and I think it does the same for a lot of other people, people playing the game, people watching the game and any people that have an impact on the game. So when you bring such a controversy to the stadium, to the field, to the game, it takes away. It takes away from the joy and the love that football brings a lot of people."
Prescott didn't say what he was going to do personally but acknowledges that recent events, including the police shooting of Jacob Blake in Wisconsin two weeks ago to go along with the Floyd tragedy, call for a new stance on the protests during the anthem. The players should have the right to choose.
Prescott said the Cowboys are still having conversations as a team. The one overriding theme is about expressing yourself as an individual, rather than doing a team gesture as many have talked about in the past.
Allowing someone to have the freedom to express their own opinion with empathy and grace is most important right now, per Prescott.
"I wouldn't say it's going to be about expressing one idea," Prescott said. "That's where we are as a country right now. Individuals have different thoughts, different perceptions and different feelings than their neighbor. So for you to force your opinion and your perceptions on somebody I think isn't very important right now, it doesn't matter. Right now, it's about listening to the other man, having empathy for him and understanding where he may be coming from. I think if anything it's to see guys expressing themselves and more so from that you're going to see people supporting one another and loving one another."
A question still remains whether Jones and the Cowboys will give the freedom and grace to do so.
Vice president Stephen Jones said last week that he disagreed with NFL commissioner Roger Goodell's admission that the league was wrong in how it handled the anthem protests in the past.
"I'm not going to comment on that at this point," he said on his radio show on 105.3 The Fan. "Obviously everybody, I have respect for what everybody has to say about any of these situations. Everybody has their own way of getting their hands around it. It's obviously a big challenge. As I said, every organization, every office, every place looks at it a little different, including whether you're the NFL or you're an individual club. Everybody has their views on different things.
"So, certainly have respect for everybody's opinions and views, but probably as far as I'd go with that."
What the Cowboys are going to have to go with is a mandate by the NFL to stencil the phrases "End Racism" and "It Takes All of Us" in end zones at AT&T Stadium for the 2020 season as a part of the Inspired Change Initiative.
"As we continue to amplify and elevate the NFL's ongoing and long-term commitment to social justice, we will be incorporating several prominent elements on the field, into all broadcasts and across league and club platforms to begin the NFL season and beyond," Goodell said in a memo to all NFL teams. "In developing these concepts, we have worked directly with players and received input from the NFLPA."
Goodell made it clear that the league supports players' right to protest during the anthem.
"The NFL stands with the Black community, the players, clubs and fans," Goodell told reporters in a follow-up interview. "Confronting systemic racism with tangible and productive steps is absolutely essential. We will not relent in our work. We will redouble our efforts to be catalysts for the urgent and sustainable change that our society and communities so desperately need. I'm so proud of everyone across our league and others who have taken a stand using their voices and platforms to continue to shine a spotlight on things that must change."
———
©2020 Fort Worth Star-Telegram