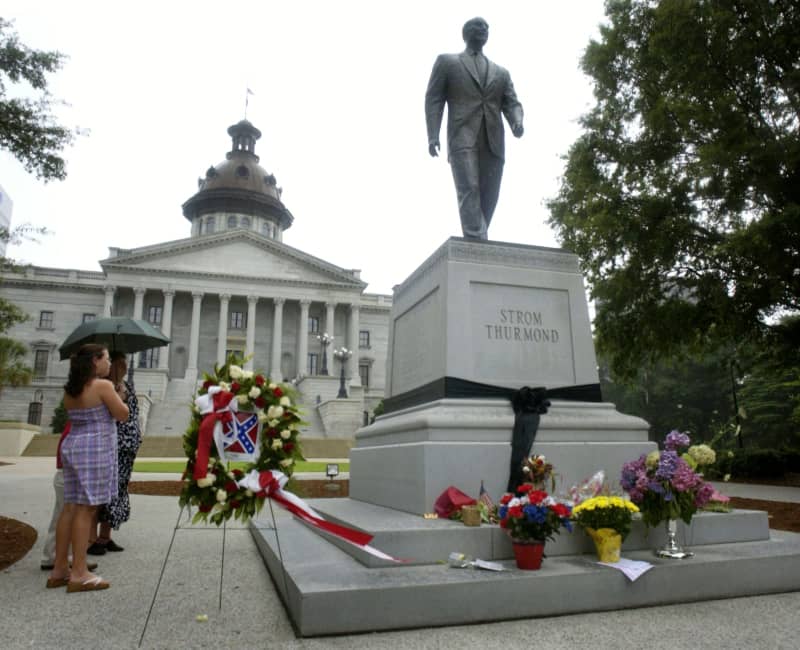 COLUMBIA, S.C. — There are times when even modern progressives would look to something late South Carolina Gov. and Sen. Strom Thurmond did and actually agree with.
While governor, Thurmond appointed the first Black person and the first woman to a Cabinet position in the late 1940s. He pressed for the criminal prosecution of a lynch mob. He lengthened the school year and abolished the poll tax in South Carolina, which kept Black voters from casting a ballot.
But in spite all of this, Thurmond was one of America's most high-profile and ardent segregationists. Despite helping to liberate the Buchenwald Nazi concentration camp at the end of World War II, he continued to advocate for policies that reinforced white supremacy at home, all in the name of winning votes and "states rights."
His legacy — and the debate on whether to remove his statue and his name from some of the state's most prominent locations — is also complicated, says Marilyn Thompson, a former reporter with The Columbia Record who co-wrote two books about Thurmond.
Thompson's comments came Wednesday during an online forum sponsored by The State and thestate.com. Her co-author on the Thurmond books, Jack Bass, was unable to participate because of technical issues.
"I think if you look at his record cumulatively — and I know this is how Black leaders see it — you can't forgive anyone who ran as a segregationist candidate for president and who said some of the incendiary things that he said on the campaign trail," Thompson said.
Taken as a whole, Thurmond's legacy is "complicated," Thompson said.
In the wake of George Floyd's death, calls to rename buildings named after racists, white supremacists and segregationists have grown throughout the country. At the University of South Carolina, students, alumni, athletes and even prominent figures like women's basketball coach Dawn Staley have called on the university to rename the Strom Thurmond Wellness and Fitness Center, citing Thurmond's segregationist views and opposition to the Civil Rights movement.
Thompson, who is the Washington editor at the nonprofit news group ProPublica, declined to say whether the names should be changed because she has to be nonpartisan in her coverage, she said.
"I find it both interesting and very understandable that the Black community, suddenly feeling a sense of empowerment, would want to do something about this," Thompson said.
The University of South Carolina has already moved to rename a women's dorm named after J. Marion Sims, who was credited with founding modern gynecology, but did so by experimenting on enslaved women.
Neither the Sims nor Thurmond buildings can be renamed without an act of the state Legislature, according to the South Carolina Heritage Act.
Thurmond was elected nine times to the U.S. Senate to represent South Carolina. While he was not known for any major legislative achievements, he blazed the trail for how to get elected by offering constituent services, Thompson said.
It's a road that Sen. Lindsay Graham, who took over Thurmond's seat in 2003, followed, especially early on, Thompson said.
"I think Lindsay Graham in the beginning of his career modeled himself on Thurmond's constituent service record," Thompson said. "He did things for people. He helped people. He went to the small towns of S.C. and met with constituents about every routine issue about every little item that might require federal intervention and he delivered."
While Graham and Thurmond are very different people — Thurmond was loud and fiery and Graham is more "even handed" — some of the racial allegations that haunted Thurmond also have popped up recently with Graham, Thompson said.
A recent allegation against Graham's campaign was that it altered a photo of Graham opponent Jamie Harrison to darken the color of his skin, according to CNN.
Graham's campaign callled the controversy "fake."
"The artistic effect used, the same one the Harrison campaign used multiple times this month in their own graphics and that our campaign used on Senator Graham just two days earlier, is a non-story," Graham's campaign said in a statement sent to McClatchy News in July.
The altered photo of Harrison "really harkens back to the era of Thurmond, some of his earlier races, some of the political advice he would get from advisers who were urging him to stir the pot on racial issues," Thompson said, citing the recent controversy.
Thompson and Bass co-authored two books about Thurmond. The first, published in 1998, is "Ol' Strom, An unauthorized biography of Strom Thurmond.". The second, published in 2005, is "Strom: The complicated personal and political life of Strom Thurmond."
Thompson is a Pulitzer Prize winning reporter who is perhaps best known locally for breaking the story of Thurmond's secret, biracial child, Essie Mae Washington, in 2003.
When Thompson first discovered that Thurmond had a biracial daughter, she saw it as the "ultimate hypocrisy," but Washington didn't see it that way, Thompson said.
"She, first of all, was an extremely kind and generous woman, who saw Thurmond as a father who just for whatever reason could not publicly acknowledge her," Thompson said. "There was very little bitterness toward him and how she was treated. So it's a really complex and interesting human dynamic."
———
©2020 The State (Columbia, S.C.)