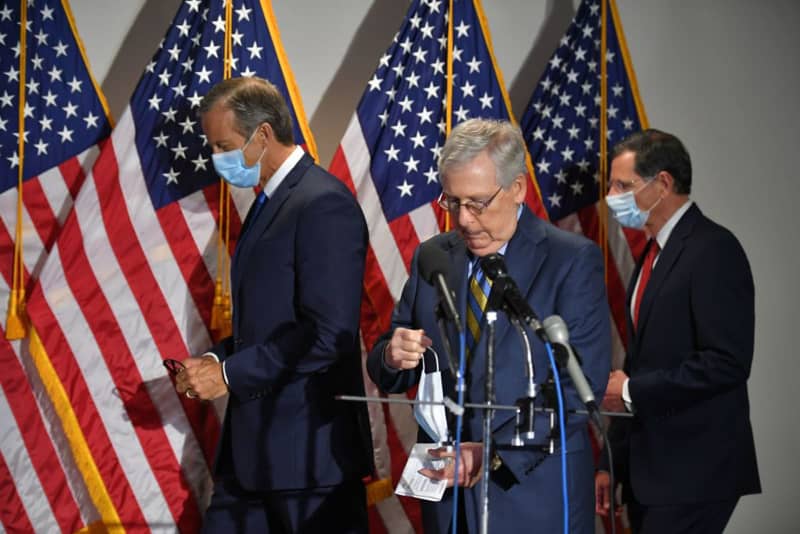 Last week's market swoon didn't burst the optimism of stock investors. But if it continues in the week ahead, it will press Congress to move on a stalled coronavirus economic stimulus package.
Let's be clear: The inability of Congress to make any meaningful moves on providing additional support to the U.S. economy battling a pandemic is about politics, not policy. The Democratically controlled House OK'd an additional $3 trillion package in May. Senate Republicans proposed their own set of plans in July. There is some common ground — $1,200 stimulus checks — but not much else.
There has been some back and forth between the two parties controlling their respective legislative chambers, but no bargain — grand or small. The Senate is expected to take up their GOP stimulus proposal in the week ahead, which may be whittled down to $500 billion in new federal unemployment booster payments, school funding, more money for the Paycheck Protection Program and money for COVID-19 testing and a vaccine.
Investor confidence has been held up by the Federal Reserve and its multi-pronged approach to support all kinds of lending. Federal Reserve leaders expect Congress to OK more stimulus spending. As Charles Evans, president of the Federal Reserve Bank of Chicago, put it in a speech last week, "An inadequate fiscal response would significantly reduce household spending, further damage household balance sheets, and put many businesses at risk of failing." Federal Reserve Bank of Atlanta President Raphael Bostic was blunt in a Wall Street Journal interview: "There is still need out there."
These can be considered strong statements from measured men. But despite their neutral political positions, these types of statements won't sway Congress or the White House.
This is where the market comes in. The absence of a deal on new fiscal stimulus has not harmed shareholders, or the economy — yet. A spasm of stock selling, though, will get the attention of Congress and President Trump, building pressure on them to strike a deal.
———
ABOUT THE WRITER
Financial journalist Tom Hudson hosts "The Sunshine Economy" on WLRN-FM in Miami, where he is the vice president of news. He is the former co-anchor and managing editor of "Nightly Business Report" on public television. Follow him on Twitter @HudsonsView.
———
©2020 Miami Herald