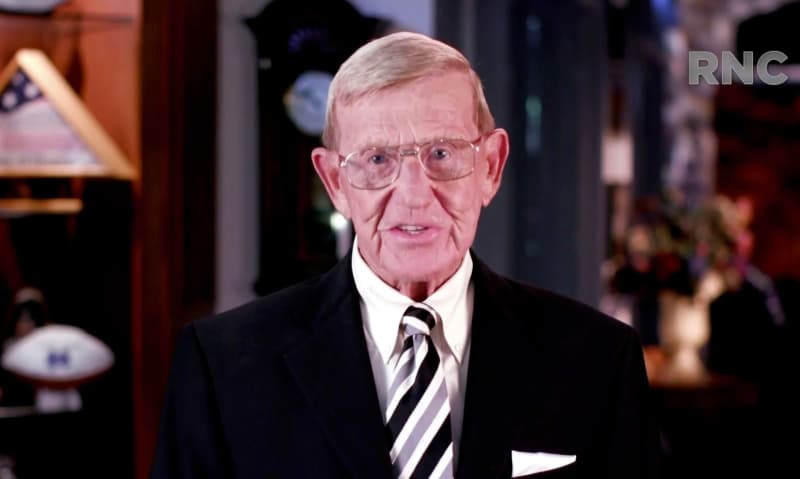 Former South Carolina and Notre Dame football coach Lou Holtz spoke at the Republican National Convention last month and now will receive a higher honor from President Donald Trump.
Trump announced in a press conference Friday he will give Holtz, who spent 1999-2004 in Columbia, S.C., the Presidential Medal of Freedom. It is highest civilian honor the president can bestow.
"I've known him for a long time," Trump said, referencing letters he received from football coaches on Holtz's behalf. "We've analyzed it very closely. We've looked at all of those recommendations. We've looked at Lou's life and his career and what he's done for charity. The football was obvious, he's a great coach.
"Lou will be getting the Presidential Medal of Freedom. A date is being set. It won't be in the too distant future."
Trump also praised Holtz' late wife Beth.
Holtz coached the Gamecocks from 1999-2004, going 33-37. He took over a program that went 1-10, posted a 0-11 campaign in Year 1 and turned things around to win 17 games and a pair of bowls the next two seasons.
The team stagnated to a degree the next three seasons, and his tenure ended with the famed fight against Clemson in 2004 and the team declining the chance to go to a bowl.
Holtz also coached at William & Mary, N.C. State, Arkansas, Minnesota and Notre Dame, which he led to the 1988 national title, the most recent for the program.
Earlier this year, Holtz likened the risks of playing football this fall to the risks taken in storming the beaches at Normandy in World War II. He also spoke at a luncheon at the 2016 RNC.
According to the White House, the Presidential Medal of Freedom is "the Nation's highest civilian honor. It is awarded by the President of the United States to individuals who have made exceptional contributions to the security or national interests of America, to world peace, or to cultural or other significant public or private endeavors."
———
©2020 The State (Columbia, S.C.)