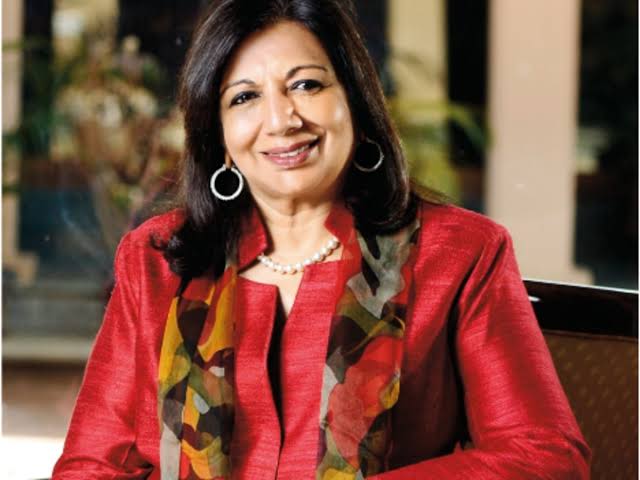 Dr. Kiran Mazumdar-Shaw, a pioneer of the biotechnology industry in India and the head of the country's leading biotechnology enterprise, Biocon is an internationally acclaimed biotech magnate. In an exclusive interview with Deepika Khurana, Mazumdar-Shaw, Executive Chairperson of Biocon shares her views on India's preparedness for COVID-19, the future of healthcare, the potential threat of the next pandemic, and global concern about medical misinformation.
By Deepika Khurana
A first-generation entrepreneur, Dr. Kiran Mazumdar-Shaw has made India proud with her globally recognised biopharmaceutical enterprise that is committed to innovation and affordability in delivering world-class drugs to patients globally.
"I still have a hunger to do more," quipped the sexagenarian.
Consistent with the belief that the healthcare industry has a humanitarian responsibility of providing essential life-enhancing and life-saving medicines, Mazumdar-Shaw has been actively involved in dealing with the ongoing COVID-19 pandemic situation.
"As a globally recognised biopharmaceuticals company engaged in innovative science to develop new drugs and manufacturing life-saving therapies, we have a significant role to play in the global pharma ecosystem. At the same time, we also have a role to play in the national response to the COVID-19 threat," she said.
Under her stewardship, Biocon has witnessed many milestones since its inception in 1978 — from being an industrial enzymes company to a fully integrated, innovation-led global biopharmaceutical enterprise.
Today, Biocon is committed to reduce therapy costs of chronic conditions like diabetes, cancer, and autoimmune diseases and become a household name.
"My vision is to take our affordable blockbuster drugs with the 'Made in India' label globally so that these can change the lives of billions of patients around the world," said Mazumdar-Shaw.
In an exclusive interview with Health Analytics Asia, Kiran Mazumdar-Shaw, Executive Chairperson Biocon, and an outspoken activist shares her views on India's preparedness for COVID-19, the future of healthcare, the threat of the next pandemic, and global concern about medical misinformation.
Excerpts from the interview:
1. Given the situation we are in, what is your vision for healthcare in 2021?
In 2021, there will be increased demand for therapies that are patient-focused, data-driven, and digitally enabled. Patient care will move to non-clinical settings driven by technology and connectivity, even as accelerated adoption of digital therapeutics empowers patients with point-of-care management.
Also, citizens will demand better and more resilient national health systems in the aftermath of the COVID-19 crisis. So governments will have to respond by investing more on healthcare to plug the current deficits in infrastructure, workforce, and health tech.
2. Do you see a big role of AI in healthcare?
The deployment of Artificial Intelligence-based (AI) systems can make a huge difference in taking primary healthcare to underserved and remote areas. AI has imaging, identification and screening abilities, natural language processing, and speech recognition. Many of these abilities of AI can be leveraged to make functions such as routine laboratory tests for haemoglobin screening, urine testing, blood grouping for expectant mothers more efficient and accurate in primary healthcare centres.
AI innovators can develop quicker technology-enabled testing and screening modalities to replace traditional methods that require expensive equipment and specialist human technicians. Thus, AI-based PHCs can be equipped to provide screening, wellness, awareness, and diagnosis.
3. There's been a lot of buzz about COVID vaccines advancing in phase 2 or phase 3 trials. Are we making good progress and do you think it's safe to fasten the process as otherwise, it takes about 10 years to develop a vaccine. What are some of the concerns?
Everybody is waiting anxiously for a COVID-19 vaccine. However, developing a vaccine at warp speed is fraught with risk. Regulatory Science demands clinical data sets that validate safety, efficacy, and durability of response.
Vaccines are deployed in large healthy populations. There is a minimum time duration required to assess risks and efficacy. Short-circuiting such steps is dangerous especially if long term adverse events come to the fore. Today we are seeing some very encouraging efficacy data globally from several vaccine candidates, including the Oxford-AstraZeneca vaccine, the Moderna vaccine, or the Pfizer-BioNTech vaccine. In India, Serum Institute has recently started a clinical trial in India for the Oxford-AstraZeneca vaccine. Phase II clinical trials for two indigenously developed vaccine candidates, Covaxin by Bharat Biotech and ZyCOV-D by Zydus Cadila, are almost over.
I personally believe that we ought not to rush approval of vaccines without adequate safety data. If the vaccine indeed is permitted for Emergency Use, I believe young people and health workers ought to be provided access as they are most at risk to get infected and spread transmission.
The elderly, those with comorbidities, and children should not be exposed to the vaccine until safety risk is established.
4. Of late, there's been a rapid increase in COVID-19 cases. Should this worry India? If no, then what should India be worried about (doctor: patient ratio, ventilator shortage, etc).
The COVID-19 crisis can easily be managed if we approach it with a scientific rationale and common sense. Most of the mortality is being caused because people are in denial, they are not testing on time so that they are presenting themselves for medical attention at a much later stage of the disease when the cytokine storm has broken out, which is causing severe COVID-19-related complications and mortality. I recommend to everyone with mild fluish symptoms to test and decide on hospitalization or home quarantine based on risk factors that include viral load: CT values <20, age, co-morbidities, and severity of symptoms. By testing and treating early we will be able to lower mortality.
India also needs to adopt standard protocols along the disease treatment continuum that can help decrease the mortality rate. Currently, there is a wide variation between the best supportive care delivered in Private and Government Hospitals. Moreover, doctors need to share best practices with their counterparts across the country to reduce mortality and bring down fatalities.
5. Emerging data of COVID-19 patients suggests that more than 90% of them are also receiving antibacterial treatment. Besides, the use of antibacterial soaps and disinfectants will also contribute to an increase in the incidence of drug-resistant infections in the months and years after the pandemic is over. Do you agree superbugs is the next pandemic in coming? And, how can we deal with the problem?
Yes, superbugs are potentially the next big health challenge that we may have to confront. The UN estimates that antimicrobial resistance (AMR) could cause 10 million deaths per year by 2050, while the World Bank estimates that AMR could cost the global economy $1.2 trillion annually. We need surveillance, education, monitoring, and regulation of consumption and the use of antibiotics in humans, animals, as well as, plants.
We also need funding to support clinical research of innovative new antibiotics that are addressing the most resistant bacteria and life-threatening infections. In a welcome move, more than 20 leading biopharmaceutical companies have recently announced the launch of the AMR Action Fund, which is a partnership that aims to bring 2-4 new antibiotics to patients by 2030 to address the rapid rise of antibiotic-resistant infections.
6. There's a global concern about the tide of misinformation which includes medical misinformation as well. So is the problem of "fake news" affecting Science and scientific research as well? If so, how serious is the problem, and what are the ways to combat it?
The problem of "fake news" is a huge problem and it is affecting science and scientific research as well. As members of the scientific community, I believe we have an ethical and social obligation to stop the spread of fake news. In general, the public trusts scientists, and trust and credibility can potentially influence the ability to persuade people to follow public health authorities' recommendations during a viral outbreak like the current COVID-19 pandemic. This is not an easy task and there are many challenges that scientists face conveying their knowledge to the public. We can respond intelligently by obtaining reliable information from credible sources to educate the public.
7. How do you see the future of medicine?
Today, genomic sequencing is being combined with molecular diagnostics, imaging, and data analytics to analyse the cellular structure of malignant tumours and tailoring treatment regimens. In the future, genomics data and other clinical information will be integrated with day-to-day medical practice in order to assist the medical fraternity in deciding on a specific line of treatment for their patients. I foresee a world where everyone will have a lifelong genome map that will be tracked for mutations that are linked to their disease-causing potential. This will enable early diagnosis and early therapeutic intervention thereby arresting disease progression and enhancing the quality of life.
Targeted genome editing technology like CRISPR CAS9 is allowing scientists to edit genomes with unprecedented precision, efficiency, and flexibility for treating diseases. CRISPR, which provides a precise and cheap technology to "repair broken genes," will make it possible to treat several thousand inherited disorders caused by gene mistakes, most of which, like Huntington's disease and cystic fibrosis currently have no cure.
Advances in medicine will make life-threatening diseases like cancer more manageable through advances in the field of immuno-oncology, which is one of the most promising fields of science being explored by scientists to develop path-breaking solutions for unmet medical needs. The treatment paradigm for cancer will change, and chemotherapy and radiotherapy will be replaced by non-toxic bio-therapeutics that will stimulate an immune response against malignant tumours in cancer patients.
Advances in stem cell therapy and 3D bioprinting will allow human body parts to be replaced with laboratory-grown organs with costs coming down exponentially over the next 30 years.
8. You've accomplished so much on your own. At this stage of your life, do you feel a sense of completeness or hunger to do more?
I believe with all my heart that the healthcare industry has a special responsibility as we sell essential life-enhancing and life-saving medicines and provide life-giving care. To me personally, both diabetes and cancer represent one reality – the need to innovate and provide access to lifesaving medicines so that everyone, anywhere on the planet can benefit from them. My vision is that there should be equitable access worldwide to essential, life-saving medicines without distinction of race, religion, political belief, and economic or social condition. So, yes there is a hunger to do more.
9. How do you manage a positive work-life balance?
Achieving a 50:50 work-life balance is a utopian dream. The balance depends on one's priorities. Today 10% of my time is all I get to myself. The rest of the time is dedicated to my role as a business leader, mentor, philanthropist, social activist, and a concerned global citizen.