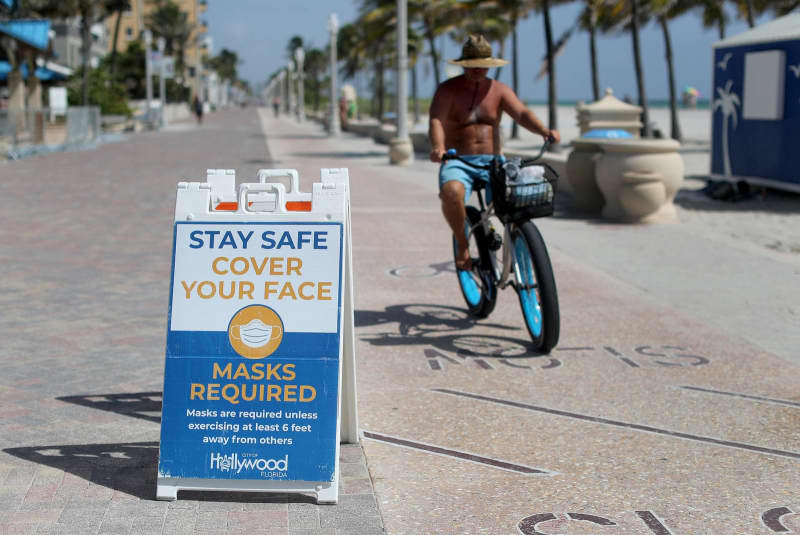 FORT LAUDERDALE, Fla. — Florida's much-watched coronavirus numbers stayed on a downward trend Sunday, with the state reporting 2,564 new cases and another 38 deaths in advance of the Labor Day holiday.
State officials have reported 12,001 deaths since the pandemic began, including 152 non-residents who died in Florida. The state has tallied 646,431 COVID-19 cases so far.
The numbers reported Sunday represent a sharp decline from the record coronavirus deaths reported just four weeks ago: 277 on Aug. 11. Another record was set on July 12, when the state reported 15,300 new cases.
Data reports released by the state each day reflect COVID-19 fatalities in recent weeks, but just confirmed in the past 24 hours. Positive test results also take days to appear.
Saturday's daily report from the Department of Health reported 3,656 new cases of people infected with COVID-19 and 61 deaths. On Friday, the state had 3,198 new cases and 103 deaths.
Monitoring Florida's COVID-19 statistics: These are the numbers to watch. »
Based on the downward trend in numbers of new cases, Palm Beach County is moving to Phase 2 of its reopening on Tuesday.
Nearly 4.8 million people have been tested for COVID-19 statewide, producing an overall positivity rate of 13.49%, state health officials say. Another 4.13 million people have tested negative.
The state's latest pandemic data report puts the daily positivity rate at 5.06%. That rate reflects only new infections based on COVID-19 testing and does not count people who previously tested positive for the disease.
Hospitalizations
Since the pandemic began, a total of 40,024 residents have been hospitalized for the disease in Florida as of Sunday, state health officials say. That's another 112 hospitalizations from the day before.
As of 1 p.m. Sunday, 3,163 people were hospitalized with a primary diagnosis of COVID-19 across the state. Broward County reported 350 patients; Palm Beach County had 172; and Miami-Dade had 548, the most in the state.
The online report put out by the state Agency for Health Care Administration updates several times throughout the day.
Deaths
Statewide: The official COVID-19 report, updated Sunday, shows 11,849 Florida resident deaths. In addition, 152 nonresidents have died in Florida since the pandemic began.
Long-term care facilities: At least 4,946 deaths have occurred among residents and staff of nursing homes and assisted-living centers throughout the state — 15 more than the total reported Saturday.
Miami-Dade County has the highest number of deaths at the facilities, with 731; Palm Beach County has reported 504 deaths, and Broward accounted for 362 deaths.
Global view
Worldwide: The novel coronavirus has infected more than 26.9 million people and killed at least 880,500 worldwide as of 12:30 p.m. Sunday, according to Johns Hopkins University's Coronavirus Resource Center.
U.S.: The United States has close to 6.25 million cases, the highest total in the world, with at least 188,634 deaths, the most of any country. The U.S. has 4.3% of the world's population, but 23.2% of the world's cases and 21.4% of the world's deaths.
Other countries with high COVID-19 death tolls are Brazil with 126,203, India with 70,626, Mexico with 67,326, and the United Kingdom with 41,640.
———
©2020 Sun Sentinel (Fort Lauderdale, Fla.)