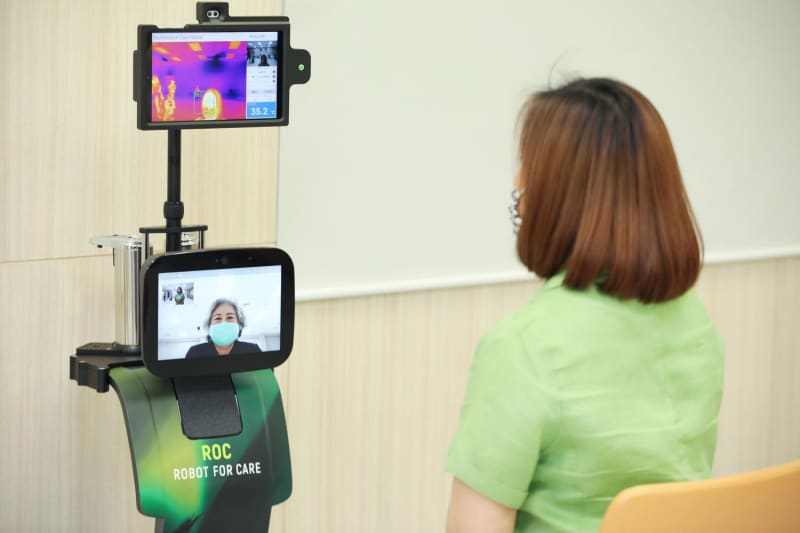 Asia is one of the most diverse regions in the world, in terms not only of economic development but culture, language, religion and beyond. Amid this diversity, there are sectors poised for growth in the next decade and healthcare is one of them.
According to the marketing strategy firm Solidiance, healthcare spending in Southeast Asia is forecast to increase to US$740 billion by 2025, compared with $420 billion spent in 2017.
Healthcare spending across the Asean 6 (Indonesia, Malaysia, Singapore, the Philippines, Thailand and Vietnam) has already outpaced the economic growth of these nations. This is likely to persist in the long run, due to fundamental growth drivers such as a rapidly growing middle class.
Factoring in the different levels of economic and technological advancement, it's important to note that each Asian country can use its current strengths in healthcare delivery to collectively elevate the level of care in the region. To that end, GE Healthcare and its partners are actively involved in driving sustainable improvements through medical equipment, digital solutions and strategic partnerships in rural and urban areas alike.
Thailand, for example, was declared to have the sixth best healthcare system in the world in a 2019 survey of 89 nations by CEOWorld magazine. The top three, in order, were all from Asia: Taiwan, South Korea and Japan.
Thailand is on its way to achieving regional medical hub status due to strong investment from the public and private sectors to improve services for citizens and regional patients seeking treatment for complex cases. The investment also encompasses clinical education to ensure care standards are delivered sustainably by locally trained experts.
Indonesia and the Philippines, meanwhile, are becoming attractive greenfield locations for private equity investment. In 2018, GE Healthcare signed a deal valued at $16 million with an Indonesian partner to provide strategic counsel on hospital planning, lifestyle management and capacity building for six upcoming hospitals in the country.
In Malaysia, public-private partnerships within the healthcare ecosystem between hospital operators, medical device manufacturers, health-tech providers and private equity investors are driving a shift toward digital healthcare delivery.
Singapore, renowned as a hub for business and technology, is attracting a vibrant community of tech and health-tech startups, while Vietnam is fast catching up in terms of using digital technology to provide healthcare in rural and urban areas.
This year, of course, Covid-19 has had a profound and lasting impact on many industries — not least healthcare. New practices have emerged in response to the need for urgent access to essential services, while maintaining the safety of both patients and caregivers. This has resulted in an accelerated reliance on technology and digital infrastructure.
As the world saw unprecedented demand for ventilators and patient monitors, previously unconnected partners such as GE Healthcare and Ford Motor Co worked together to enable rapid ramping up of global manufacturing capacity. Diagnostic equipment such as X-ray, CT and ultrasound devices became essential tools in ensuring quick and accurate assessment of Covid-19 cases, thrusting radiology departments onto the frontlines of the fight.
On the flipside, non-essential procedures across Asia have been put on hold as hospital ICU and ER capacity threatened to become overwhelmed.
As economies start to reopen, Asia is now at the crossroads of living with the pandemic and at the same time, using technology to improve healthcare delivery. Hospitals are looking to make optimum use of digitally connected equipment, data integration and digital solutions for day-to-day operations.
Patients with non-critical conditions, for example, can expect to continue consulting medical professionals virtually and to get their medication delivered to them. According to a study by L.E.K. Consulting and GRG Health, 60% of hospitals in Southeast Asia, India and Australia expect to continue using increased levels of tele-health after Covid-19 has passed.
Medical professionals, likewise, will adopt new ways of working, using technology in different ways to achieve better outcomes and uphold stricter safety standards. For example, GE Healthcare's CT scanner with automated settings minimises physical contact between a radiologist and patient. A CT machine installed in a modular shipping container is another solution for pandemic preparedness, hygiene and efficiency.
Going forward, technology and digital solutions will be essential to manage increasing patient volumes and staffing pressures, as was necessary during the Covid crisis. For example, artificial intelligence (AI) and data analytics can be used to predict, automate and advance workflow efficiency and improve patient experience.
Solutions such as the clinical command centre developed by GE provide this capability. It comprises a Nasa-style "mission control" centre that analyses critical hospital operations from forecasting demand, reporting bed utilisation, transfers between facilities, care progression and discharge planning. This enables the hospital to predict resource allocation requirements, streamline patient workflow and allow clinicians to focus on delivering the best care.
This approach can also be applied in clinical settings. In the ICU, the concept of virtual care has been introduced as social distancing became a critical factor in preventing the spread of Covid-19. AI-enabled software aggregates data using the cloud, allowing medical professionals to view a patient's status remotely.
Going beyond the hospital, in many parts of Asia where specialists are concentrated in the city, digitally connected equipment can expand the reach of clinicians to ensure patients in provincial or rural areas have access to specialist services.
With the pandemic accelerating the adoption of digital solutions, we expect digital patient triage as well as remote diagnostic services to rise.
Through various software and hardware upgrades to existing equipment and educating clinicians on the benefits of digital, a collaborative effort will help to create customised solutions for local and provincial healthcare needs.
The journey toward long-term recovery and growth in post-Covid Asia will require new and reinforced partnerships across the healthcare ecosystem — hospital administrators, medical professionals, device manufacturers, technology providers and more — in order to pursue a shared vision of a modern digitised healthcare system.
---
Julien Didron is the country manager of GE Healthcare Thailand.