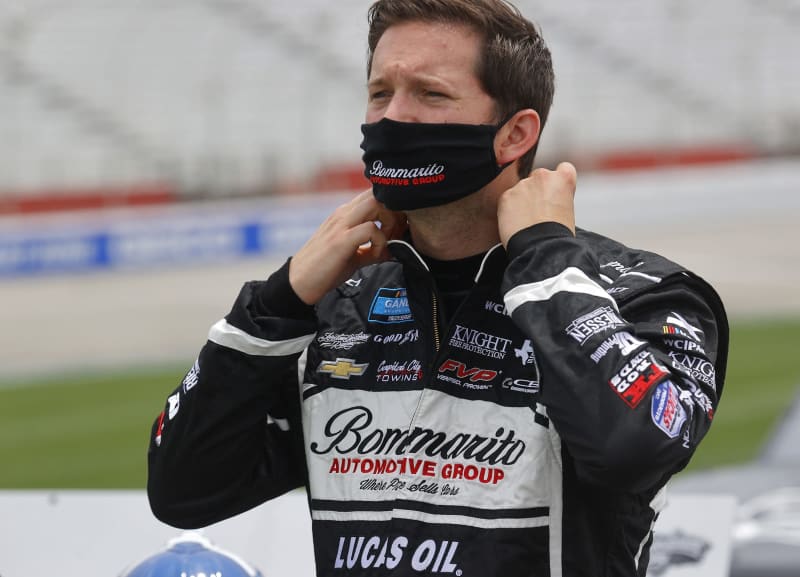 Forest Acres native and A.C. Flora High School grad Jordan Anderson is in his seventh year of racing in NASCAR's Gander RV & Outdoors Truck Series. He drives and runs his own team, Jordan Anderson Racing, out of Charlotte.
Anderson finished second at the season-opening race at Daytona in February and is in 21st in points heading into Sunday's South Carolina Education Lottery 200 at Darlington Raceway. It's the first truck series race at Darlington since 2011.
Anderson talked with The State this week about the challenges of owning his own race team, the Daytona finish and getting a chance to race in his home state.
———
Bezjak: Growing up in South Carolina, how special will it be to race at Darlington and what is your earliest memory there?
Anderson: The first time I had a chance to go to Darlington I was 6 years old. Really grew up going to races down there, both races in the spring and fall race. That is really where I fell in love with the sport. I remember watching Jeff Gordon and Jeff Burton win there and the races that happened there. We would sit in the grandstands right outside of Turn 4.
I never have got an opportunity to race there. I have driven on it a few times but not raced there. And as unfortunate as COVID-19 has been this year, NASCAR has done a great job with as best they could. Now we get to go to Darlington. Kerry Tharp (Darlington Raceway president) and his crew have done a great job down there and promoting this race.
It is going to be pretty special to turn my first laps there. With the way things are, there is no practice or qualifying, so we are going to go straight to racing. You are going to have 30 guys racing there for the first time ever, so it is bound to be an exciting race.
———
Bezjak: How nervous will you be taking your first lap at Darlington on Sunday?
Anderson: I definitely will have some goose bumps for sure.
———
Bezjak: Your season started out with an exciting finish at Daytona where you came in second and kind of stole the show with your post-race interviews. What was that feeling like?
Anderson: I was giving everyone I saw high-fives and hugs. Daytona is like our Super Bowl. To come two to three inches away from winning, what a way to start the year off. It was so neat to deliver a great finish like that for our sponsors like Bommarito Automotive Group that have been behind us.
Daytona is always a special place. That is where our team debuted three years ago and we came across the line backwards and finished ninth. It shows the potential of our little team that has grown leaps and bounds. We lost that one by a few inches, but hopefully that opportunity to go for another win is not too far down the road.
———
Bezjak: With running a small team, your opportunities and duties are more than just a race car driver. Describe a typical week for you. You race in St. Louis on Sunday and now having to drive back and get ready for this week?
Anderson: We got back on Monday so it has been a busy week. We drive to mostly all the races except for Texas and Las Vegas. We have a small team — we have my crew chief Artie, my truck chief Danny Ketterman, our interior guy Kyle, our truck driver Jim and me. My dad has been able to come to all races and hasn't missed a race.
We got it set up that everyone has to do a little bit of everything outside of the routine. Once we got back going after the COVID-19 break, we have been pretty non-stop since June.
My skill set during the week ranges from working on sponsorship to get activated, making sure our rosters are done and making sure guys got the right parts they need. You got to be all hands on deck to run a race team. It is not just "show up and go race." Lot of late nights in the shop to get it done. My girlfriend even came up last weekend and helped wrap our truck together before we left for Gateway.
We got a throwback vibe to our team for sure. I can't thank John Bommarito and Bommarito Automotive Group enough for getting behind me in 2018. Lots of teams have big corporate sponsors, and John is a family-owned operation and exemplifies what we are trying to do in the sport and give the everyday Joe someone to pull for.
———
Bezjak: How tough has this year been with COVID-19 and being a small team?
Anderson: To say this year has been challenging is an understatement. It has been a hit for us because we haven't been able to do the things at the track like hospitality and meeting with sponsors. But we hope to do more of those things once the season is over.
We had to shut down for March, April and May not knowing what the future would look like. This is my livelihood and there are no other forms of income. I work to race and it pays the bills.
Much like a lot of small business owners across the country, it was a scary time for us. I give NASCAR a huge round of applause for creating a bubble for us to go back racing and having some protocols in place. We are looking to finish 2020 strong and build on what we have been able to do this year.
———
Bezjak: What is your favorite pre-race ritual before you get in the truck each week?
Anderson: Biggest thing is, it gets crazy going through tech inspection. So I try to make time in the hauler and calm my mind down. One of the things I do every week is say a prayer either by myself or with my dad. It has been so amazing to see the doors God has opened for me, family and the team. Always have to make sure we don't get busy to make sure we aren't thankful for who we are.
———
Bezjak: Who was your favorite driver growing up?
Anderson: I definitely was a big Jeff Gordon fan growing up, looked up to and pulled for him as a kid. Later on, I got to know and meet Carl Edwards and got to see how he handled himself. He didn't come from much and worked his way up to his opportunity.
I have been a huge history buff in our sport and liked guys like Alan Kulwicki who were underdogs in the sport. That is what is so cool about racing.
It has been cool now to see how the tables have turned. I go to a bandolero or legend car race and meet these kids and they know our story so it gives them encouragement for down the road. You don't have to come from a family with lots of money or corporate sponsorship. One day those kids can have the opportunity because of the things we have done.
———
DARLINGTON SC RACE WEEKEND SCHEDULE, TV INFO
Saturday: Xfinity Series, SportClips Haircuts VFW 200 (12:30 p.m., NBC)
Sunday: Gander RV & Outdoors Truck Series, South Carolina Education Lottery 200 (2 p.m., FS1)
———
©2020 The State (Columbia, S.C.)