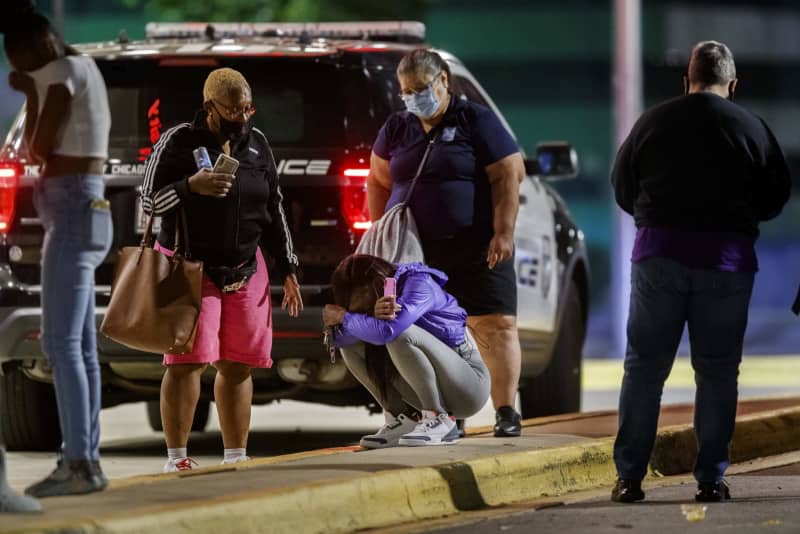 CHICAGO — An 8-year-old girl who was shot and killed on Labor Day has been identified, and Chicago police investigating the shooting have released images of a vehicle they believe was used in the early evening attack that also left three adults injured, including the girl's mother.
Dajore Wilson, 8, was identified as the girl shot on Union Avenue as she sat in a car with her mother near the intersection with 47th Street in Canaryville. The medical examiner's office on Tuesday was expected to perform an autopsy.
Speaking to reporters at a news conference Tuesday morning, police Superintendent David Brown called the child's death "a damn shame."
Dajore was one of three people shot about 5:55 p.m. She was killed and three adults were injured but were expected to survive. A 31-year-old man, who according to sources is Dajore's father, likely was the intended target. He was shot but expected to survive, and another 30-year-old woman was shot. Dajore's mother, 30, suffered injuries possibly from broken glass, authorities said.
Dajore had been set to begin third grade on Tuesday at a Chicago public school not far from her home, according to a source.
Brown offered similar talking points Tuesday as he has in other weekly news conferences during the summer, offering condolences to the girl's family, highlighting the number of guns confiscated by his officers over the holiday weekend and lamenting what he called a "catch-and-release" policy that allows arrested suspects back on the streets too quickly.
He and his chief of detectives, Brendan Deenihan, also pleaded for the community to step forward and help detectives solve the girl's slaying.
"Getting notified about another child being a victim of gun violence is one of the most painful experiences, not only as a law enforcement professional but also as a parent," said Brown, whose adult son was killed in a shootout with police in suburban Dallas in 2010 after he fatally shot a cop and another man.
"We are once again asking for the community's help and partnership to bring this killer to justice," Brown said of the suspect in Dajore's slaying.
Deenihan said there's no definitive motive in the case, but there's been an ongoing gang conflict in the area of the shooting for an "extended period of time."
Early Tuesday, police had issued a community alert about the shooting that included two images of a black, four-door sedan with tinted windows. The license plate number was obscured and not released by police. Police earlier had said the car was a black Dodge Charger.
"This alert gives notice that the vehicle shown above was used during the commission of a homicide of an 8-year-old child," it said. Officials also said the shooter or shooters were seen in the vehicle "both prior to and immediately after the homicide."
Karie James, a spokeswoman for police, said there was no additional information about the shooter or shooters such as a physical description or the clothing they last were seen wearing. Police radio traffic had given a description of the shooter's clothing, but police did not confirm that information Tuesday.
"I stand before you, saddened and angered, that another child has lost their life in senseless gun violence in the city of Chicago," Brian McDermott, chief of operations for the Police Department, told reporters at the scene Monday night.
Before the shooting, the car that the girl was in was stopped at a red light at 47th Street facing north, with another vehicle, the black Dodge Charger, behind it, McDermott said. When the light turned green, someone in the Charger opened fire, he said.
The car the girl was in kept going north and crashed into a tree, and the Charger turned around and headed south on Union, McDermott said.
Anyone with information about the shooting or shooters is asked to call investigators at 312-747-8380. If this vehicle is seen, the alert also asks that the public, "call 911 immediately and provide a detailed description of the (occupants) including any vehicle description and license plate information."
———
(Chicago Tribune's Paige Fry and Peter Nickeas contributed to this report.)
———
©2020 Chicago Tribune