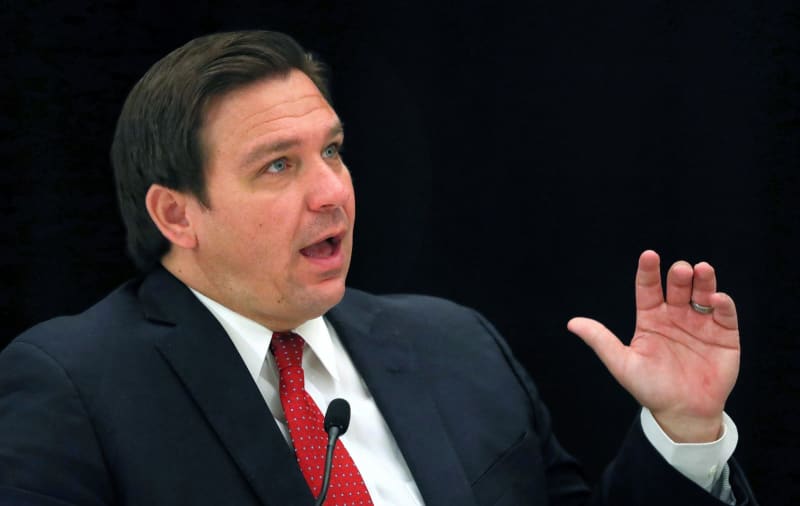 FORT LAUDERDALE, Fla. — Florida's coronavirus report for Tuesday showed promising trends continue even as the state officially surpassed 650,000 cases of COVID-19 throughout the pandemic.
The state Department of Health reported 1,823 new infections of the disease, which is the second straight day with fewer than 2,000 new cases based on people testing positive for the first time.
That hasn't happened since June 11-12, which is when Florida was beginning a surge of COVID-19 cases following Memorial Day weekend outbreaks. Tuesday's total also is the lowest daily new case total in nearly three months, records show.
Public health experts and government leaders are hopeful people were more careful over the Labor Day holiday weekend, so the state and nation don't experience a new round of coronavirus outbreaks.
Tuesday's report also shows 44 more Floridians have died from COVID-19. State officials have reported a total of 12,067 virus deaths.
Data reports released by the state each day reflect COVID-19 fatalities in recent weeks, but just confirmed in the past 24 hours. Positive test results also take days to appear.
SOUTH FLORIDA
Broward County: 130 new coronavirus cases were reported Tuesday, bringing the total to 73,556. At least 1,260 people in Broward were reported to have died, 14 more than Monday's total.
Palm Beach County: 122 new cases were reported Tuesday, bringing the total to 43,309. A total of 1,188 deaths were reported, two more than the previous day.
Miami-Dade County: 389 new cases were reported Tuesday, bringing the total to 162,026. A total of 2,685 people in Miami-Dade were reported to have died from COVID-19. That's eight more than Monday's total.
TESTING AND POSITIVITY RATE
As of Tuesday, more than 4.82 million people have been tested for COVID-19 statewide, producing an overall positivity rate of 13.48%, state data show. At least 650,092 people have tested positive; more than 4.16 million people have tested negative.
The latest state report shows the daily positivity rate at 4.96%, up from 4.54% the previous day. This figure reflects only new infections based on COVID-19 testing; it doesn't count people who previously tested positive for the disease.
Statewide positivity has been hovering around 5% for more than two weeks — the level where public health experts say the virus is under control.
In South Florida, the overall positivity rates are 19.2% for Miami-Dade County, 14% for Broward County, and 12.83% for Palm Beach County.
The daily positivity rates reported on Tuesday were 3.91% for Broward County, up from 3.08% the previous day; 4.95% for Palm Beach County, up from 3.09%; and 5.47% for Miami-Dade County, up from 5.02%.
"This is the 4th time this month that Miami-Dade's positivity rate is below 6%," Miami-Dade Mayor Carlos Gimenez wrote on Twitter. "The efforts of all to stay safe in #OurCounty are paying off. Keep the momentum going and #MaskUpMiami so we can continue opening more of our economy."
Tuesday's data report shows test results for 40,893 Florida residents, down from 46,391 results reported the previous day. Possibly due to a decline in testing over the holiday weekend, it's one of the lowest number of tabulated results on any day in the past two weeks, according to state records.
HOSPITALIZATIONS
Since the pandemic began, a total of 40,195 residents have been hospitalized for the disease in the Florida, according to the Department of Health.
As of 12:30 p.m. Tuesday, 3,158 people were hospitalized with a primary diagnosis of COVID-19 across the state. Broward County reported 341 patients; Palm Beach County had 164; and Miami-Dade had 541, the most in the state.
The online report from the state Agency for Health Care Administration updates several times throughout the day. Hospitalizations have been declining since they hit a peak in late July.
Other encouraging trends are a decline in the number of people statewide seeking care in emergency rooms for COVID-like symptoms.
For the week of July 26, there were 9,600 visits to hospital ERs for COVID-like illness. That dropped to 3,290 visits for the week of Aug. 30, the latest data available. That's a 65.7% decline.
DEATHS
Statewide: The official COVID-19 report, updated Tuesday, shows 11,915 Florida resident deaths. In addition, 152 nonresidents have died in Florida since the pandemic began.
Long-term care facilities: At least 4,973 deaths have occurred among residents and staff of nursing homes and assisted-living centers throughout the state — 19 more than the total reported Monday.
Miami-Dade County has the highest number of people die at the facilities, with 732; Palm Beach County has reported 505 deaths, and Broward has had 367 deaths.
GLOBAL VIEW
World: The novel coronavirus has infected almost 27.4 million people and killed at least 897,713 worldwide as of 12:30 p.m. Tuesday, according to Johns Hopkins University's Coronavirus Resource Center.
U.S.: The United States has 6.3 million cases, the highest total in the world, with at least 189,323 deaths, the most of any country. The U.S. has 4.3% of the world's population, but 23% of the world's cases and 21.1% of the world's deaths.
———
©2020 Sun Sentinel (Fort Lauderdale, Fla.)