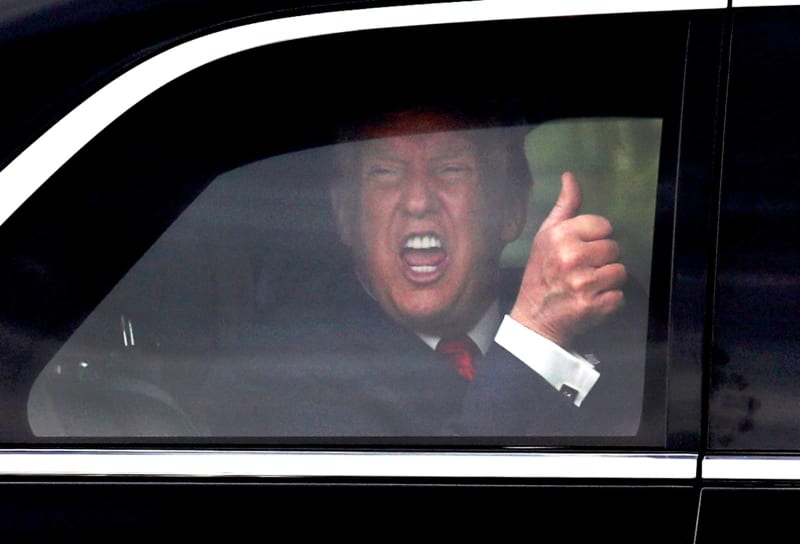 FORT LAUDERDALE, Fla. — President Donald Trump kicked off the home stretch of the 2020 campaign with a trip to South Florida, where he promoted himself as a champion of the environment and announced a ban on oil drilling off the state's Atlantic coast.
"My administration is proving every day that we can improve our environment while creating millions of high paying jobs," Trump said. "To my administration, environmental protection is a sacred obligation."
He claimed Democrats would use the environment as an excuse to pursue a socialist agenda. And, Trump said, Democratic presidential nominee Joe Biden would be bad for both the environment and the economy. "Joe Biden's plan would destroy America's middle class while giving a free pass to the world's foreign polluters," he said.
Trump's announcement — eight weeks before Election Day in a state where voters overwhelmingly oppose offshore drilling — is a reversal of the president's previous support for offshore drilling. Biden wrote on Twitter that Trump "conveniently says that he changed his mind" 56 days before the election. And U.S. Rep. Lois Frankel, a Democrat who represents most of coastal Palm Beach County, said Trump can't be trusted and predicted he would abandon the drilling ban he announced Tuesday if he's reelected.
Trump made his oil drilling announcement during a 20-minute speech at Jupiter Inlet Lighthouse, joined by his most prominent supporter in Florida, Gov. Ron DeSantis. He spoke on a stage festooned with American and Florida flags with the iconic lighthouse in the background.
For most of the speech, Trump focused on the environment. But he also hit other frequent themes. Within the first five minutes of his speech, he criticized the "fake news." He said his actions on the coronavirus saved "millions" of lives. And said his reelection is the only way gun owners would continue to enjoy the Second Amendment.
At one point he was speaking about the environment, then suddenly brought up COVID-19. "We're rapidly restoring the greatest economy in history. We created the greatest economy in the history of our country. And then we had to close it up when the China plague came in. We closed it up. We saved millions of lives. We banned highly infected China from coming in. It was highly infected. The people were highly infected. Wuhan province. We banned them. Nobody said do it everybody said I shouldn't do it," Trump said, before turning back to the environment.
He said he has a special affinity for the Florida environment because the state is now his home. The president declared his Mar-a-Lago Club in Palm Beach as his legal residence last year when he got mad at his lifelong home of New York City. One of the state's features he praised: "All those beautiful marshes and marshlands."
Before Trump even left the White House, Biden and other Democrats dismissed the notion of Trump as a friend of the environment as a joke. Biden, in a statement Tuesday, highlighted the effects of the coronavirus pandemic and said the way the president handled the crisis shows a lamentable pattern of ignoring scientists and other experts.
"With more than 11,000 deaths, 600,000 cases and 3.6 million workers across the state who have filed for unemployment benefits since March, it is clear that Floridians have been hurt by President Trump's inability to contain the spread of COVID-19. But what we won't hear from Donald Trump when he visits Florida today is a plan to overcome this pandemic or a strategy to put Floridians back to work," Biden said.
"When it comes to the coronavirus, it's no surprise that President Trump has refused to listen to the experts and the scientists — just look at his environmental record. Trump has called the climate crisis a 'hoax.' He has eliminated rules designed to keep our air and water clean. And, dangerously, he has opened up additional public lands, both on land and offshore, to the possibility of new oil and gas drilling, a deeply unpopular threat to Florida's natural environment and tourism-based economy," Biden said.
Separately, Democrats who represent other parts of Palm Beach County said in a video news conference that Trump's years in office show he isn't supportive of the environment.
Frankel said the Trump administration would be remembered as the "most anti-climate, anti-science, anti-environmental executive branch in United States history." He's rolled back environmental rules, installed lobbyists from pollution-generating industries in key environmental jobs, proposed reducing environmental and parks spending, and taken actions that could increase greenhouse emissions.
He also took credit for funding for improvements to the Herbert Hoover Dike surrounding Lake Okeechobee, the efforts to combat toxic algae and red tide, and Everglades restoration. Frankel said Trump doesn't get special credit for going along with efforts that have bipartisan support.
Trump said he was extending the existing ban on offshore oil exploration in the Gulf of Mexico off Florida's west coast and expanding it to the Atlantic coast and Georgia and South Carolina for 10 years. The order he signed continues the Gulf moratorium for 10 years and adds the other territory from 2022 through 2032.
Trump has sent mixed signals about drilling and Florida. He has championed increased production of fossil fuels and the administration has pushed offshore drilling. Early in his presidency, his administration proposed opening most of the U.S. coastline to offshore oil and gas drilling but backed away from the idea as the 2018 midterm elections approached.
Residents of Florida, wary of accidents and oil spills that could damage the state's beaches and tourism industry, have generally opposed drilling off the state's coast. Leading Republican elected officials are opponents of offshore drilling.
A March 2019 Quinnipiac University Poll found 64% of Florida voters opposed drilling in the ocean off the coasts, with 29% supporting it. All political, gender, education, age and racial groups were opposed to offshore drilling — except Florida Republicans, who supported offshore drilling, 54% to 38%.
The longstanding opposition to offshore drilling among Floridians intensified after the April 2010 Deepwater Horizon oil spill, better known to many as the BP oil spill. In addition to the 11 lives lost in the accident, the massive oil spill cause environmental damage and economic wreckage in many Gulf Coast states, including Florida.
"Drilling off the shores of Florida is a nonstarter — not worth the risk of endangering our environment, fishing, boating or tourism. President Trump's plan to extend the moratorium is the right one, and it proves that our voices are being heard. We must never tolerate drilling near our beautiful coastline," U.S. Rep. Brian Mast, a Republican who represents Jupiter, said in said in a statement issued while Trump was still speaking.
Frankel said any move to restrict offshore drilling "would be a good thing … We should not be drilling off the coast."
But, she said, Trump can't be trusted, and any such pledge wouldn't last past Election Day.
"He obviously knows it is a politically devastating issue to support drilling off of Florida," Frankel said. "You can't believe anything he says," she said, adding "if he gets elected, he'll reverse his program or his pledge."
The trip signals both that the campaign began its home stretch the day after Labor Day, eight weeks before Election Day, and that Florida is a critically important state.
With 29 electoral votes, Florida awards more than 10% of the number needed to win the presidency, and it's the biggest state that could go for either Biden or Trump.
The race is tight. An NBC News/Marist College poll released Tuesday found Biden and Trump tied, with each having support from 48% of Florida likely voters.
Time is tight. In three weeks, many of the millions of Florida voters will be receiving, and start filling out, their vote-by-mail ballots.
Besides the Florida visit, the president is traveling this week to North Carolina (Tuesday night), Michigan (Thursday) and Nevada (Saturday), states that were close in 2016.
Also Tuesday, the Democratic nominee's wife, Jill Biden, hosted a virtual roundtable about school reopenings with parents, teachers and a school board member from Jacksonville, discussing Biden's plan to reopen schools safely. On Thursday, U.S. Sen. Kamala Harris, the Democratic vice presidential nominee, will campaign in Miami.
Trump's South Florida trip was clearly political — and the president described it as the first of a two-stop day on the campaign trail — but was labeled an official government trip, which meant it was arranged by government employees and paid for by taxpayers. The travel comes a day after The New York Times reported the Trump campaign spent so heavily in its early stages that some insiders fear a cash crunch during the final stage of the campaign.
Just before he departed for Palm Beach County, Trump said his campaign had plenty of money. "We have double and maybe even triple what we had a number of years ago, four years ago," he said, adding that if needed he would put some of his own money in the campaign.
Trump said his assessment is that recent poll numbers "were very good. They're really getting good despite all of the disinformation campaigns that the Democrats run. Pure disinformation. So we're doing very well. We'll have a good trip today."
In the Democrats' news conference, state Sen. Bobby Powell delivered a broad indictment of Trump's performance. "Every day there's something new. There's so many things that I can't even believe every day I have to look at something related to what this president has done or said that's detrimental, not only to our environment but to our society as a whole."
"To come here to Palm Beach County and to claim a record of environmental advocacy and championing environmental issues is not only disingenuous, it's disrespectful and it's downright preposterous," Powell said. "We've seen nothing from this president that would even indicate that he's for the environment. It's not OK, it's not OK to be in elected office and to continue to lie. Elected people should tell the truth, should be transparent, should show empathy and we've seen none of that."
Trump was accompanied by U.S. Sen. Lindsey Graham of South Carolina. Several members of the Florida congressional delegation were at the event.
Trump praised DeSantis for doing a great job as a candidate, and then as governor. Then he hedged, ever so slightly, saying the true test would be in November, presumably based on how the president does in Florida. "I'll let you know if he did a good job."
During the 2016 campaign, when she supported U.S. Sen. Marco Rubio for the Republican presidential nomination, Lt. Gov. Jeanette Nunez called Trump a "con man." But she's now a prominent Cuban American supporter, and Trump raised her Tuesday as someone "who's been such a fantastic friend and supporter."
When Air Force One landed, Trump was greeted by DeSantis — wearing a mask according to a news pool report — along with Nunez, Attorney General Ashley Moody and state Chief Financial Officer Jimmy Patronis. As his motorcade arrived at the lighthouse there were thick crowds waving American and Trump flags, including one proclaiming, "I vape & I vote."
As Trump left the stage, giving a thumbs-up sign as the Village People's YMCA played over the loudspeakers, DeSantis grabbed a handful of presidential pens and tossed them to people in the crowd of about 200 people who'd gathered for the event. Most of the people weren't wearing masks at the outdoor event, and the seating didn't allow for social distancing.
———
©2020 Sun Sentinel (Fort Lauderdale, Fla.)