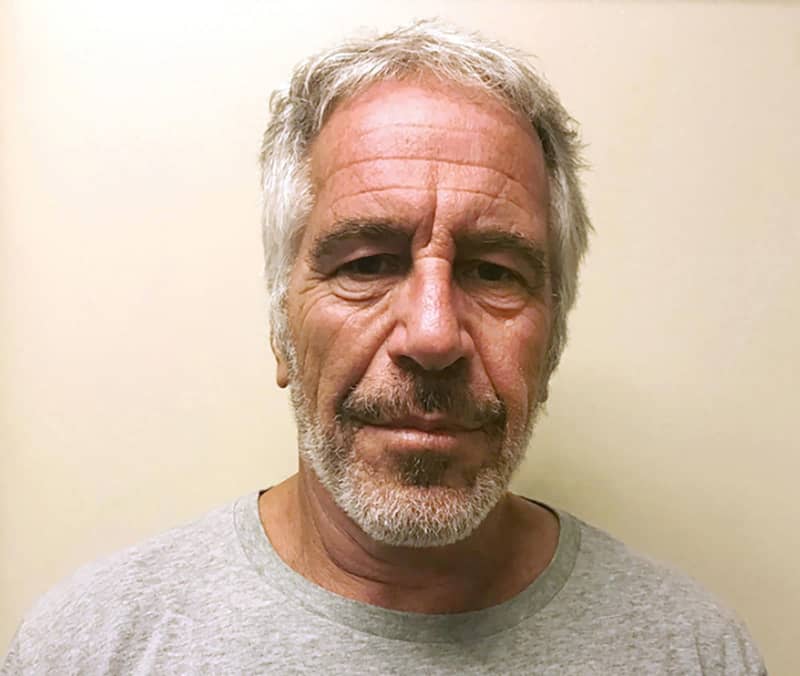 MIAMI — The attorney general of the U.S. Virgin Islands has issued subpoenas for testimony from several former financial and business associates of disgraced financier Jeffrey Epstein, court documents made public Tuesday show.
The subpoenas were actually filed Sept. 3 but made public Tuesday in a civil racketeering investigation led by Attorney General Denise George. The targets include billionaire hedge fund manager Glenn Dubin, his former company Highbridge Capital Corporation and his wife Eva Andersson-Dubin, a physician who is a former Miss Sweden and former Epstein girlfriend.
Epstein and Dubin had business that date back almost two decades, and at least one Epstein accuser has said she was forced to have sex with Dubin, something both Dubins have denied.
The subpoena for Dubin asked for all documents and recordings of his communications with Epstein, Epstein entities and Epstein's alleged madam Ghisaline Maxwell.
Subpoenas were issued to banks and to Broadview Networks, a telephone and internet services company that helped wire Epstein property in the Virgin Islands. Atelier 4, a logistics company in Long Island, New York, that specializes in the transport of valuable art for museums and galleries, was also subpoenaed.
Also targeted were Lesley Groff, a former personal assistant to Epstein, and Jet Aviation Holdings Inc., an aircraft maintenance company that apparently did work on Epstein's airplanes, which, according to some reports, had hidden cameras that filmed passengers as they traversed the globe.
Epstein famously once described Groff as an extension of his brain, and she is a subject of interest in the U.S. criminal prosecution of Maxwell.
Attorney General George brought a civil enforcement action against the Epstein estate in January, alleging that Darren K. Indyke and Richard Kahn — co-executors of the estate and Epstein's longtime lawyer and accountant respectively — were part of an ongoing criminal enterprise.
The subpoenas were issued as part of that ongoing probe, and those targeted have 30 days to respond.
George recently asked a federal judge in Maxwell's criminal case to be allowed to join as an interested party, and has expressed interest in both that prosecution and an ongoing legal battle in a civil case over making public a 418-page deposition that Maxwell gave in 2015 in a now-settled civil lawsuit that may shed light on some of the people named in the subpoenas made public Tuesday.
Those subpoena notices were made public the same day that the executors of the Epstein estate asked a judge in the U.S. Virgin Islands to seal the monthly reports coming from a special fund created to compensate Epstein's sexual abuse victims.
In a 24-page filing to Judge Carolyn P. Hermon-Percell, the magistrate judge of the Superior Court, the estate did not present a pressing justification for why the reports should be kept secret.
"In order to maintain the confidentiality of the Program Administrator's monthly reports — as agreed to by the Attorney General and claimants' counsel, given the importance of maintaining an effective, confidential (at claimants' sole discretion) mechanism to provide compensation to those who suffered sexual abuse at Mr. Epstein's hands — the Co-Executors seek the Court's approval to submit the Program Administrator's monthly reports under seal," said the request from Darren K. Indyke and Richard Kahn, respectively the chief lawyer and accountant for the Epstein estate.
The filing, which included a proposed order for the judge to issue, gave no indication of a leak or any other justification for why after two filings future reports should now be made under seal and out of public view.
The Epstein Victims Compensation Fund officially opened its doors June 25, and its new program administrator, Jordana "Jordy" Feldman, filed required monthly reports to the court on Aug. 3 and again last week.
There is no indication that Feldman sought to have her reports filed under seal since all parties had already agreed on their confidentiality. In fact, her fund's website notes that her monthly communication to the court "will report on an aggregate level only. No individual Claimant information will be published or disclosed in a way that compromises Claimant confidentiality."
Tuesday's filing by the co-executors does provide some insight into the compensation fund, which was designed to give Epstein victims a more private forum away from court battles to seek a measure of financial redress for what happened to them. The filing from Indyke and Kahn said 47 individuals have submitted claims to the confidential compensation fund, that eight determinations have been made and individual claimants informed, and that no funds have yet been distributed. The filing also said the deadline for accepting claims is March 25, 2021.
The issue of sealed documents has vastly complicated a number of civil suits involving Maxwell, Epstein's alleged madam. The Miami Herald sued for the release of documents in a civil suit settled in 2017 between Maxwell and Virginia Roberts Giuffre, Epstein's longtime accuser, who alleges the two trafficked underage girls for sex and abused them. The release of those documents has led to a lengthy legal fight as Maxwell's lawyers attempt to keep secret a deposition from her that they say will prejudice her in her criminal case. She was arrested July 2 on charges she aided Epstein's alleged sex crimes.
Indyke and Kahn, both longtime Epstein associates, are co-executors of Epstein's will, which was changed shortly before he was ruled dead by hanging in a Manhattan jail cell in August 2019. They face a civil enforcement action by the attorney general of the U.S. Virgin Islands, George, who alleges they are part of an ongoing criminal enterprise.
Lawyers for the Epstein estate had no immediate comment, nor did Feldman's office.
———
©2020 Miami Herald