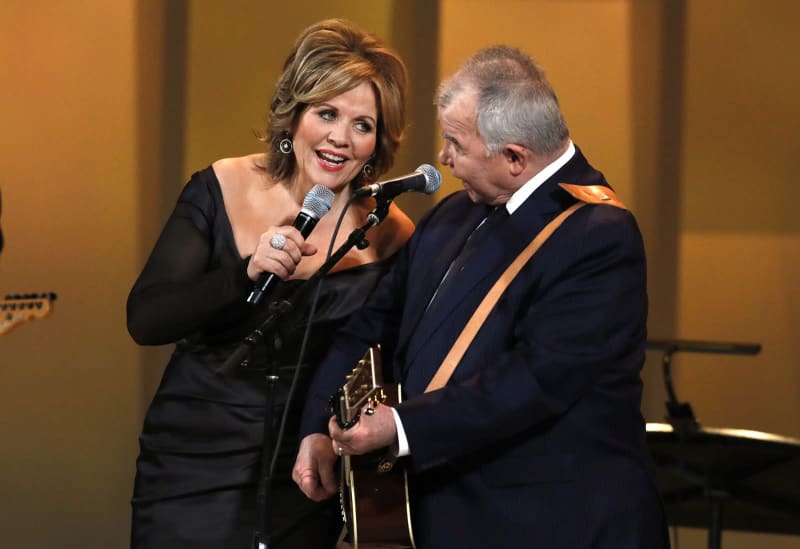 CHICAGO — Three years ago, an extraordinary range of talent convened on the Lyric Opera House stage for a marathon performance aptly titled "Chicago Voices Concert."
Never before had blues diva Shemekia Copeland, folk legend John Prine, rapper Lupe Fiasco, operatic tenor Matthew Polenzani, jazz singer Kurt Elling and others shared a marquee.
Opera star Renee Fleming performed and presided over the gathering in her role as Lyric's creative consultant, the evening a singular celebration of this city's sounds (it was filmed for later broadcast on WTTW-Ch. 11).
"The sheer sweep of the proceedings and breadth of musical languages made this a concert like none other," I wrote in my review.
The spirit of that event will reemerge in "For the Love of Lyric," a free virtual concert streaming at 7 p.m. Eastern Sunday. For like "Chicago Voices," this prerecorded online concert will transcend genre, its repertoire spanning opera to Broadway to folkloric music, its cast ranging from sopranos Fleming and Ailyn Perez to versatile singer Heather Headley, bass Soloman Howard, soprano J'Nai Bridges and the Chicago Children's Choir.
Even before the pandemic, Fleming had envisioned this launch of Lyric's fall season as something other than another night at the opera.
"I was going to do it with another popular artist — I was hoping for Mavis Staples, that was the idea," says Fleming. "It was also to kind of capitalize on the success of 'Chicago Voices.'"
The idea was to "pull us back into the mainstream conversation, which we have been left out of a long time," adds Fleming.
What better way to achieve that than by embracing multiple sounds and audiences in a single, unifying concert?
Though the pandemic meant that an in-person concert wouldn't be possible, the open-armed nature of "Chicago Voices" certainly could be expressed online.
"For me, it's like Duke Ellington said: There are two kinds of music — good music and the other kind," says music director Doug Peck. "We try not to make the other kind.
"Very, very few people listen to only one style of music. So why should a concert entertain only one sound? Why shouldn't a concert feel like something on someone's Spotify that they listen to at home?"
The repertoire we'll hear in "For the Love of Lyric" indeed will be eclectic, with Fleming performing a Richard Strauss art song, a Jerome Kern standard and Mozart duet with soprano Julia Bullock. Headley will sing music from "The Wiz" and "Finian's Rainbow"; Howard will offer "Lift Ev'ry Voice And Sing" and "The Impossible Dream"; Perez will perform music of the formidable Mexican composer Manuel Ponce; and the hour-long concert will culminate with music of Aaron Copland.
Which points to another important aspect of this event: its celebration of inclusion.
"I'm really pleased that other than me and Renee, all the other artists are Black and other people of color," says music director Peck.
"For me as an artist, I always hear (singer) Nina Simone's words, that the artist's duty is to reflect the times. Obviously, we're in a pandemic. We're also in a moment of tremendous civil unrest and speaking up for our Black brothers and sisters in the opera world and the world in general."
Along these lines, Fleming grieves for the killings we're now seeing routinely on our TV screens.
"It's incredibly disturbing, to say the least," observes Fleming. "I'm shocked at the dialogue now and the racism — racism that is not being addressed. … I find it disheartening."
Music surely has a healing power, however, which is why we need performances now more than ever. Fleming hopes "For the Love of Lyric" addresses that need for both audiences and performers.
"It's really about the fact that we're here," says Fleming. "Those of us who are not on the stage want to be back on the stage. We want to be back in front of the audience. Hopefully we are missed."
As for Peck, he holds several goals for the concert.
"I hope that for opera lovers, they are introduced to the incredible talent that's Heather Headley, if they don't already know her," he says. "I hope that Lyric Opera gets to really celebrate the artistry of Soloman and Aileen and J'Nai, because we'll be hearing a lot more of them in future seasons.
"I hope they appreciate the incredible artistry of Renee.
"And I also hope we have the opportunity to let great music speak to what's going on in our world, and to be relevant and soothing.
"And for this to serve as a placeholder until we can all be in the house together again."
"For the Love of Lyric," a free virtual concert, will stream at 7 p.m. Eastern Sept. 13. For more information, visit www.lyricopera.org.
———
©2020 Chicago Tribune