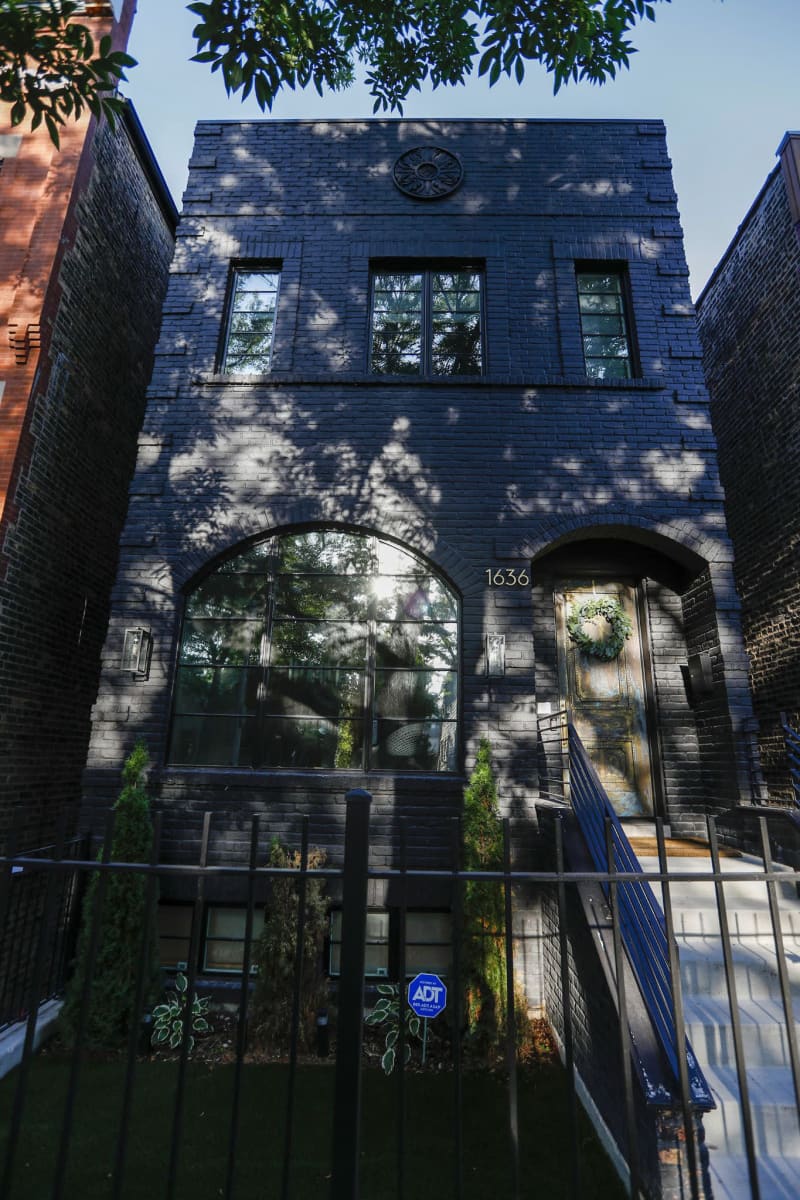 CHICAGO — The second season of "Windy City Rehab" premieres Tuesday as the team behind the popular HGTV home flip series continues to face legal drama in Chicago.
Season 2 opens with an acknowledgement of the legal troubles and the city-ordered work stoppages and with a promise to reveal the "full story" behind the headlines. The business partnership between host and designer Alison Victoria Gramenos and contractor Donovan Eckhardt unravels on the premiere with Gramenos saying Eckhardt is "acting like a baby. I want to be gentle sometimes, but then other times I want to rip his face off."
That's a shift from last season when Gramenos said Eckhardt was "pretty much like my work husband" as they purchased, renovated and sold North Side homes together. Gramenos was unavailable for comment for this story, per a network representative, and Eckhardt did not respond to a Tribune request for comment. Much has transpired since the 11-episode first season finished airing in March 2019. Here are answers to some questions you may have as you tune into the Season 2 premiere at 9 p.m. Eastern Tuesday.
Who is suing the 'Windy City Rehab' team?
There are several court cases related to "Windy City Rehab" homes, both civil lawsuits and suits from the city over alleged housing violations. A couple who purchased a Lincoln Square home featured on the first season of the show sued Gramenos, Eckhardt and contractor Ermin Pajazetovic for fraud in December 2019, alleging the $1.3 million home has a litany of issues.
Gramenos tried to get the lawsuit dismissed in favor of mediation. An attorney for the homeowners said mediation occurred last month, but no settlement was reached. A hearing is scheduled for Sept. 22.
"It has been a homebuyers' worst nightmare for the Morrisseys," attorney Robert J. McLaughlin said in an email. "The Morrisseys have not enjoyed a single day in their 'new' home without being troubled by major construction defects. In fact, on the day they moved in, an upstairs shower drained through the kitchen ceiling. Since then, there have been a cascade of issues coming to light including water infiltration, rotting windows, and masonry, to name a few."
In April, a Wicker Park couple sued Gramenos, Eckhardt and Pajazetovic for fraud over their $1.3 million home also featured on the first season of "Windy City Rehab." More than 30 problems are listed in the complaint, including mold, a sewage odor and "severe" water damage in the garage, which the homebuyers say was not turned into a workout studio as promised. Gramenos sought dismissal from that suit as well, with her attorney calling the allegations "misleading and baseless."
"I do feel like the parties are trying to make progress to get the house to where we think it needs to be," the homeowners' attorney, Vivek Jayaram, told the Tribune. A hearing is scheduled for Oct. 6.
In June, Gramenos and Eckhardt were sued by a Chicago-area family who said they invested $3 million in their venture, but they had not been paid what they are owed. The family's attorney did not respond to a Tribune request for comment.
In December 2019, Pajazetovic's company sued Eckhardt and a company that owns a Lakeview building claiming he was owed $108,500 for work performed at the property. Gramenos is not named in that suit. A counterclaim alleges Pajazetovic and Eckhardt "conspired" in a "scheme" to divert funds from the Lakeview project and a Park West renovation to "prop up" "Windy City Rehab" work. Pajazetovic's attorney denied this allegation to the Tribune. There is a Sept. 24 status date for the case.
In June, Gramenos dropped a lawsuit against a notary public she accused of forging her name to financial documents. Earlier this year, a bank started and stopped foreclosure proceedings on a Bucktown home owned by a company co-managed by Eckhardt. The property was sold in April, online records show.
The city, meanwhile, continues to pursue civil action over three "Windy City Rehab" properties: 2433 N. Janssen Ave., a Lincoln Park building featured on the first season that the city determined had a "dilapidated and dangerous" porch; 1846 N. Damen Ave. in Bucktown, where the city said it found work had been performed without a permit; and 1815 W. Augusta Blvd. in the East Village neighborhood, where the city concluded work had been conducted beyond the scope of permits. Hearings are scheduled for October.
The city recently dropped its complaint about 3352 S. Carpenter St. in Bridgeport, which sold in June and is expected to be featured on the show's Sept. 22 episode. Final inspections of 1924 W. Berenice Ave., which has also been the subject of a city housing suit, were completed last month. The North Center home is for sale for about $1.6 million.
Where is Donovan Eckhardt?
The first episode of Season 2 follows the chaotic construction and sale of 1636 N. Wood St. in Bucktown. Eckhardt appears early on the premiere as Gramenos' stressed business partner. Later on the episode, it is alleged that one of Eckhardt's companies has been paid hundreds of thousands of dollars that had been designated for work on the Wood property. What happened to the money was not immediately clear, and Eckhardt doesn't show up again on the episode to explain.
"For so long I was letting him run all the budgets, do the bank draws, deal with the bank accounts, and I just was designing," Gramenos tells a friend at the Red June Cafe in Bucktown. She said she personally contributed about $160,000 to finish the Wood house. "We have 12 companies together because each house is a different LLC. How do you get out of that?"
Eckhardt founded Greymark Development Group and served as general contractor for Season 1. The city briefly suspended Greymark's general contractor license a year ago after noting a slew of alleged violations at "Windy City Rehab" properties and other work sites. Greymark's license expired in March, and its website is no longer functional. Gramenos and Eckhardt are shown working in a Logan Square office on the Season 2 premiere, and a sign on the building notes that it's now available for sale.
The Lincoln Square homebuyers suing Eckhardt asked a Cook County judge in June for appointment of a special process server after noting multiple failed attempts to serve him with case paperwork. Eckhardt indicated in recent social media posts that he has been in southern Wisconsin. An attorney for Greymark did not return a Tribune request for comment.
What is the future of the show?
It didn't take long for HGTV to order a second season of "Windy City Rehab" after Season 1 premiered in January 2019. Season 2 was supposed to be 10 episodes. Five 90-minute episodes have been announced.
A major problem Gramenos faces in continuing the show is that she, Eckhardt and business entities owned by either of them have been suspended from submitting permit applications on new properties for months, according to the Chicago buildings department. Gramenos needs inspections to go well at five locations — including the Janssen, Damen and Augusta properties — for the suspension to be lifted, per a buildings spokeswoman. Gramenos' own Bucktown home, which she recently showed off on the "Today" show, has a pending new construction final inspection. The Wood property featured on the Season 2 premiere sold in December for nearly $2 million and has a pending plumbing final inspection, according to the buildings department.
A way around the permit restrictions could be if Gramenos didn't own the properties, but she was retained as a designer. For example, 2014 N. Winchester Ave. in Bucktown is owned by 2014 Winchester LLC, which is managed by Alison Victoria Development LLC, according to online records. Homebuyers willing to shell out $1.4 million could take advantage of the "rare opportunity" to have Gramenos "build a one-of-a-kind showstopper" on that property. Proposed floor plans are included in the online real estate listing.
In May, Gramenos signed quit claim deeds for 2222 W. Ohio St. and 2224 W. Ohio St. in West Town. A neighbor complained to the Tribune earlier this year that little progress had been made at the properties for months, and they had become eyesores.
Gramenos' legal and permit issues don't seem to faze HGTV. She is touted as a "home renovation expert" in a network press release promoting Season 2. She also recently hosted "Flipping Across America" and participated in the "Rock the Block" home makeover competition that aired on the network last fall.
———
©2020 Chicago Tribune