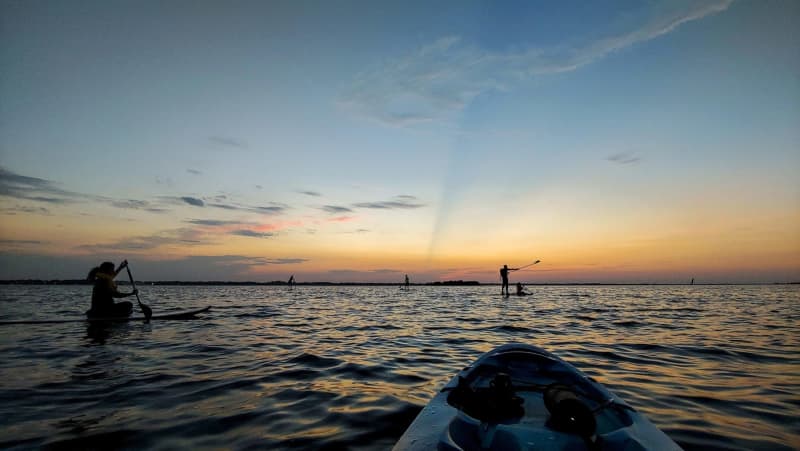 ORLANDO, Fla. — It's not a great time to be a passionate traveler, explorer or adventurer.
For those of us who love to get out and see the world, our wings have been seriously clipped during the COVID-19 pandemic. Flying doesn't yet feel safe, cruises are called off and travel restrictions are still hampering plans to move about the country and world.
That begs the question — what do people who experience frequent wanderlust do when it's safer and smarter to remain close to home?
Some of my fellow explorers have canceled dream trips due to the pandemic — from Banff to Yellowstone to Greece to Paris — but that hasn't stopped them from finding joy in local excursions. Many have rediscovered hobbies such as cycling, paddleboarding, running or going to parks.
Others have used the opportunity to look ahead toward future dream trips — researching, reading and saving money along the way.
When local lockdowns first set in, I took up disc golf and socially distanced out on the links. The fresh air did wonders for my mental and physical health.
I watched as multiple planned trips to my hometown, Pittsburgh, were canceled and felt the grief of missing my family, most of whom I haven't seen since Christmas. I watched my brother's high school graduation via livestream from afar. I've spent countless hours on the phone and FaceTime with family and friends.
I read three books as a part of a virtual book club with close college friends. We definitely recommend "Just Mercy" and "The Vanishing Half."
I've always been an avid outdoorsman, but this time has allowed me to rediscover the natural world more than I have in years. I explored new trails on my road bike, including the West Orange Trail, and enjoyed empty streets for cycling amid stay-home orders. I found serenity in hikes at Black Bear Wilderness Area.
As a craft beer fan, I've taken home dozens of cans from my favorite local breweries, finding satisfaction in supporting local businesses and the beer itself.
I've found renewed joy in camping, taking off for a four-day solo trip to Georgia in June filled with backpacking, hiking and gorgeous scenic drives. I'm doing a similar trip soon, but shooting even farther north for Asheville and the Blue Ridge Mountains.
I also loved taking in the sights and swims during a camping stay at Manatee Springs, which included side trips to Fanning Springs and Cedar Key. I've found immense pleasure in planning more outdoor overnights in the coming months.
David Boesche, a college friend living in Colorado, said he's been setting off on primitive camping excursions in a quest to avoid people and become a self-sufficient minimalist traveler.
"It makes you want to explore less-traveled routes to avoid interacting with others," he said. "Overall, this has forced me to focus on the beauty that surrounds my state and challenged me to be both minimalistic and isolated."
I fulfilled my desire to buy a kayak — a Perception Access 11.5 sit-on model — which I've used for quick evening paddles on Lake Ivanhoe, floating down Juniper Springs and seeing the blue glow of bioluminescence several times. I even caught a nighttime rocket launch from my paddle craft, not to mention some phenomenal sunsets.
I've made new friends (from 6 feet away) for paddling adventures, though if there's shuttling involved, we wear masks together in the car.
Fellow kayaker and friend Matt Clark, who leads tours with Real Florida Guide, said that forming new connections has been especially rewarding during this time.
"I'm really enjoying the fact that everyone who ever had any inclination to recreate outdoors is all in on outdoor rec these days," he said. "Meeting new adventure buddies has been a silver lining of the pandemic."
I browsed Craigslist to find a good deal on a mountain bike, a full-suspension Giant Stance 1 painted a beautiful hyper blue. I've made short jaunts over to Orlando Mountain Bike Park, sometimes pitching in during trail maintenance days. I discovered the challenging terrain of the Santos trails near Ocala and have a list of places to ride in the future.
I didn't think I would get on a plane anytime soon, but I did take a trip to Colorado to see my brother, Jack. I took in the mountain air for seven days in Estes Park, experiencing some stunning vistas during hikes and bike rides. I got COVID-19 tests before and after flying, and while Southwest made the experience tolerable, I might not recommend it for vulnerable individuals or those with kids.
I've visited a few theme parks since they've reopened, as I did miss them a bit during shutdowns. But they're not quite the same, and I usually prefer to be away from crowds in the great outdoors.
I get itchy feet frequently, but this time has made me realize the joy that can be found in sticking close to home. When it has felt safe, I've indulged in backyard beers with co-workers, hosted a socially distant picnic and worked on my tan during beach days.
I've had the fortune of discovering new local experiences, such as Lake Apopka Wildlife Drive, alpaca yoga and even a drive-in concert.
Sure, I may have had dreams of visiting places such as Austin and New Orleans this year, but the satisfaction I've found in local adventures has far outweighed the grief I've felt for potential missed opportunities. This has been a great time to count my blessings and recognize that someday, we will live in a post-pandemic world where it's safe to travel again.
That hope has helped keep wanderlust at bay for people such as myself and Tessa Brediger-Lambert, a wedding photographer I know from college.
"I'm planning a trip to Scotland, England and France and the planning has helped me feel like I'm not just stuck here unable to move," she said. "It's making me excited to travel again, even if it's through the internet for the time being."
Others, such as Orlandoan Lindsey Demetree, have used their imagination to their advantage.
"I started going to the beach and for hikes, spending lots of time hunting for a spot I knew would be 'safe,' " she said. "I'll pack a meal I've never had, play some unfamiliar music, close my eyes, and imagine I'm on a beach in Costa Rica before crying into a bag of sandy Ruffles."
For many adventurers I know, uncovering or rediscovering local gems has helped to quell the desire for national and international travel. For some, it's also jolted a new sense of urgency into life.
"This has made me put the thought of 'live every day like it's the last' into action," said Mike Grace, a Central Florida recreationist.
———
©2020 The Orlando Sentinel (Orlando, Fla.)