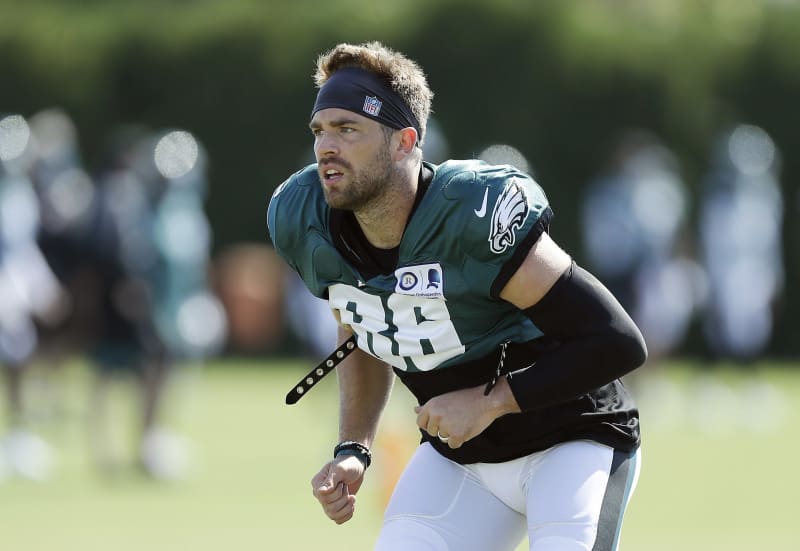 PHILADELPHIA — On the day the Eagles agreed to boost Jason Peters' contract, another pillar of the team's success said he isn't happy that the organization hasn't shown him the type of commitment he seeks.
Tight end Zach Ertz said Thursday that he will put everything he has into this season, thinking it might be his last in an Eagles uniform, after talks between agent Steve Caric and Eagles general manager Howie Roseman broke down a few weeks back on an extension of a contract that runs through 2022. Ertz's assumption is that the Eagles, who have 2018 top draft pick Dallas Goedert sharing the billing for now, will seek to trade the more expensive vet before he becomes an unrestricted free agent.
"I'm kind of an emotional guy when it comes to football," Ertz said. "I kind of play with my heart, as much as I can. Obviously, it's been frustrating at times, it's been difficult. I've said all along I want to be here for the long run. I don't know for sure if that feeling is mutual."
Ertz acknowledged there were a few days during training camp when he let his disappointment "get the best of me."
"But I know I'm gonna play this year like it is my last year, and I'm going to (expend) everything I possibly have in the tank, for this team and this city, because that's what this city deserves, nothing less. I'm going into this year that I'm gonna leave it all out there, whatever happens, happens, I'll let the details be with my agent and Howie."
Ertz referenced his decision to suit up for the playoff loss to Seattle last season after he missed the regular-season finale with a lacerated kidney and cracked ribs suffered the week before. He said he would continue to do "whatever it takes to win football games, and do whatever I can to leave a mark on this team and this city."
Ertz's contract situation moved to the front burner when the 49ers' George Kittle and the Chiefs' Travis Kelce signed new deals recently. Kittle, an emerging phenom at age 26, got $75 million over five years, with $40 million in guarantees. Kelce, 30, from the same 2013 draft class as Ertz, got four years and $57,250,000, with $20,750,000 in guarantees. The Eagles are said to have offered Ertz an extension last season, which he and Caric turned down. That deal is said to have focused on guaranteeing money over the rest of the current deal that Ertz was likely to earn anyway. When talks resumed during training camp, the Eagles are said to have offered a lower guarantee than before, and the negotiations quickly broke off. Roseman, looking at a serious cap crunch in 2021, is believed to be looking for a deal that won't raise Ertz's cap number before 2022. Ertz will count about $12.5 million against the cap this year and again next year.
Ertz agreed to restructure his contract in the 2019 offseason, to help the team, and it might be implied that he thought management would be inclined to do something for him in return.
Ertz hadn't spoken out about his frustrations until Thursday. It's hard to say why this was the day, but one impetus might have been the naming of eight Eagles captains on Wednesday, a large group that did not include Ertz. In previous years, a source said, the players voted on the captains, but this group was appointed and announced, apparently without player input.
Ertz turns 30 on Nov. 10. His 116 receptions in 2018 set an NFL record for tight ends, and an overall Eagles record for catches. His 525 catches in his first seven seasons are the most in NFL history by a tight end. But Kittle and Kelce are considered more dynamic receivers, especially after the catch; Kittle averages 13.6 yards per reception, Kelce 12.8, vs. Ertz's 10.9 career average.
A case could be made that Kittle and Kelce have worked in more potent offenses the past few years, that Ertz would gain more yardage, including after the catch, if the Eagles could clear some traffic with a consistent deep threat. And of course, neither Kittle nor Kelce shares the position with a target as good as Goedert, who caught 58 passes for 607 yards in 2019.
Ertz and his wife, soccer star Julie Johnston Ertz, have a sizable charity presence in the community. His mom, Lisa, has moved from California to Philadelphia, as has his brother Nic, who attends Temple's Beasley School of Law.
———
©2020 The Philadelphia Inquirer