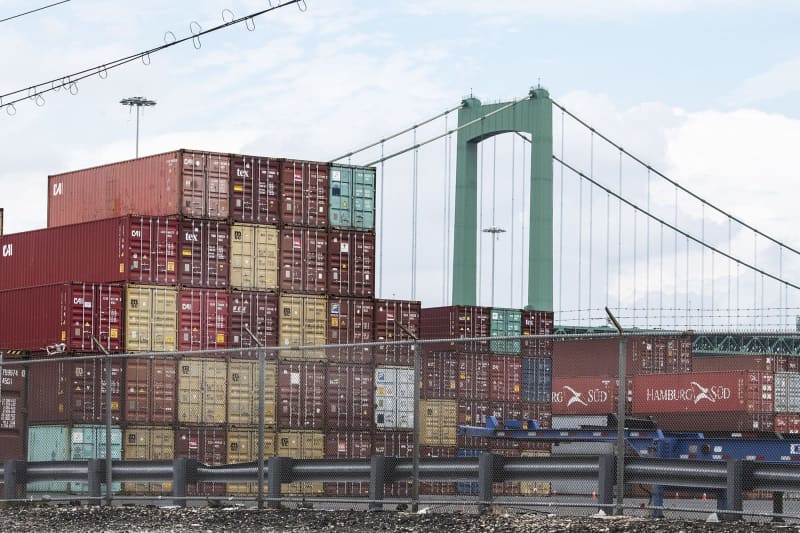 PHILADELPHIA — A Montenegrin ship's electrician became the third crew member of an international cargo vessel to admit his role in smuggling the record-breaking, 20-ton cocaine haul seized by federal authorities at the Port of Philadelphia last year.
Aleksandar Kavaja, 27, pleaded guilty to narcotics conspiracy charges and told a federal judge he and three other crewmates aboard the MSC Gayane were recruited by drug smugglers in their native country before the ship even set out on its journey
His guilty plea is the latest sign of progress in an investigation into one of the largest cocaine busts in U.S. history.
Since the June 17, 2019, discovery, the probe has spanned from southern Europe and South and Central America to the Packer Avenue Marine Terminal in South Philadelphia. But after announcing their record haul — discovered hidden in shipping containers among legitimate goods bound for destinations across the globe — at a splashy news conference where law enforcement officials posed for photos next to stacks of cocaine, the probe has largely been carried out quietly.
At least seven of the Gayane's crew of roughly 20 were arrested, though most of the court filings in their case remain under court seal. And families of the men, mostly in Montenegro and Samoa, have reported difficulty finding out what has happened to them since they were booked into the Federal Detention Center in Philadelphia over a year ago.
Appearing in a public court hearing Thursday for the first time since shortly after his arrest in June, Kavaja responded with clipped, accented answers in English to a series of questions from U.S. District Judge Harvey Bartle III.
He described signing on with the Switzerland-based shipping conglomerate Mediterranean Shipping Co. (MSC) soon after leaving high school and training as an electrician aboard cargo ships like the Gayane.
Though Kavaja said he'd been recruited while still in the Balkans to help smuggle the drugs aboard, neither he nor the court documents in his case shed any light Thursday on who was ultimately behind the shipment.
Kavaja and his three main co-conspirators aboard the Gayane used burner phones to communicate with drug suppliers in South America and coordinated the loading of the drugs from speedboats that approached the cargo vessel several times under cover of night.
The group of four, Kavaja said, also recruited other members of the crew mid-journey to help them load and conceal the drugs. Using the ship's crane, they pulled duffel bags filled with wrapped cocaine off the smaller boats and onto the Gayane's deck before splitting the individual bricks between seven cargo containers carrying wine, vegetable extract, Chilean dried nuts, scrap metal and other legitimate goods bound for Europe, Africa, and Asia.
U.S. customs officials spent nearly a week in June 2019 searching the ship after first detecting the Gayane's illicit cargo as it docked in the Packer Avenue Marine Terminal.
They have said the drugs were ultimately bound for Rotterdam, the Netherlands, the ship's intended port of call after Philadelphia.
Since the seizure, two other crewmen — Nenad Ilic, 40, and Vladimir Penda, 27, both of Montenegro — have also pleaded guilty to drug smuggling conspiracy charges.
And according to sealed court filings from last year obtained by The Philadelphia Inquirer, additional members of the Gayane's crew — ship second mate, Ivan Durasevic, 29, of Montenegro, and ship second mate Fonofaavae Tiasaga, 29, of Samoa — have confessed, though public court filings in the 15 months since give no indication of whether they've been indicted.
They told investigators that they both had been recruited by other members of the crew and were paid at least 50,000 euros ($55,000) to help in the smuggling effort.
The other previously arrested crewmen include Boško Markovic, 28, and Laauli Pulu, 33. Authorities have not yet detailed what role they allegedly played in the smuggling effort.
All seven remain in custody at the Federal Detention Center in Center City.
Kavaja, Penda and Ilic face a mandatory minimum sentence of 10 years in prison.
———
©2020 The Philadelphia Inquirer