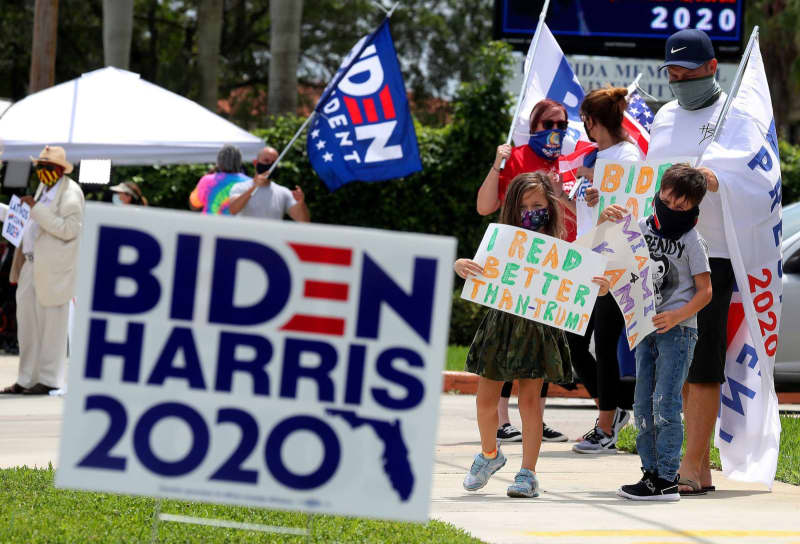 MIAMI — During her first visit to Miami as Joe Biden's running mate, Kamala Harris sought out a diverse group of voters who haven't seen the Democratic ticket in the state for nearly a year.
With less than eight weeks to go until the Nov. 3 election, Harris and her husband, Doug Emhoff, flew into Miami International Airport Thursday and then fanned out across the county, meeting with Black voters, college students, Jewish and Latino voters in a six-hour span. Biden, the Democratic presidential nominee, will return Tuesday to the battleground state.
Polls show the race tightening in Florida, where President Donald Trump's strengths are among men and white and Cuban voters. But for Biden and Harris, a winning formula is more complicated, and involves bringing together an array of communities with different priorities and viewpoints.
Harris, a Black U.S. senator from California, began her trip to Miami-Dade County with an unannounced stop in Doral, home to Miami's largest concentration of Venezuelans. Then she headed to Miami Gardens, Florida's largest majority-Black city, to speak with college students and community leaders. At the same time, Harris' husband, who is Jewish, was in Aventura meeting with rabbis and Jewish politicians.
"This was really important. A great step," said Democratic state Sen. Annette Taddeo after greeting Harris during an unannounced visit to Amaize, a fast-casual Venezuelan restaurant located in a strip mall not far from Trump's Doral resort. "I love the fact that it was more South American, and not more of the traditional 305 stops," a reference to Miami's 305 area code.
Taddeo, a Colombian-American, said it was important for Harris to visit Doral, a longtime stomping ground for Republicans and a frequent source of attention from the Trump campaign. A Bendixen & Amandi International poll released Tuesday found Biden and Trump splitting Miami's Latino vote.
Taddeo — greeting Harris alongside anti-Trump Republican commentator Ana Navarro, who is Nicaraguan — said the Biden campaign is "getting our message" and that the campaign understands their "growth opportunity" with the hundreds of thousands of Latino voters in South Florida who come from places like Central America and the Dominican Republic, and tend to vote less conservatively than most Cuban-Americans.
One of those voters at the restaurant on Thursday was Melissa Breda, who said she was born in Italy to Venezuelan parents.
"I really feel a lot of people are shy to say that they're not for Trump," Breda said after taking a photo with Harris.
After ordering tequenos, a Venezuelan cheese stick, and an arepa, grilled corn cakes stuffed with chicken and cheese, Harris headed 15 miles north to Miami Gardens, where Florida Memorial University's marching band, The Roar, greeted her with three songs ahead of a forum with Black community leaders in South Florida.
"You are going to push us to be our best selves," Harris said to the students. "You are the ones who are going to inspire us to fight for the ideals of our country, which have not yet been reached."
Harris, who would be the first Black woman and Caribbean-American to be vice president if elected, was introduced at Florida Memorial University by Democratic Rep. Frederica Wilson, an early Harris supporter.
"Black women have carried this nation, this race, this Democratic Party ever since we landed on this continent," Wilson said. "And for you to be on the cusp of being the first Black, Caribbean vice president, I'm Bahamian, it means so much."
Harris began her remarks to the Black community highlighting Trump's comments on the COVID-19 pandemic. She brought up Trump's remarks to journalist Bob Woodward at the onset of the pandemic in February when Trump said, "I always wanted to play it down," while acknowledging that COVID-19 was far more deadly than the flu and could be spread through the air.
"What we are hearing is that on January 28, the president and vice president were informed about the imminence and the dangers of COVID-19," Harris said. "On February 7, the president of the United States, who has the unique and very important and special responsibility of concerning himself with keeping the American people safe, was in a conversation where … he said that COVID was deadly stuff, said that it is airborne. He knew it was airborne, that people would breathe it."
Florida's COVID-19 hospitalization data reveal the disproportionate effect of the disease on Black residents.
While Blacks make up 17% of Florida's population, and 16% of Florida's COVID-19 cases, they account for 24% of statewide hospitalizations for the disease, according to the state's data.
Black residents of Miami-Dade with a confirmed case of COVID-19 also had the highest rates of hospitalization — 10.3% — compared to their white counterparts (7.8%) and those classified as "other" race (3.2%).
The death rate for COVID-19 is also disproportionately higher among Black residents of Miami-Dade, the county with the most confirmed cases of the disease in Florida. In Miami-Dade, Black Americans who tested positive for COVID-19 have died at a rate of 3.5% compared to a rate of 2.9% for white residents and 0.5% for people whose race is classified as "other," according to Thursday's health department report.
Dr. Jaffus Hardrick, Florida Memorial University's president, also made the argument that the COVID-19 pandemic has exacerbated inequalities between historically black colleges and universities and their majority-white peers.
"One of the things that we quickly discovered was that the digital divide was even more pronounced," Hardrick said to Harris, a Howard University graduate, one of the nation's preeminent HBCU universities. "We realized that there were so many of our students who didn't even have computers. I think we all know that the pandemic has really impacted us in ways beyond we could even fathom."
The pandemic was also top of mind at an event with Jewish voters in Aventura with Emhoff.
"Bottom line, this president lied," Emhoff said at his first solo campaign event with local rabbis and Jewish Democrats. "He knew what was going on with COVID. And as a result, more than 190,000 of our fellow Americans are now dead."
Emhoff called Florida his "home away from home" noting that he spent time in Miami Beach with his grandmother who retired there. He also referenced his Jewish identity, bar mitzvah and how he attended a Jewish summer camp.
As Harris and Emhoff campaigned around Miami-Dade County, Republicans held their own event in Hialeah to shore up their base of Cuban-American support. Lt. Gov. Jeanette Nunez and state Sen. Manny Diaz talked with a group of retired police officers, who were mostly Cuban-American. The group insisted that Trump was "the only option on the ticket."
"The radical left seeks to strip law enforcement of the necessary tools and the resources to uphold the rule of law, and even advocate for defunding the police, which I find extremely concerning," said Nunez after calling Harris "the radical senator from California."
As for Trump's handling of the coronavirus, which he has repeatedly said would "disappear," Nunez repeated the president's line that he was seeking to bestow confidence in the country's ability to control the virus.
"President Trump recognized we were dealing with a novel virus," she said. "(Like) everyone, we learned a lot and we are still learning. The responsibility of leaders is to ensure calmness and not incite panic."
———
(Staff writer Daniel Chang and El Nuevo Herald staff writer Ana Claudia Chacin contributed to this report.)
———
©2020 Miami Herald